Create a quick butterfly clip with a faux butterfly decoration from the floral decor section of the craft store (at Michael's Arts & Crafts, they're with the fake birds, nests, twigs, and vase filler).
Have you ever noticed that the most eye-catching Fashion is all about the details?
Make a pretty wrapped bow bracelet with some dead-soft brass wire, available at any craft store, in spools in the jewelry-making section.
Wrap some contrasting soft leather or fabric around the tops of your ankle booties, tying in knots at the sides.  Instant colorblocking!
Take the street style photos of Tommy Ton on the JakandJil blog, for instance.  His amazing photos capture all the little details of outfits, accessories, jewelry, and all the tiny details about a time, place, and the fashion therein that make the viewers feel in the moment.  Plus those little details that feel fresh and unique.
Scribble a favorite saying on your dark bag with a silver paint marker.  (Practice first in a piece of a paper before committing to something permanent!)
(And ohmigosh I just realized whose bag this is!  I can't believe I didn't realize it before.  It's Vivi model Sara Mary's bag, signed by Jane Birkin herself!)
Re-string your front-laced heels with an unexpected material, like regular shoelaces, for a sporty look.
It's a way to express oneself, to make that white blouse less standard, that LBD not just off-the-rack.
Cut a tissue-thin tee at the shoulder seams – then re-tie in little knots to create a peekaboo effect at the neckline.
Tack on some veil netting to something surprising, like a knit beanie (such a popular DIY!)
And the details are soooo easy to DIY.  (Way easier than patternmaking, sewing from scratch, or even refashioning.)
If you're into stitchery, make a hybrid coat from parts of other coats.  No so much?  Cut contrasting pieces of fabric – the add some Heat 'n' Bond fusible to the back, and fuse onto the front and inside lapel of a blazer you may already have.  Instant facelift.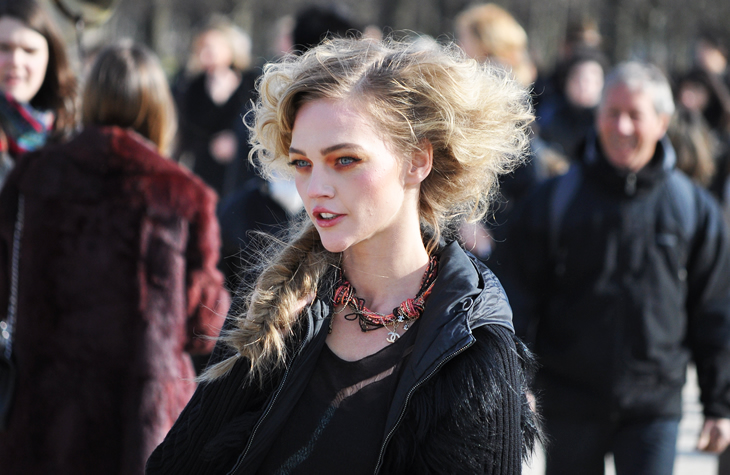 Make a one-of-a-kind necklace by twisting and knotting different-colored chains together, even incorporating some different materials, like cord or lacing.  Add some charms to make it your own.
Practice looking for those details, and noticing what makes it different.  If you see something you like, emulate, recreate, re-master, re-mix.
Change the look of any sandal by adding a swatch of fun fur to the front (tack in place with a couple stitches under the lacing; the fur will hide it completely).  This place sells some great, and very realistic, choices.
Do like Prada did and add chandelier drops to a plastic rainhat for some reflective rain protection.
Add Grandma's crocheted flowers or doilies (or crochet them yourself!) to the front of a sweatshirt for a modern vintage feel.
xoxox
Carly
All photos from JakandJil.com.
Tags:
DIY Inspiration
,
how-to-DIY
,
JakandJil
,
Street Style
,
Tommy Ton