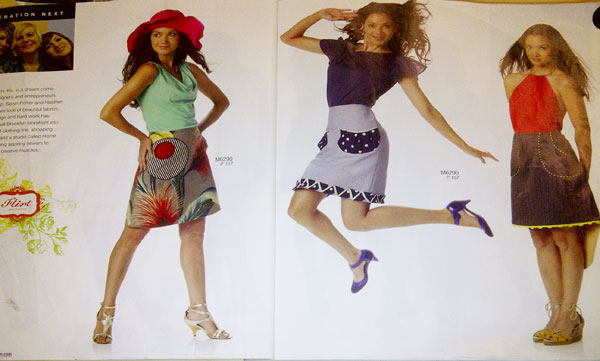 Patterns by Flirt Brooklyn for Generation Next for McCall's…I'm dying to make the purple blouse in the center!
I was browsing in Jo-Ann Fabrics the other day ("browsing"…ha, who am I kidding – it's practically my second home and every time I go always check out EVERY aisle to see what's new and what they've moved around)…and I happened to site down and start flipping through the McCall's pattern catalog.
Normally I don't look through the catalogs since I'm usually bored to tears with more of the styles on offer…the only ones of any interest I usually find to be Vogue patterns (but waaaaay too expensive for just a pattern…I mean $25??  Come on.) or Burda Patterns, which are more youthful but on the more pricey side than Simplicity or Butterick [perhaps because of this?].  (The patterns available for purchase online from BurdaStyle are a different story though – affordable and perfect for a quick project!)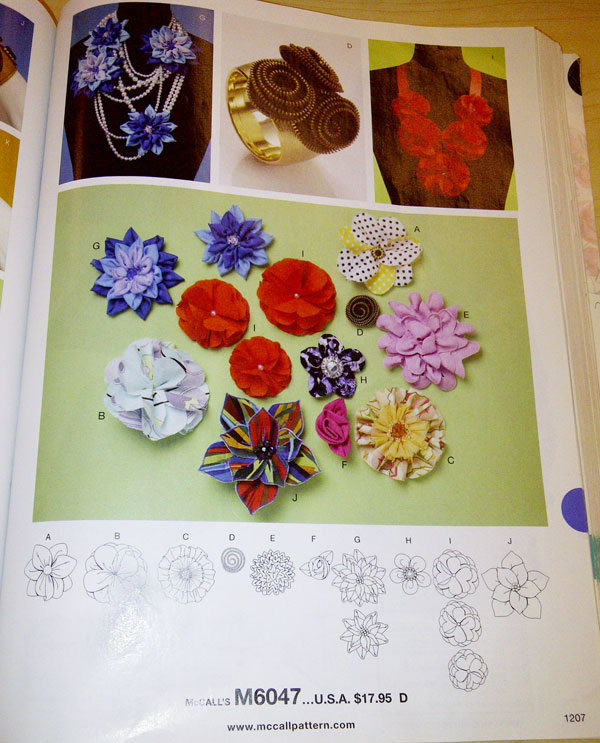 10 different styles of fabric flowers??  Amazing!
So in any event I was surprised to see in McCall's book a collection of patterns called Generation Next.  These patterns, created by a number of contemporary designers, are amazingly youthful, fun, and on-trend – something that many pattern companies attempt but often miss the mark at.  (Ever seen the Project Runway-branded patterns from Simplicity?  Some are okay, but some make you wonder what they have to do with Project Runway, or anything contemporary at all.)
(Sorry for the crappy phone camera pics – it's all I had at the time.)
Featuring patterns by designers such as Megan Nicolay from the Generation T
books and Althea Harper from Project Runway-fame (!), this collection is priced a bit higher than the average McCall's pattern but all the patterns are fashion-forward and similar to styles we're seeing on retail shelves right now (at least, IMHO).
Epaulets??  When have you ever seen a pattern for removable epaulets??
I also spotted patterns for corsages (!), and patterns for jewelry.  Now, I have NEVER seen jewelry patterns in a large-company pattern book at an established fabric retailer…NEVER.  Just goes to show that the times, they are a-changing!
Removable shoe-jewelry, necklaces, belts, and a scarf.  Those shoe "petals" at the bottom look strangely familiar…haven't we seen this DIY tute on the Internet awhile ago???;-)

Have you seen the Generation Next collection of patterns at all? (There are a lot more patterns available at your local sewing store if it carries McCall's – the McCall's website only has a few.)
What do you think – should patterns just stick to being sewing patterns for fabrics – or would including DIY-style instructions for making accessories be something you'd like to see in commercially-available patterns?  Innovative?  Or just a sad marketing attempt at exploiting a current trend?  Discuss!
xoxox
Carly
~If you liked this post, please share it!~
Tags:
DIY Inspiration
,
McCall's patterns
,
sewing
,
sewing patterns