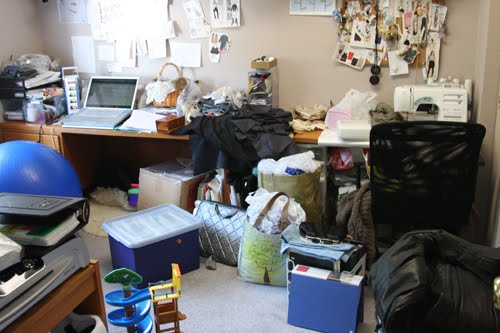 Office Before.  Blech!
Sorry for that brief hiatus – I took a mini-vacation from the blogosphere for the weekend.
I've been cleaning up and redoing my office – or at least the room in my house where we keep the computers and I have my sewing machines and do a lot of my DIY.
It was a mess.  An utter, utter mess.
The room has pretty much no storage, piles of fabrics and clothes and tools and papers everywhere, and my childhood desk that I had installed in there was made in the 80's and thus, much lower than the standard height of 29.5″ of the desks nowadays, which are made to accommodate a computer workstation.  That 26″ high desk had me hunching over my computer and giving me back pains, and the mess was totally non-conducive to doing anything.  I couldn't find any papers or important things, couldn't make headway on any projects…in fact, the only place I could work was outside of this room because it was so clogged with stuff.
So we bought a bookshelf, desk attachment, and some storage boxes from IKEA, and I've been sorting and cleaning up (though I'm far from done).  My computer has been pretty much unplugged for the whole weekend.
The hiatus was really nice too – just spending some family time without me stuck on the computer all day was fun.
Though the office is definitely still not clean, it's a vast improvement to what it was.  I'm not taking pics until it actually looks clean!
Why is it that order and organization are so much more conducive to being creative??
Hope everybody had a great weekend!
xoxox
Carly
More from Chic Creative Life
Tags:
personal updates