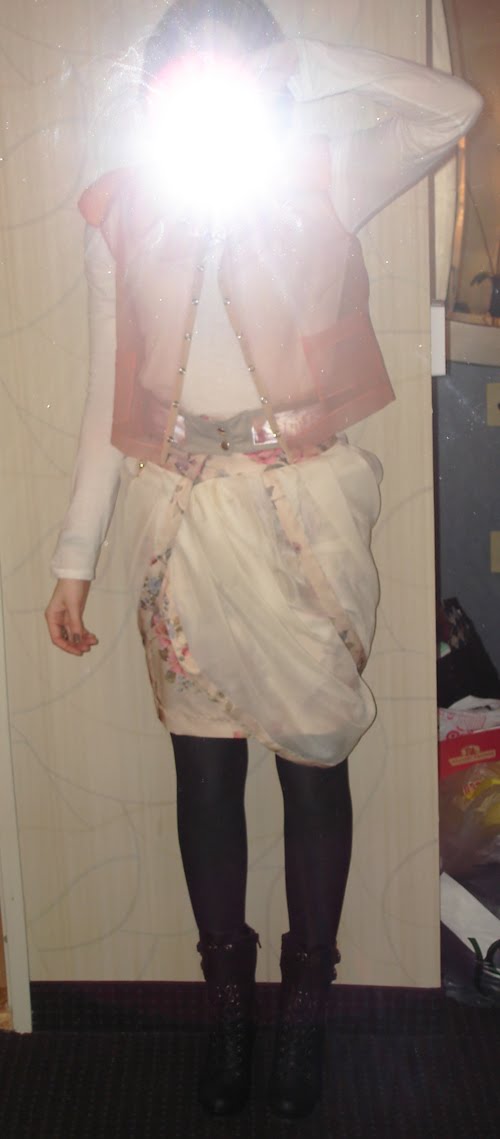 (handmade acrylic bead necklace, handmade mesh top, Forever21 white long-sleeved top, handmade belt with removable chain, handmade skirt, Spanx reversible tights, Forever21 lace-up military boots)
It's a handmade extravaganza!
What I wore Wednesday, Feb. 17 while in New York for Mercedes-Benz Fashion Week.
On this day I headed to the Upper East Side (at least, I think that's where I was) to go to The Daily Beauty Bar and got a free half-hour massage.  The masseuse found a golf-ball sized knot in my shoulder where I had been carrying my laptop bg – and whenever she put pressure on it – it crunched.  Ugh.  I think the massage did me some good but then I still had to sling on my heavy bag of equipment after it was done.  Oh well.  I stopped in at Zara and lusted after a lot of things, even trying on a striped shirt that I'm going to totally DIY in a little while…and headed back to the Bryant Park area.  Bought my White Hot Chocolate Cupcake at Crumbs, bought a few things at STEPS boutique (I had only snapped photos the other day there, not stopping to try anything on), and then back to my hotel room to enjoy my cupcake.  Changed in a flash to this outfit for a meeting with the Bluefly America's Most Stylish Blogger team.  I showed them my mini-collection and got some very valuable feedback!
Necklace is oversized acrylic resin beads strung on delicate silver chain.  Top is peach bubble organza mesh with grosgrain ribbon snap-front and covered shoulder pads.  Belt is peach bubble organza mesh over clear vinyl backing, edged in khaki twill with removable gold chain.  Skirt is wrap-style in nude chiffon over rose-print poly satin.
Then back to the hotel room and changed again for the evening to this outfit:
(handmade necklace of chain, pink chiffon, and pearls; Forever21 white long-sleeved shirt; knit navy blue jacket from STEPS boutique; vintage fanlacer corset; scrunch-leg leggings from Japan; GoJane scrunch suede boots)
I couldn't wait to take my new jacket from STEPS for a spin.  It's the cutest thing ever-the front pieces can not only be removed, but also buttoned in different configurations.  I'm going to add some buttons so they can be buttoned into a high collar configuration.  The jacket had the most incredible detail – thick ribbing; belts on the wrists; and quilting – it was such a bargain at $36.99.
Vintage fanlacing corset bout on Ebay for about $34.  The only way I'll wear it is over my clothes!  I can't believe women of yesteryear actually wore this heavy, buckled, strapped thing under their garments.  Insane.
I then stopped by M&J Trimming and picked up some studs (can't WAIT to use them in a new project!), then checked out H&M, snapped some photos, and even picked myself up a damaged sweater for a small discount.  (nice!)  Then out to the Lower East side for the disappointing c. marchuska show, then back to the park to meet up with a friend from last Fashion Week briefly.
The jacket all buttoned up.
 Almost done with all my New York Fashion Week postings, thank goodness!
Hope you're all having a great week so far!
xoxox
Carly
Tags:
my outfits
,
New York Fashion Week