Welcome to the first installment of my brand-new series, called "One Piece, Three Girls!" and Happy Memorial Day!
In this series I feature a single article of clothing, jewelry, or an accessory, styled into 3 different looks for 3 different ladies.
  For the first post in the series, I've partnered up with the amazing Portland boutique Mabel & Zora, to feature a dress from owner Tiffany Bean's Spring 2013 collection.
Mabel and Zora opened in June of 2006, headed by husband and wife team Corey and Tiffany Bean.
The vision for the store was inspired by Doris Day movies and Tiffany's grandmother's boutique from the 1950's. Known for amazing customer service and a personalized shopping experience, the boutique offers dressy lines such as Lilly Pulitzer, Michael Stars, Three Dots, V. Fish, and Butter by Nadia.
Tiffany started designing her own clothing line Tiffany Bean Designs in 2010, also inspired by 1960s movies and fashions. "I love mid-century styling; it is a perfect mix of functionality and design. I romanticize about the jet-set lifestyle of movie stars from Los Angeles to Palm Springs and have designed our home, the shop, and line around this love affair of mine!" The line features a number of easy-to-wear, flattering dresses and skirts that can be dressed up for the office or worn on one's day off- including colorblocking, fun prints, and signature wrap-style dresses.
For this feature, we have chose the Tiffany Bean Frances dress, a gorgeous contrast black-and-white stripe tube top dress. It's made of stretchy, medium-weight material so it smooths over the body, and is a flattering knee-length (which happens to be a great length on anyone, no matter their body type). Due to its inherent versatility, this dress is the perfect dress for One Piece, Three Girls – and an on-trend must-have for your Summer wardrobe.
First up, we have Brooke. You might know her as Brooke Morse, the wonderful photographer who takes my outfit photos from time to time. Besides being a photographer, she is also a talented makeup artist, currently expanding her online portfolio. For Brooke, we went with a bohemian casual look, covering up the skirt portion of the Frances dress with a sheer lace DIY maxi-skirt, and pairing it with earthy brown leather accessories and gold jewelry.
Brooke is wearing: Tiffany Bean Frances Dress, Target Merona straw fedora, her own gold hoop leaf earrings, Target Merona scarf, DIY Gold Double-Ended Spike-End Bangle, Gold-Dipped Quartz Ring (from HauteLook), DIY Pamela Love Arrowhead Ring, her own vintage bag, her own wedge-heel sandals.
Next we have Kristin. Kristin Rosario has been assisting part-time with the marketing of Chic Steals since the Fall, and is a marketing guru with a great eye for business opportunities and ideas. Given that she's often in meetings or an office environment, she needs to look polished and professional every day – hence, a structured blazer grounding the jersey dress. To play up Kristin's femininity, we layered a couple colorful necklaces and added a ladylike touch with a ruffled bag and a pretty polka dot scarf.
Kristin is wearing: Tiffany Bean Frances Dress, her own milky quartz stud earrings, her own leather-sleeve black blazer, Ann Taylor rose quartz pyramid necklace, Kendra Scott Rayne Long Necklace in Black, her own rings, Steve Madden Ruffle Bag, V. FRAAS Taupe Polka Dot Scarf, her own beige patent pumps.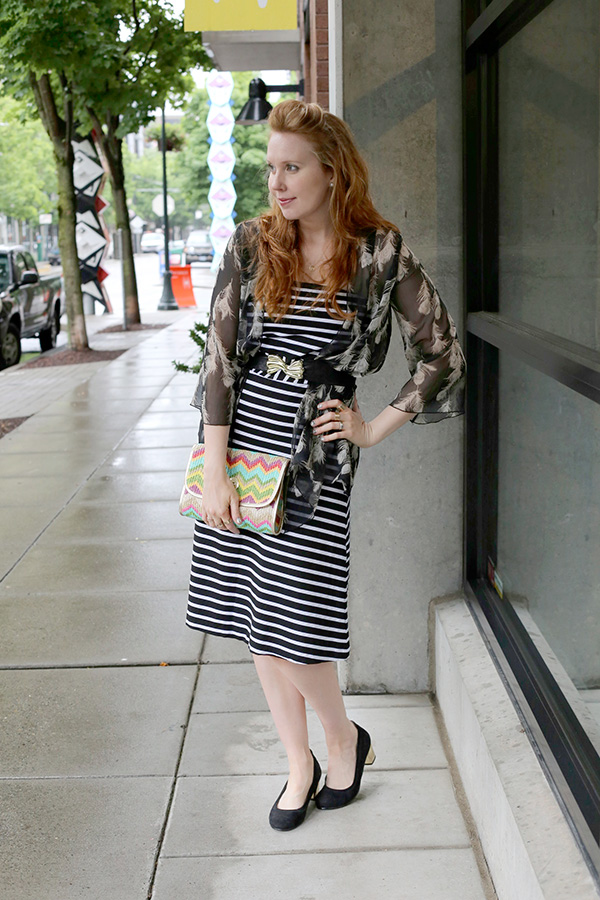 Finally it's my turn. For me, I decided to go with a vintage eclectic look, utilizing a thrifted vintage belt and a chiffon overlay for a softer feel. By belting the top it gives it a little more coverage and dresses it up for an evening out, or for a barbecue with friends from work.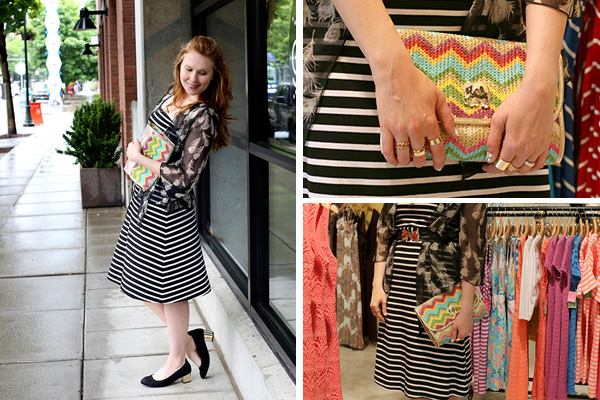 Carly is wearing: Tiffany Bean Frances Dress, urban sweetpea Double Initial Necklace (c/o Max & Chloe), Feather-print Chiffon Top (Japan), vintage shell-detail belt, H&M rings, Wildfox bone ring (from HauteLook), gold crown rings (Japan), R&E Gold Square-Heel pumps (Japan), Lilly Pulitzer Spring Fling Clutch.
(I also brought macarons from Pearl Bakery to nosh on while we shot photos – they were enormous and oh-so-tasty:-)
And as an added bonus, Tiffany is offering the Frances dress featured above for an exclusive STEAL – at an amazing
30% off for my readers

!
(Enter code
CHICSTEALS

at checkout in the Mabel & Zora online shop to take advantage of this offer – expires 6/21/13.)
Plus, right now Mabel & Zora is having an enormous Memorial Day Sale in-store, with sale pieces marked down from 30-75% off (including Yosi Samra ballet flats, pieces from the Tiffany Bean Spring Line, Ms. Wood)
If you are local to Portland, definitely drop by the shop today take advantage!
Thank you so much to Tiffany and the Mabel & Zora team for their hospitality, and to Brooke and Kristin for being my willing models!;-)
Let me know what you think – whose look do you like the best? And how would YOU style the Frances dress?
xo
Carly
P.S. If any of my readers are local to Portland, OR, and between the ages of 25-40, I'd love to feature you in the
"One Piece, Three Girls"
series.
Drop me a line
and let's collaborate!
Leave Comment