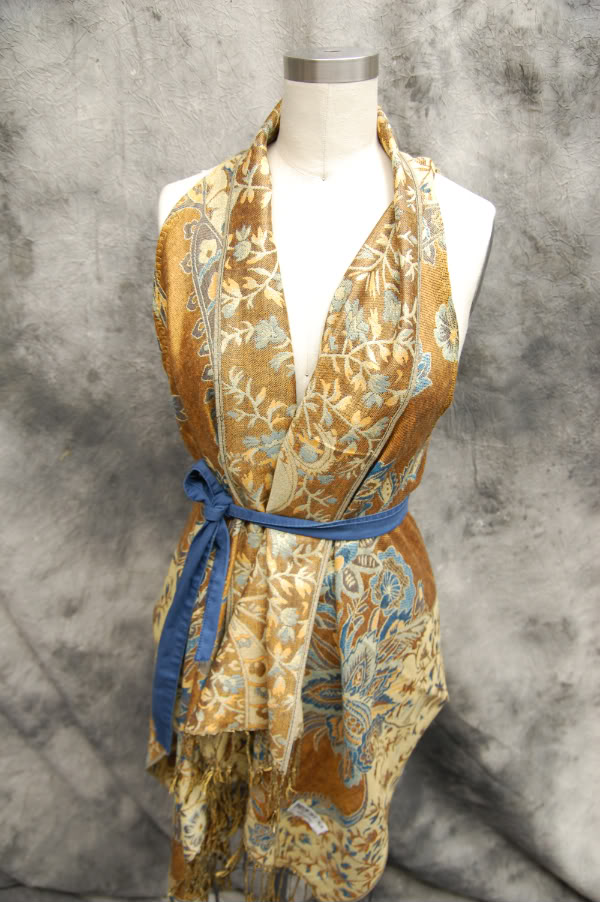 Today I have the pleasure of welcoming Stacie, whom some of you may already know from her blog Stars for Streetlights, which I've featured a few times in my DIY Roundups.  Or you may have seen how amazingly talented she is by seeing that jaw-dropping DIY Fendi Rose Dress she made awhile ago, or DIY Jeffrey Campbell Tick Studded Espadrilles.  She's a crafty one, alright!;-)  We've been following each other's blogs for some time now, and when she contacted me about a possible guest post I was so excited!  Take it away, Stacie!
---
Hi everyone! My name is Stacie and I am a new writer over at Affordable Style and I am so happy that Carly has let me guest post on her blog today. I have followed Carly's blog for over two years now, (it was actually one of the first blogs I found in the beginning stages of my blog obsession). Carly's blog is always packed full of great ideas and DIYs that make me want to leave my computer and get craftin'.
A little about me: I just graduated from college in Indiana and started working at Affordable Style—this is my first big guest post. I've always loved blogging and finding inspiration in little nooks and crannies around the blogspot and internet world. Part of my job at Affordable Style is to write for Affordable Scarves. It's really fun, I get to write about anything from alternate scarf uses to 37 Ways to tie a Scarf. A pretty great gig for someone who loves DIY projects and tutorials as much as I do.
Today I am going to show you a really, really easy tutorial on how to make a flowy vest from a scarf.  Originally I saw this tutorial on Studs & Pearls (she's another great DIY fashion guru).  You can use any scarf you want from pashminas, shawls, or even square scarves.  (Thrift stores are a great place to find scarves if you do not have a specific look in mind.)
DIY: How to Make a Vest from a Scarf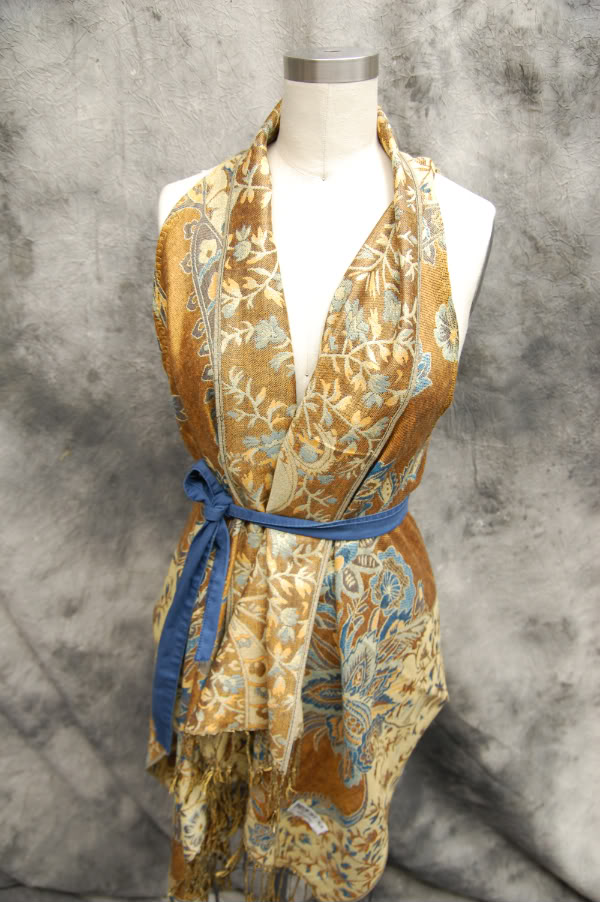 What you need:
-1 scarf (I used this pashmina because of its autumnal colors.)
-Scissors
-Sewing needle or sewing machine
-Pins
Step 1:
First you need to lay your scarf out on a large surface and find the middle. This will be the back of your vest.
Step 2:
Next, you need to make the cuts in your scarf for your arms. It does not have to be perfectly exact, but I measured 4-5" down from the top and made 12" angled slits that look like the lines in the photo.
Step 3:


After you have made your cuts, it is time to pin back the slits towards what will be the inside of your vest. Make sure the rough edges are being pinned onto the side that you don't want to show off. You don't necessarily have to sew the slits down, but I think it looks a lot nicer and it will make sure your scarf does not tear more or unravel.
Step 4:


Here is what my scarf looked like after I sewed the edges back. I have a machine that can do little funky designs, but you can do a simple zigzag stitch on most machines and it will look pretty nifty as well. (My sewing machine was the best graduation gift from the best mom ever. :))

One thing I love about the scarf vest is the little collar that the scarf creates if you leave a few inches at the top. Plus, if you want to wear your vest as a scarf again, the scarf drapes and folds so that it is hard to see the cuts!

Another shot.
---
GIVEAWAY!

Now we have a great opportunity for a Chic Steals reader!
If you want to win this scarf, just visit Affordable Scarves, pick out your favorite scarf, and comment below! You can get an additional entry by tweeting about the giveaway, and if you blog about it, we'll give you two extra entries! Just leave those links in the comments below as well.
Thank you so much to Carly for having me, and good luck to everyone with their scarf DIY's! Have fun makin' stuff. 🙂
Cheers,
Stacie
---
Thanks so much to Stacie for this great tutorial!
So if you'd like to win this pretty Fall-inspired scarf-turned vest…
1. Leave a comment below with your favorite scarf from Affordable Scarves.
2. Tweet this giveaway and leave the link to your tweet IN A SEPARATE COMMENT.
3. Re-blog this giveaway and leave the link to your blog entry IN A SEPARATE COMMENT.
Total: 3 entries per person allowed.
All extra entries (Tweets and re-blogs) MUST be left in separate comments or they WILL NOT BE COUNTED.
Entry period ends Sunday, September 25, at 11:59 P.S.T.
Good luck!
xoxox
Carly
~If you liked this post, please share it!~
FTC Disclosure: I have not received any compensation for this post, except for a vest handmade by the guest poster which has been offered for giveaway to one of my readers.  Read my full Disclosure Policy here.
Leave Comment