Richly.Hawtin, a label born from a collaboration between Producer and DJ Richie Hawtin and fashion designer Isolde Richly, was conceived in Tokyo in 2008 and presented in Berlin-Mitte to the public in May of 2009. The designers created a limited-edition run of 100 t-shirts designed and manufactured in Japan, for the event. (see below)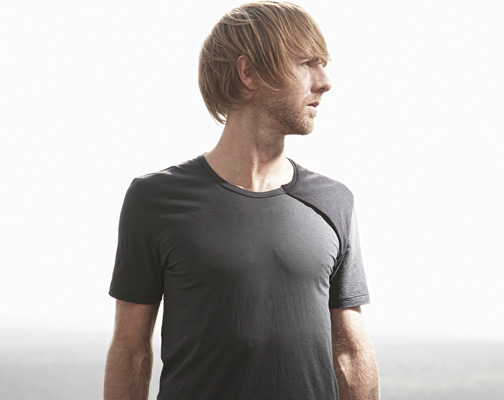 The shirts are still available for purchase here. The t-shirts are priced at 120 Euros each ($172!!)
In creating their line, the duo "sought to use fashion as a physical medium to embody and explore the fleeting, intangible elegance of minimalist music and Japan's beauty."
Hawtin, head of Minus Recordings, infuses the pieces in the line with an urban sensibility derived from his music, and the line strives to bring a minimalist Asian aesthetic to its design-sense. "Richly's and Hawtin's affinity for the quiet stillness found in Japan's snow-covered landscapes, calm seas and trees is seen in the gradients of grey that mark the elegantly stripped down clothing."

I love that despite the line being awash in grays, the pieces are anything but drab. Masculine and feminine are interchangeable; it skates the line between structured sportswear and asymmetrical modernism. And that drip-stained bag is calling my name!
The Spring/Summer line will be available Feburary 2010 in select Japanese retailers – I'll keep you guys posted .
Read more about the line on their website, or in an article about them from Gradient Magazine.
What do you guys think of them? (I'm guessing the pieces from the official line are going to be priced similarly to the $170 T-shirt. I love their aesthetic…just not too sure I can afford it! I'm not sure they're the next Rick Owens just yet:-) But I still want that bag!
-Carly J. Cais
Leave Comment