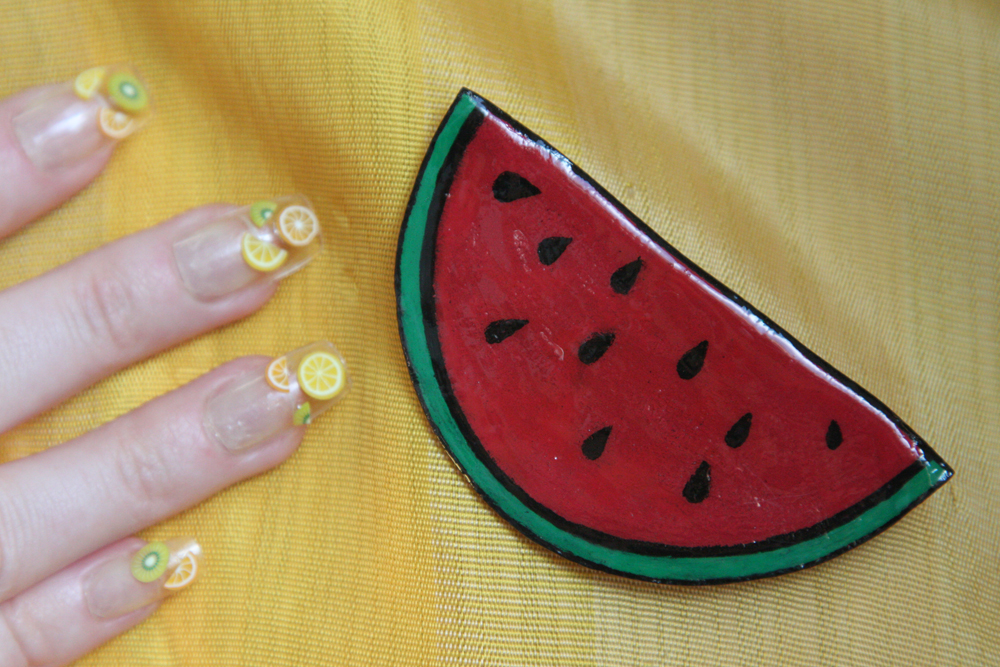 Actually it's a DIY of a Yazbukey brooch that was featured in the Spring 2011 Z Spoke by Zac Posen show…but that title was a little long.;-)
This is unfortunately the best photo I have of the original.  Img by Yannis Vlamos / GoRunway.com.
Remember those pieces?  Or maybe the lips brooch from his Zac Posen Spring 2010 RTW Collection?
Photo by Don Ashby & Olivier Claisse
Yazbukey as well.  (Known for their pop-art and attention-getting accessories, the Parisian line Yaz Bukey uses mirrored plexiglass as their main material of choice.) Since the actual watermelon brooch in question never went into production, I was inspired to DIY my own version…though it can't double for lasercut plexiglass close-up, it's a pretty good dupe for much, much cheaper.
For the other brooch I bought a plastic fruit slice from Michael's (in the floral/decorative fruit crafts section),
1) sliced it in half with an X-acto knife
2) rubbed the rough edges off with sandpaper, and
3) hot-glued a pinback onto it.
And I managed to do my nails, too.;-)
Since fruit is such a HUGE trend for this Spring…if you're not ready to plunge into all the bright colors for the season, why not try a smaller brooch?  You can certainly mimic the enamel- or plexiglass look with liberal coatings of high-gloss sealant!  (And even try for a Zac Posen lips brooch…or an ode-to-Prada banana brooch..or a Stella McCartney-inspired citrus slice if you're up for it!)  And if you're looking for super-easy, just find some plastic fruit from a garage sale, Goodwill, or your local craft store and have fun with it!
Thank you to Anita and the whole Free Magazine team for this feature!  I'm so excited to have been able to contribute!
Happy DIY'ing!
x0x0x
Carly
~If you liked this post, please share it!~
Save
Leave Comment