I love the idea of using a wicker or straw handbag once the weather warms up.  There's just something about an airy, earthy bag that spells summer to me.  Using a basket as a handbag reminds me of delightful childhood stories, dressing up as Alice, tea parties, picnics on the lawn…
And baskets are just about everywhere!  Check out a thrift store or a garage sale for the most affordable baskets imaginable.  (Baskets with built-in lids are a lot harder to find, but they're certainly out there!)  Craft stores like Michael's or Jo-Ann's sell them (but for a lot more than thrift).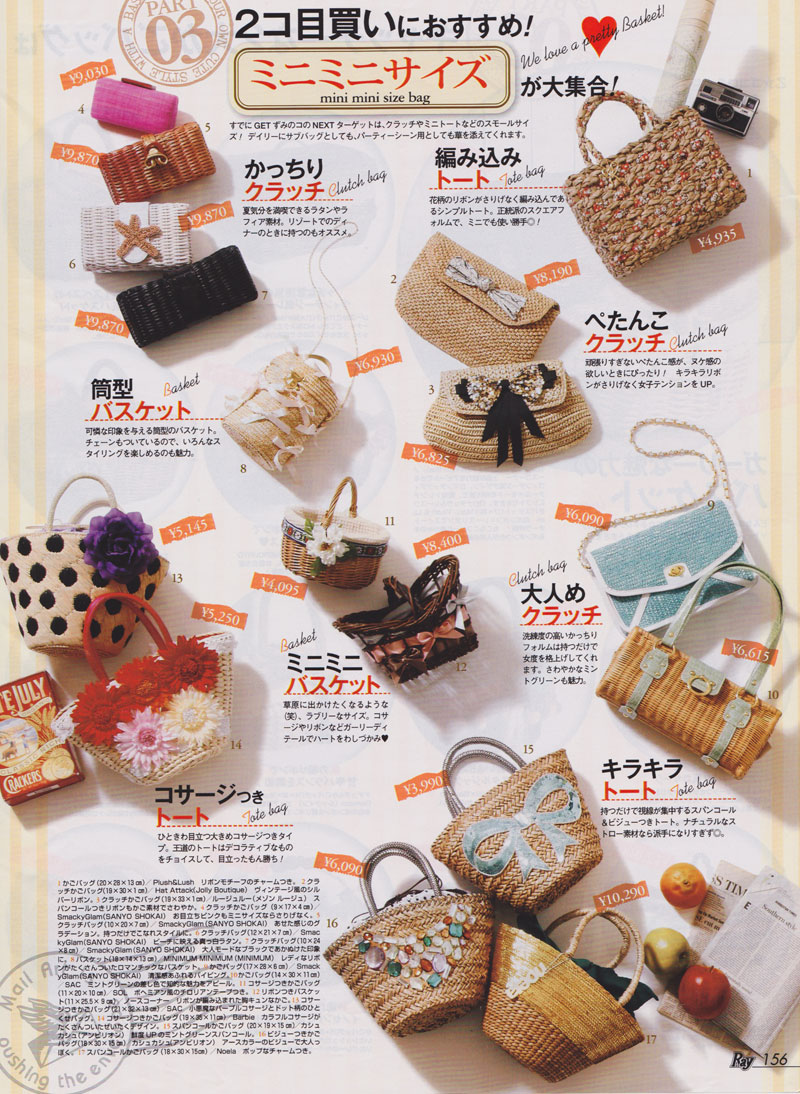 This scan from the May 2011 issue of Ray magazine presents a wonderful assortment of basket-style handbags…and though the prices are something to gasp at, there are oodles of wonderful DIY ideas in there as well.  Dress up baskets with silk flowers, scraps of lace, purse hardware, pompons, paint, ribbon, or gems, for starters.  Add a satin lining, a dried starfish, a vintage brooch, sequin trim, bows, or even a teddy bear's disembodied head. (!)
I DIY'd a half-moon clutch a couple years ago, by stitching on some puka shells and adding a little tassel pull and braided trim I made from raffia.
So if you can't find what you're looking for locally, there's always Ebay, which is a great source for baskets, straw totes, and wicker clutches.  (Like this one below – which looks oh-so-Chloe S/S 2011!)
The only difficulty is narrowing it down to the one you want!
xoxox
Carly
~If you liked this post, please share it!~
Leave Comment