Domestic Slice is an amazing blog founded by Dottie Zimmerman, Kate Snyder and Katie Wittenauer. Sharing recipes, crafts, ideas, and tips for the home, the site is all about bringing fun and loveliness to one's domestic life. Co-founder Kate Snyder also runs the public relations firm Piper & Gold, and posts about crafts, home+garden, and style on Domestic Slice. She is here today to share a quick makeover tip for old, tarnished chain jewelry. Take it away, Kate!
---
Hi y'all! I'm so excited to be guest writing here at Chic Steals. I adore accessories (the DIY Gold Leaf Head Chain... I die) and simple and quick DIY projects, so I wanted to share with you a recent project that was both.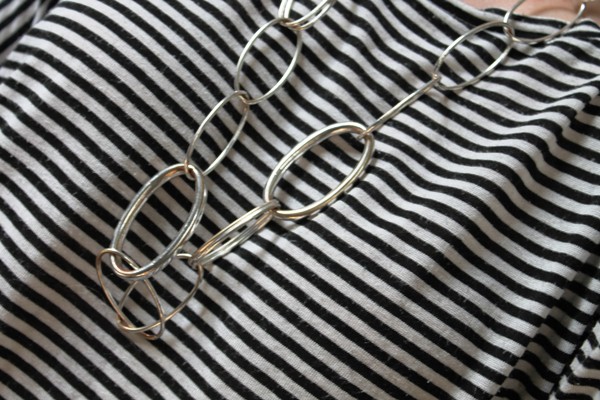 Five or six years ago, I got this great necklace with big metal links. It was right as long necklaces were becoming all the rage and I loved the statement of it. But as styles evolved, and wear and tear tarnished it, it got a little stale. So I decided to give it new, natural life by bringing raffia onto the scene.
Raffia Wrapped Necklace Makeover
Supplies: Assortment of Raffia Ribbon, Twine and Other Wrapping Materials  /  Old Necklace in Need of a Makeover  /  Tacky Glue  /  Scissors
A Little Tip: I had several raffia ribbons and twine already but I picked up a couple more varieties in the gift wrap section of my local craft store. I also got some floral raffia, but it was too brittle and didn't wrap nicely, so stick to the ribbons and twines!
1.) Clip a 5″ to 6″ strand of one of the ribbons.
2.) Using tacky glue, affix the end of the ribbon to one of the chain links.
3.) Apply a 1/2″ or so strip of glue to the chain link.


4.) Start wrapping the ribbon around the chain link, pressing it into the glue as you go.
5.) Reapply glue and keep wrapping until the link is covered.
6.) Trim excess ribbon and glue down the end.
Repeat for each link, varying the type of raffia ribbon or twine you use until each link is wrapped!
You could make so many variations of this necklace, from using different colored raffia to only using one color, to using all twine. Have fun with it. I'd love to see your pictures when you're done!

~Kate
Kate Snyder is a co-founder of the blog Domestic Slice where she shares her take on crafts, home+garden and style. She got her first Martha Stewart Living subscription at age 11 and has been a lover of all things home since she was a child, leading her to pursue a minor in Interior Design from Michigan State University. She also owns Piper & Gold Public Relations, a traditional public relations boutique with a digital twist. She lives, blogs and works in Lansing, Michigan.
Domestic Slice: Facebook  /  Twitter  /  Pinterest
Leave Comment