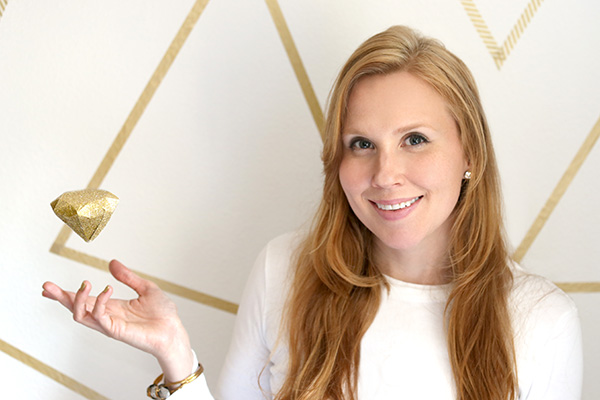 Portrait photography is definitely not my strong suit, and it's even harder when YOU are taking a photo of YOU. It's so much easier to work with someone who knows what they're doing and can make you relaxed enough to take a great fun photo for your blog headshot.
I've had the same sidebar headshot for 3 years (above, taken by Dave Lim) simply because I liked how I looked in the photo. I've also had another photo on my About Me page (if you recall, that particular photo was pretty horrible) for about 5 years. I've been going through a brand audit of Chic Steals and felt that my head shots didn't really reflect my blog topic and focus. They needed to be lighter, brighter, closer – and more depicting chic, creative, crafty living instead of just my head in front of a forest.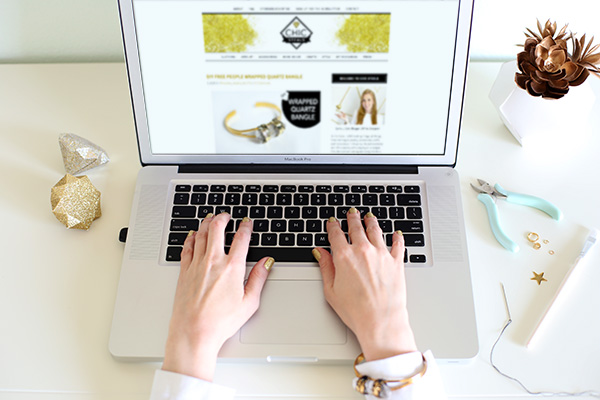 So after playing with a couple different ideas, I settled on a photo of me in my home office in front of a wall that I decorated with gold washi tape in a triangle pattern. (Similar to what I did with my DIY Geometric Bathroom Makeover wall here.) I chose on a white-and-gold palette since I felt that was in line with my blog branding.
I did make a little sparkly gold prop as the silhouette of the diamond in my logo, and utilize the DIY paper glitter diamond paperweight I made in this post here.
For the overhead and sitting at the desk laptop shots, I styled the desk with my DIY Gold Succulents in Geometric Origami planters, the origami diamond paperweights, and a variety of crafty materials to touch on the "making" theme of my blog. The only piece of jewelry I wore was the DIY Free People Wrapped Quartz Bangle that has been really popular online since I shared it.
My good friend Josh of Joshua Johnston Photography took my photos, and though we shot in the late afternoon and the light was fading inside, his lighting techniques were still able to bring out all the little details and make everything white and bright. In all it took an hour and a half, and the finished photos were awesome – and, I felt, much more fitting with the look and feel of my blog.
So are you experiencing some difficulty with deciding on the perfect headshots for your blog or website? Here are 8 steps to get portrait photos you'll love:
How to Take Headshot Portrait Photos for Your Blog That Reflect Your Brand
1) Spend some time looking at your blog. Are there colors or elements that you could incorporate into a shoot? Do you feature the same items over and over again? What "goes together" and what doesn't? (like using a forest background for a crafty blog…which doesn't make any sense)
2) How can you accomplish what you want in the least cluttered, most direct way? What would make sense as a background? Can you make it, fake it, or is there a place you know that would be perfect for the locale?
3) How about props? Would they be more specific and tie a photo of you into what you write about better? Reiterate your branding or logo somehow?
4) Sketch some ideas out on paper, having in your head a firm idea of the colors and layout of the elements. Where do you want your head to appear? Should you be looking at your content to draw people's eyes to it? Looking at the reader to connect with them? Looking away so that you're an object of admiration and having fun by yourself? What are you trying to sell with your head shot?
5) Allow enough time to be able to properly style out your photos and capture them in the best light. Do you need to shoot during the Golden Hour? How long will it take you for hair and makeup? How about styling your props?
6) Choose a lens that has the least amount of distortion for the face: ideally, 85mm. If not, 50mm will also do quite well and create that soft blurred background. Use a tripod if you can, especially in low light situations!

7) Unless you're used to modeling (or modeling by yourself!), shoot with someone you know well and who you're comfortable with, preferably someone who makes you laugh. That way your smiles will be genuine and your eyes light up in your photos, which is difficult to fake. You'll also have someone to interact with which can come out in the final images, creating more of a connection with the viewer. Don't be discouraged if you have to take a ton of photos to get any you like. Some the framing might be right, but you have a hair out of place. Some your expression might be weird. Keep them all and look at them later.
8) Go through the photos on a large screen, ideally after some time has passed. That way you can apply a fresh eye and be more objective with the ones you choose. Choose ones that you like a lot then compare them against one another. If you like them, your readers will too. Post-process, upload, and announce your new pictures!
Thanks, Josh – I couldn't have done it without you! Check out his website for prints of cool landscape and nature photography – especially Oregon waterfalls!
Do you have any tips for good blog headshot photos? Please share in the comments!
xo
Carly
I actually helped Josh build the website and optimize it for SEO, learning the
Smugmug platform
[aff. link] in the process. I'd highly recommend it
if you're a photographer looking for a no-hassle way to sell your prints and photos
as digital downloads – since they take care of all the order processing and fulfillment for you!
Leave Comment