Well..technically a laptop case…but we'll just call it a handbag for today's purposes, yes?
I'm a firm believer in using the possessions you have to utter exhaustion: until they are tattered, destroyed specimens of what they once were. Get good use out of it (until it falls apart!) would be my motto.
My first laptop case is still on its last legs (so I only use that around the house and where no one sees it). I needed a laptop case for the computer I use for work, which is smaller than my personal computer, and which I have to carry to and from work constantly.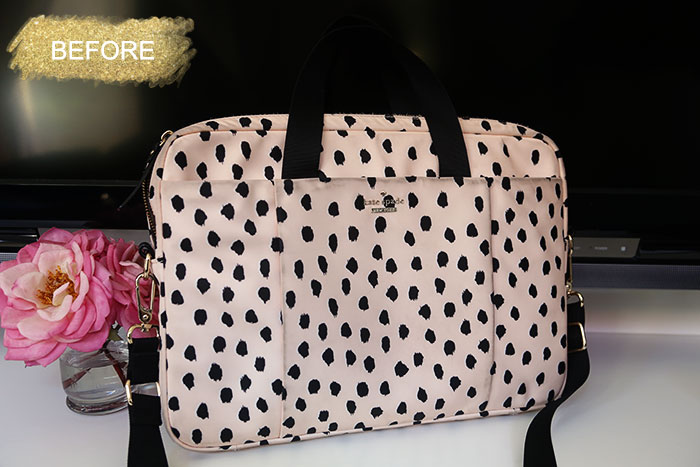 I spied this amaaaahzing Renny Drive spotted laptop case by Kate Spade (it's now sadly sold out everywhere but one does show up from time to time on eBay). It's professional, chic, feminine, memorable, and goes with just about anything I'm wearing to the office, or casually. I purchased it about a year and a half ago and have been using it ever since to tote around my work computer. It's such a light color though – that it's like a grime magnet, and I've been stumped on how to clean this nylon laptop case for awhile – because it's nylon and because it has stiffeners and linings that really shouldn't be thrown into the washing machine. So..
What is Nylon?
Nylon is a synthetic polymer (and actually was the first commercially successful synthetic thermoplastic polymer – thank you Wikipedia!) Though there are a few different types of nylon, nylon used in clothing and accessories is heat-set in terms of pattern and color, and water-resistant – and can be dyed using acid dyes.
You may have a nylon bag in your closet – or a pair of nylon shoes or an accessory – that gets dingy and defies being cleaned (because hey, it's nylon). I've discovered the most awesome trick for getting those grungy nylon accessories sparkling again.
How to Clean a Nylon Handbag (or How to Clean Nylon in general)
Everywhere I looked on how to clean nylon recommended either throwing it in the washing machine with a milk liquid detergent, or spot-clean with liquid soap and water. Nope and nope – I found these methods useless for the amount of dirt on my laptop case. (Plus you should never put a handbag with linings or stiff sides into the washing machine – submerging in water and agitating could permanently damage the structure of the bag.) Here's the top-secret, ONLY way to clean a nylon accessory and get it good as new:
You Need:
dirty nylon item  //  Kiwi Sport heavy duty sneaker cleaner for light-colored sneakers  //  rag  //  small amount of water (not pictured)
How to clean your nylon accessory with Kiwi Sport sneaker cleaner:

1. Squeeze a generous amount of sneaker cleaner onto a dirty area, using the bristle brush of the applicator to scrub the cleaner into the nylon weave in a circular motion.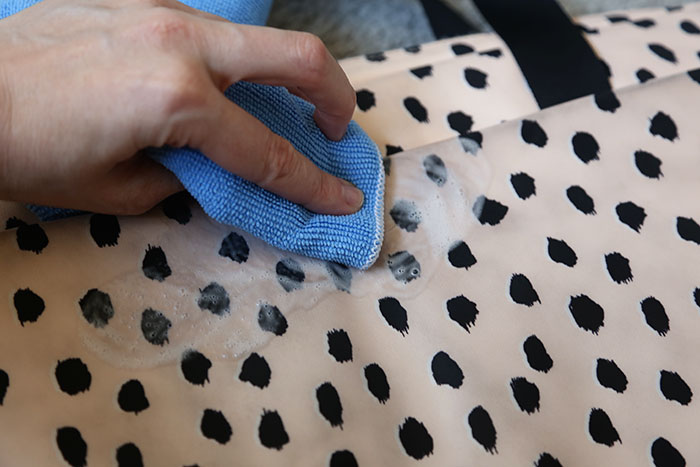 2. Wait a few minutes to let the cleaner penetrate. Use a clean rag to buff the cleaner into the nylon in a circular motion.
3. Dampen your rag with a bit of water, and shammy that cleanser (and the grime) away!
Note: Always do a spot test of the sneaker cleaner on the item before using it in a conspicuous area.
Allow your accessory to dry, et voila!
Your nylon handbag, laptop case, accessory what-have-you…now has a new lease on life!
This method may not work perfectly (and I was left with a few stubborn areas of dirt, especially on the edges of the case), but for a quick, useful solution this can't be beat!
xo
Carly
Leave Comment