So apparently I've missed the few screenings of Coco Avant Chanel here in Portland that happened earlier this month. *sigh* I soooo wanted to see it, but looks like I'll have to wait for it to come out on DVD (whenever that will be). Inspired by the sheer idea of the film (since I haven't seen it), I crafted a few things Chanel-inspired:
Double-C Sequined Perfume-Bottle Brooch
Gold sequins glued onto black fabric in the shape of the iconic Chanel No. 5 perfume bottle, then bordered by silver bugle beads stitched around the edge. I glued on some rhinestone chain that I salvaged from a broken necklace in the shape of two interlocking C's. Counterfeit couture. (Though I'm using the word "couture" loosely, since I used glue to attach the sequins.) I made this at least 5 years ago now…the bugle beads look absurdly crooked upon closer inspection; a mere shadow of the real thing.
Black & White Bow Shoe Clips
Made from frilly white chiffon ribbon and black satin wired ribbon wrapped around, and then stitched onto shoe clips.
Black & White Bow-Detail Cape
Made from two men's sweatshirts. I'm posting the tutorial next, so stay tuned!  I've posted the tutorial here, so check it out!!
 Pirate Triple Pearl Necklace
I know this is a little bit of a deviation from the standard Chanel pearls, but I liked the pirate-esque nature of them. I made them from some cheap pearl rope I had laying about – and I added some little charms and this cool carved nut I found at a bead show. I know they would be much better if they were real – or even faux! – pearls and not these pearls fused to the string like this…but this would seriously take so many pearls and so much knotting in order to make I got tired of the idea before even attempting it.

Chanel-Style Camellia Brooch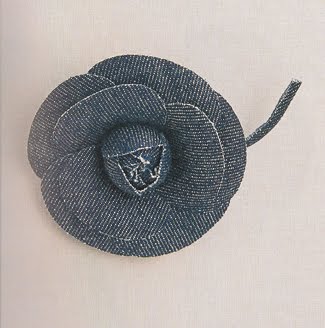 This is the photo from the book; I didn't actually make the brooch, sorry.
Adapted from the book "Ima Sugu Tsukuritai Co-saju" ["Corsages I Want to Make Right Now" Bunka Publishing, 2006]. Here's the scanned, translated-by-me instructions below – just omit the instructions for the stem and attach the brooch back to the back of the flower for a Chanel-style piece.  See here for more DIY corsage patterns, by the way!
Click above for full size.
The book page is 8 1/8″ wide by 7 7/8″ high if you want to print it out, in order to make sure the petal pattern is sized correctly. The pattern requires the use of a round-headed stylus in order to create the rounded, 3D-effect to the petals. Not completely necessary, but it helps create a finished, professional look to your corsage. I haven't sprung for the $30 heated stylus tool specifically for this purpose; I just use a metal muddler that has a small ball on the end. You could probably find a paint mixer or similar stylus tool at a crafts store. [And if you're wondering where I found the muddler, it's actually for mixing cel paints, courtesy of animation school in Japan. I don't think you'll find anything similar stateside.:-)
Hope this helps to get you into a Chanel-style mood – and hankering after black and white, stark contrasts, tweedy fabrics, pearls, and girly flowers. Have a lovely Chanel day!
xoxox
Carly
Save
Leave Comment