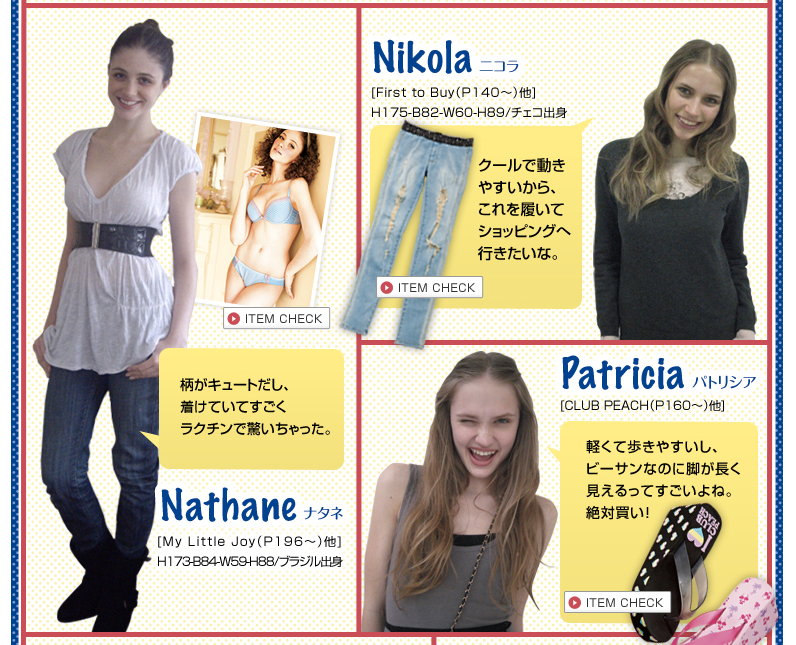 I received this question awhile ago on Formspring.me when I had an Ask Me Anything account there:
I have a question about modeling in Japan. Are the height requirements similar to the ones here? I'm relatively short (5'2-ish) and curvy, but not fat in the least!
Hi! Models in Japan need to be a minimum of 5'6″ (166 cm). Since the average Japanese person is shorter, there tends to be no market for models under that height. You also need to be able to fit into Japanese clothes, with the standard size being: B (80-86 cm; 31-34″) W (54-60 cm; 21-24″) H (80-86 cm 31-34″). (There is a little bit of variance here and there, and if you want to work on late-night TV shows or raunchy catalogs etc you can be more curvy.)  There is almost no market for foreign Asian models there – the more blond and Caucasian you are, the more work you are likely to get.  (Though as of the last ten years or so half-Japanese models are getting more work for more mainstream outlets, but they are usually from Japan and speak Japanese to begin with.)
Hope that answers your question!
xo
Carly
My modeling in Japan story:
I moved to Japan when I was 11 in 1990, and ended up living there 6 years total. I speak, read and write Japanese fluently. (I made a silly YouTube video 4 years ago of

me speaking in Japanese to my half-Japanese son

.) I used to model in Japan in 1998-1999, when I was

extremely

, unhealthily thin. (5'6″, <89 lbs) I did mostly TV show appearances, commercials, and music videos; not print modeling. Bit parts, nothing spectacular. Probably the most famous thing I did was appearing in

Hikaru Utada's "First Love" music video

. (It's very very quick, but I am there dancing in the crowd wearing a silver velvet crop top and gray skater pants with a white stripe down the leg.) When I first went to an agency (AtsuC Models in Tokyo) in Fall of 1998, I weighed 128 lbs. and was told I was "too fat" for modeling in Japan. My Japanese was fluent, but I was also told that most clients don't want to hire a foreigner who speaks Japanese well – if you're Caucasian they WANT you to speak it badly, with an accent, and my Japanese was just too good. But it wasn't good enough to be a comedienne, a funny タレント, so I fell kind of in-between in terms of demand for my skillz. And looks-wise, I just photographed fat, so they couldn't use me. I registered with a couple other agencies though, just in case. That year I lost an enormous amount of weight, and once I got down to around 105 lbs I started to get jobs. The lower my weight got the more jobs I got, and the more main the parts in the commercials and TV shows. I made a little bit of money to live on, which was fantastic. In Summer of 1999 I went back to the States.

Though I've returned to Japan since my son was born in 2005 for a month every single year to visit my in-laws, I never modeled there again. All I can speak towards is general trends I've been seeing over the past decade or so, but I'm no expert!!
Leave Comment