The brand-new Canadian line, TRENDiY Art, was recently kind enough to send me one of their fun DIY kits to review.
TRENDiY Art is a new line of art and craft activities for tweens and teens, and is all about making cool jewelry and fashionable accessories. They provide not only all the materials to make these projects in the kits, but also a full-length fashion magazine with styling ideas and DIY possibilities.
I decided to open up the Mexican Bracelets kit and try my hand at some embroidery thread-wrapped bracelets.
They were super-easy to make and a cute, colorful addition to my stack of arm adornment. Here's how to make them:
You Need:
TRENDiY Art Mexican Bracelets Kit  /  scissors
How To:
1. Start by double-knotting one thread around your bangle.
2. Wrap the thread around multiple times.
3. Change color by tying a new thread to the old one with a double knot, then cutting off the old thread.
4. Wrap the second color around, covering up the end of the old color and the end of the new color.
5. Continue all the way around, until you reach the beginning of your wrapping.
6. Add a third contrasting color wrapped around your base colors for texture.
7. When done, tie your final thread to the tail of the thread you tied on in the beginning, and snip all extra ends.
You can use 2 or 3 different colors rolled together for different looks, switch up the colors frequently, or tie many colors loosely around (even finishing your bracelet with a handmade tassel!) Plus you can hand-sew on some crystals, or even thread on some beads as you wrap for a totally different look.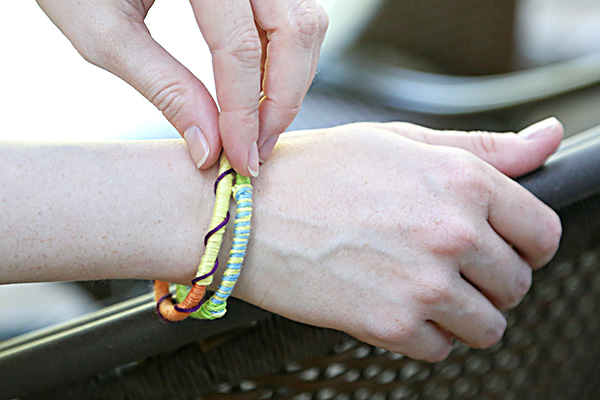 Make it your own, make it colorful, and make it fun!
These kits make it very easy to create your own DIY projects since they come pre-stocked with everything you need. Totally on-trend and fun, TRENDiY Art kits are a great gift or engaging activity for any avid DIY'er in your life.
Currently only available in the UK, you can get your hands on 3 of these exclusive kits by entering the giveaway below!
Giveaway
One lucky reader will win 3 TRENDiY Art Kits! Enter using the Rafflecopter widget below:
Good luck!
xo
Carly
FTC Disclosure: I was sent 4 DIY kits to review from TRENDiY Art. I have received no other compensation for this post. The above opinions are my own. To read my full Disclosure Policy, click here.
Save
Leave Comment