from formspring.me:
I just got back from Hawaii and noticed how flawless most Japanese women's skin is.  What make-up are they using?!
Gosh, I wish I knew for sure! The lovely skin of all the Japanese women and girls around me was always a complex for me growing up – since I moved to Japan just as I hit those ohsofun years of puberty, and experienced all the skin problems that entailed.;-) I always wanted to stop people on the street and ask them what their secrets were…
I'm by no means a dermatologist but as far as what I understand from reading Japanese mags, talking to Japanese friends, and watching Japanese TV – in general the "naked face" or "no make-up look" is not what younger Japanese women go for. It's interesting – in the US that's sort of the gold standard when it comes to foundation…that you look like you're wearing nothing! (I think that's why Bare Minerals is so successful here, as well as the almost constant advice that you look best when you just "dot concealer on your flaws and leave the rest of your face without foundation and natural-looking.")
In Japan, the standard is TONS of makeup – so much so that they have shows on tv where girls are forced to wash off their makeup and everyone laughs at them to see that their faces are completely different (and missing eyebrows is a favorite taunt). Many young Japanese women go the whole shebang: primer, foundation, concealer, dark contour, highlight, setting powder, and oil-blotting sheets throughout the day. Their skin-care regimen is in general much more involved than that of many Americans: responding to polls many girls admit that they spend 1-2 hours in the morning on their skincare/makeup, and another 1-2 hours in the evening! (Among women under the age of 30, or at least the ones that reply to said polls for magazines and TV shows.) When it comes to makeup brands, it seems that the Japanese will buy the most expensive brand of foundation – they definitely don't skimp there. Dior, Chanel, Lancome, Shiseido, SK-II, Kate, RMK – all mainstays in the foundation market. They use specific concealers for their pores and specific concealers for their undereye area. Even in the heat (like Hawaii, or during summer), they will still layer on the makeup, and use blotting sheets meticulously to soak up the oil and impart a layer of powder on their faces (I'm a big fan of the Biore brand of blotting sheets – why the heck don't they make them here??). Many Japanese girls also cover up from the sun and use sunscreen religiously (though there is the contingent that uses tanning beds, though they're not a majority by any means).
Also, I suspect a large component of their beautiful skin is diet: taking a daily vitamin is still quite a new concept since the accepted practice in Japan is to get one's vitamins from FOOD. Even young Japanese women "on a diet"will still eat a wide variety of vegetables (prepared in a number of different ways) at every meal, a large amount of fish weekly, and use condiments that are soy-based, miso-based, and vinegar-based. The amount and variety of vegetables, seafood, and skin-healthy condiments that we use in the US pales in comparison. Plus, living in Japan in the major metropolitan areas, everyone gets tons of exercise walking around or riding their bikes or commuting – so they're getting above and beyond that 30 minutes of recommended exercise a day, which I'm sure has something to do with their skin quality. Plus add in long, hot baths, soaking salts, and trips to the esthetician (for some), and that might just be a good picture of why the skin of Japanese women looks so fabulous. (The main dermatological complaint in Japan? Dry, flaky skin!!)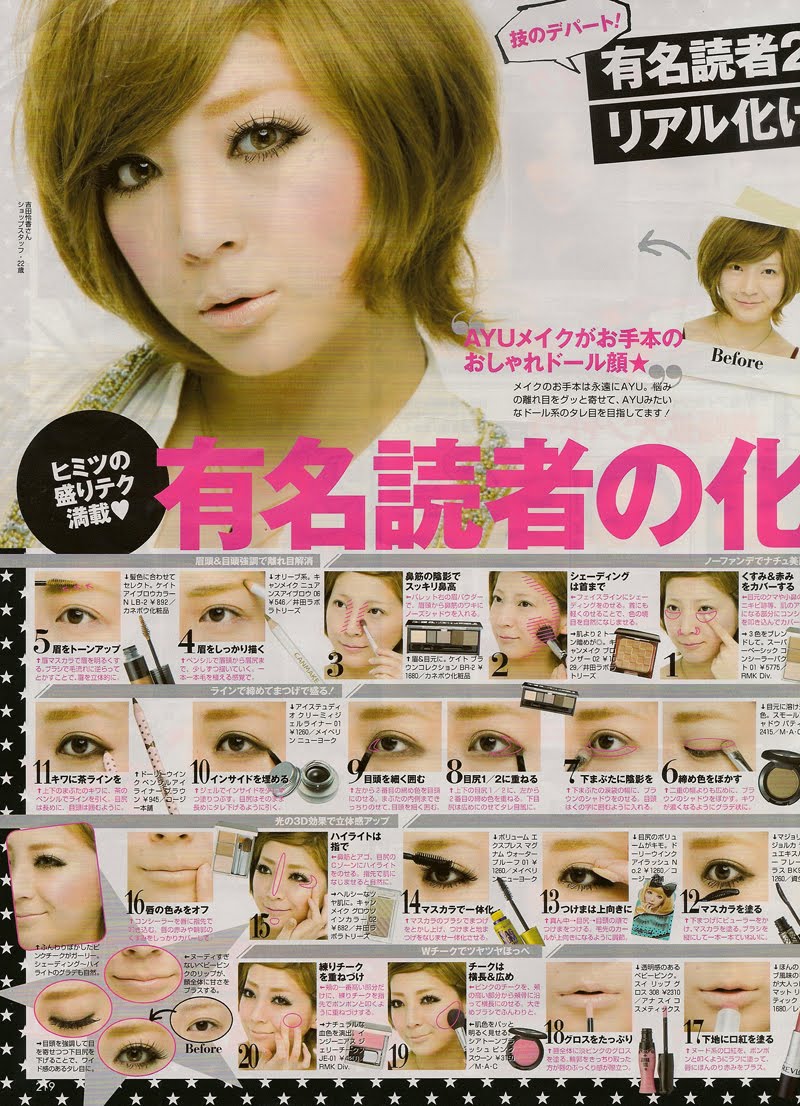 I've scanned a couple recent features from Vivi Magazine and S-Cawaii Magazine on how to apply foundation [click to enlarge], so you can see the method that they suggest for applying makeup. (I'd venture to guess that this method is pretty indicative of – if not a little more involved than – the average Japanese girl's makeup routine. Imagine if they listed this step-by-step in Marie Claire or Lucky! Who would follow it here in the US??)
Japanese women or those who have more knowledge of this subject, please feel free to weigh in!
Thanks for your question!
xoxox
Carly
Leave Comment