Welcome to another installment of  Steal That Style!, where I feature a celebrity's recent outfit and break it down into the Steal-able (that is, similar pieces that are affordable) and the DIY-able.
Garcelle Beauvais attended the premiere of "The Help" in Beverly Hills on Wednesday of this week in a bold and bright outfit.  It's not too hard to dye a boring white blouse into a vivid pop of color, and whip up some fashionable DIY accessories to go with the look.  Here's how to get a similar outfit for a whole lot less:
How to Get Her Look
Stylish Steals
Leopard Belt: Leopard Skinny Belt, $24.90, Express.com.
Chunky Ring: Faux Marble Ring, $1.50, Forever21.com.
Bright Pants: Blue Pleat-Front Tapered Trousers, Topshop.com.
DIY Deals
Necklace: This sparkly statement necklace looks (to me) simply like a bunch of clear octagonal crystals strung together with chain links.  Buy a Clear Strand of Glass Crystal wholesale from a chandelier supply company; string together with links separated from Gold-Plated Aluminum Cable Chain.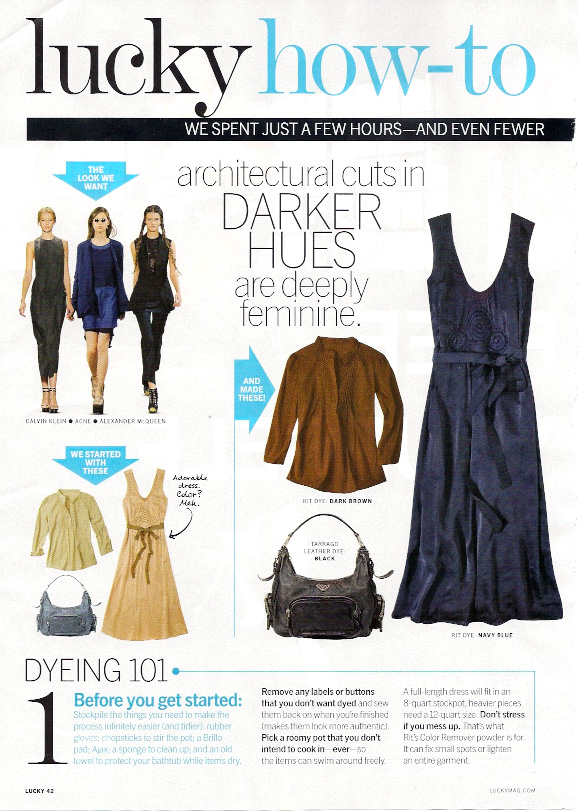 Top:  This look can be accomplished just using even one bright color – and to dye a white blouse this sunny yellow is not that difficult.  Thanks to Lucky Magazine's feature on how to dye your clothes (reposted above), the whole process is demystified.  Choose the right dye for the type of fabric, pre-treat to ensure the dye "takes," and follow the after-care instructions to set.  RIT powder dye in lemon yellow would be a good color match.
Clutch:  DIY this snap-closure piece using a large eyeglass case (from Studs and Pearls); spray-paint silver or even add a Snakeskin Decal (originally a sticker for your iPod) to dress up the front.
Proof that you don't need a celeb's money to look like a million bucks!
xoxox
Carly
Garcelle Beauvais photo credit: Getty Images.  All other photos copyright of their respective authors. White Shirt photo source.  Photo array by me.
~If you liked this post, please share it!~
Leave Comment