Emilie M. is an online handbag brand featuring beautifully-designed vegan leather handbags for an affordable price. Offering a number of different colorways for each design, pieces retail for an average of $50-$150, and are referred to as "an investment piece without the investment."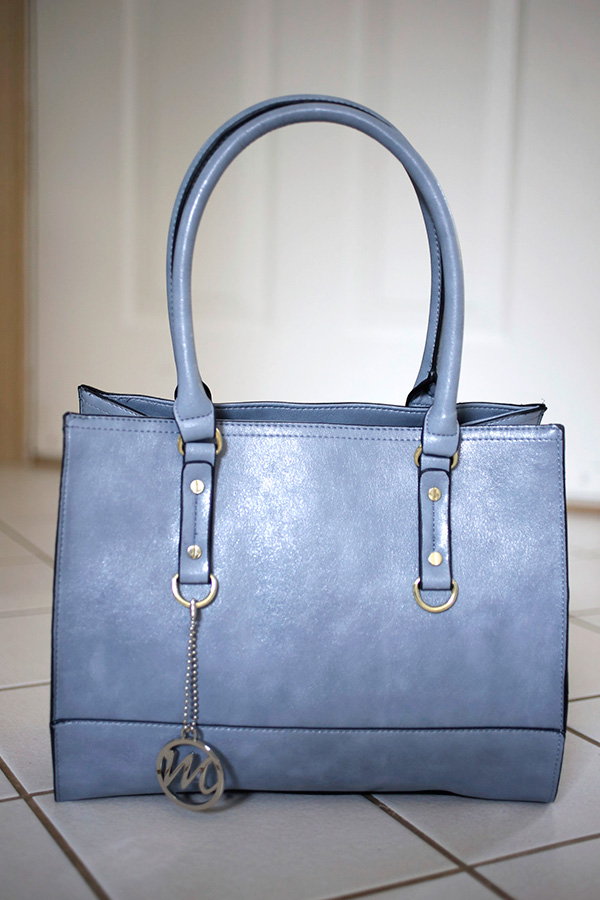 I was sent the Shelia Satchel with Double Shoulder Strap in Ivory/Black ($85), and the Natalie Shopper ($80) in Blue to review. When I received both, I was quite surprised at how light they both were (usually handbags tend to be fairly heavy, even ones using manmade leathers.) But regardless of their weight, both handbags were constructed strongly, with the edges properly coated and sealed, the handles strongly-attached, and the stitching impeccable. Each piece also comes with a large metal M bag charm that adds to the high-end look (though I wish you could actually choose your own initial rather than it being the Emilie M. branding!). 
I love that the Sheila Satchel is in trendy black-and-white colorblocking with gold accents, and the detachable (and adjustable) shoulder strap has a sliding protector for your shoulder on it. (See the bag in action here in my latest outfit!) Both bags are fairly roomy and structured, so can definitely protect all my essentials easily. Given that they are constructed of man-made leather, I will still have to see how they stand up to daily wear and tear, though so far they seem to be doing well.
For the woman in your life one of these handbags could be a wonderful holiday gift – especially if your favorite lady prefers eco-friendly materials but still wants a high-end look.
Plus, the brand is offering a great deal next week: for a week beginning Black Friday (Friday, Nov 29), you can get 40% off site-wide and 60% off clearance items sitewide!
Also, if you want to round out any handbag purchase with a 5-piece "Essentials Box" (pictured above: a kit including a cross-body wallet, umbrella, scarf, cosmetic bag, and key chain), it's only $25 additional (normally $155). (A wonderful way to add to your handbag gift – or the items could be split up for stocking stuffers! That folding umbrella is super-cute with a little ruffle – check it out here.) Definitely check out all their handbag styles (14 different styles, not including faux ostrich or crocodile versions as well) below:
xo
Carly
FTC Disclosure: I received both the Sheila Satchel and the Natalie Shopper from Emilie M. for review purposes. I have not been compensated otherwise for this post. The above are my honest opinions. For my full Disclosure Policy, click here.
Leave Comment