Candles are a great way to brighten up and add some glamour to any living space. Diamond Candles takes it a step further by including a surprise in each and every soy-based candle: a $10, $100, or $1000 ring! They have some really fun scents, too, like Caribbean Dream, Cupcake, Sweety Pea, Ocean Mist, Chocolate Truffle, Vanilla Lime (yum!).
I was sent a complimentary candle to try out, and I chose the Fresh Grass scent (now sold out, unfortunately:-(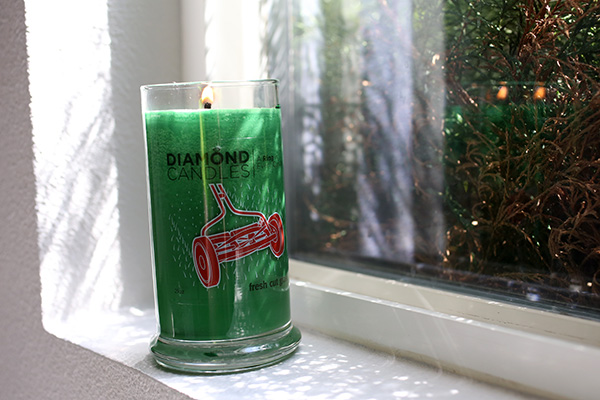 Indeed, just as the reviews say, it does smell like a hint of grass, with a fresh laundry smell, and a slightly sweet undertone. It is reminiscent of waterfalls, lush, mossy areas, and sweet, wet grass – a very pleasant and clean smell. The scent lasts awhile, lingering in the air for hours after burning, which is a huge plus (compared to candles whose smell just fades away once extinguished!) And I would definitely order it again if they re-stock it.
But of course the real draw was the hidden ring inside the candle: what would it look like? Was it real? How much would it be worth? It was sort of a treasure hunt inside a candle. You can tell where the ring is embedded from the outside: just a few inches below the top of the wax, so at least I knew what I was aiming for.
It took about 6-8+ hours to burn the candle enough to where the wax was soft enough to remove the ring. (Use a skewer or toothpick to remove, place on a paper towel, and allow to cool before handling!) Then, carefully peel off the surrounding foil and plastic packaging, making sure the wax is hard before you do so. (I was too eager and some of the molten wax got on my ring, which is proving truly difficult to remove!)
When I got my ring out I was very pleased to see that the quality of the ring was very good – in that it was an excellent piece of costume jewelry. Though I could tell almost immediately that my ring was not worth $100, let alone $1000, it was still a decent piece of jewelry, with precise settings and a pretty piece of yellow glass in the center. It could pass for an actual wedding or engagement ring, since the stone had a sparkle to it and the setting did look expensive.
But if you're wondering if your ring is the real deal (and one of the rare rings worth $100 or $1000, as Diamond Candles says), here's how to find out:
5 Ways to Tell if Your Diamond Candles Ring is Real (as in, Worth $100+)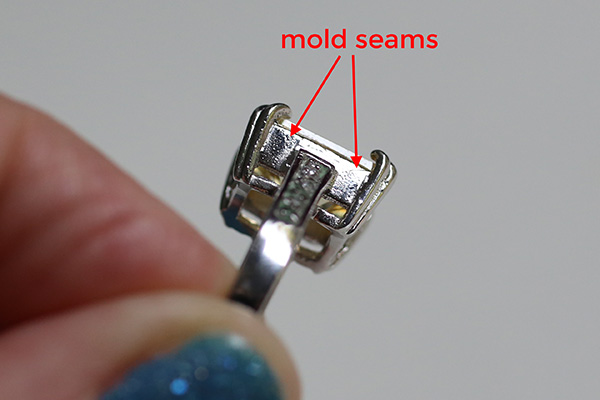 1. Look at the quality of the setting and ring shank. Do you see any lines or obvious seams? If so, the setting and/or shank was created in a 2-part mold, rather than fabricated out of precious metal wire and sheet. Lines or seams in central areas of the setting and/or shank indicate the ring was cheaply made.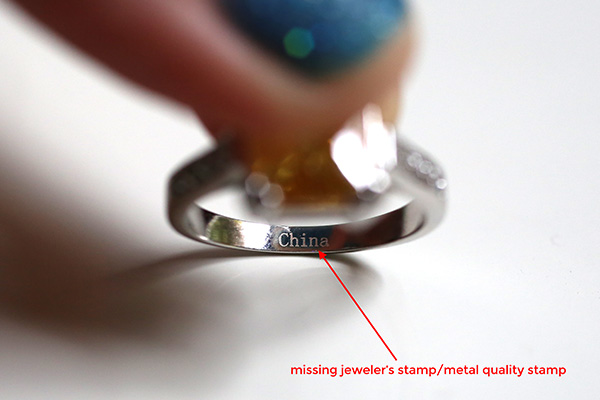 2. Look inside the ring shank for a stamp. Any stamp that says something like 10K, 14K, 18K, 585, 750, 900, 950, PT, Plat…or a jeweler's name or brand name indicates the ring is made of precious metal. If there is no stamp or signature, or if like my ring, yours says "China," then the shank is likely made of cheap, base metal.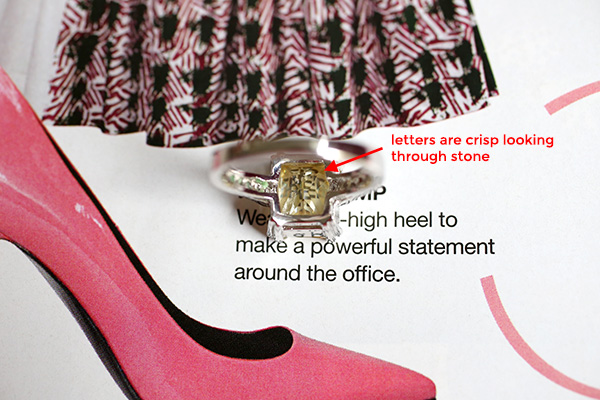 3. Look at the stone, and turn it upside-down on a piece of newsprint or a magazine. If it is a diamond, you should not be able to read anything through the stone; if it is glass, you will be able to. A real diamond has a high refractive index and will distort type.

4. Look carefully at the sides of the stone. When you rock the ring from side to side, do you see any flashes of extra colors – like bright orange or bright green? If yes, then you may be dealing with a real diamond or citrine. Also, any colors visible in the flashes appear as in distinct bands or solid areas. Glass stones (or low-quality diamonds) will often show a full rainbow spectrum in their facets, with colors not distinct from one another.
5. Look at the inside of the stone. In glass stones, you will often see air bubbles trapped in the glass. Real gemstones may have inclusions, but not perfectly-round air bubbles. (This is something apparent upon magnification.)
This is not just a useful rule of thumb for evaluating your Diamond Candle ring…you can also use it to check out rings when buying vintage pieces or evaluating heirlooms in your collection. (Of course, a jeweler will be able to do the best job in distinguishing fake from real – but you might be able to save yourself the money by looking closely and at least eliminating pieces that are obviously not expensive items.)

So, are you ready to embark on your very own treasure hunt with Diamond Candles?
You Could Win:

Good luck to everyone!
xo
Carly
FTC Disclosure: I was sent one Diamond Candle for review purposes (ARV: $25). I was not compensated in any way for this post. The opinions above are my own. One candle will be provided to the winner of this giveaway courtesy of Diamond Candles. To read my full Disclosure Policy, click here.
Leave Comment