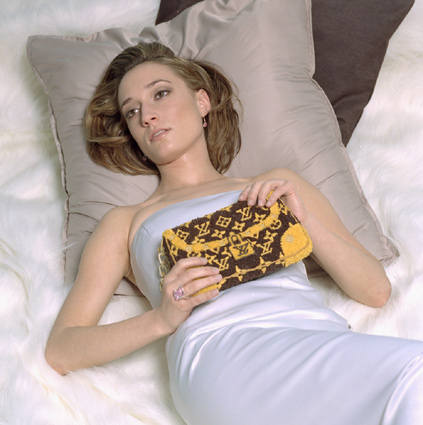 I find incredible inspiration in the work of Shelley Miller, especially in her Objects of Desire and Scopophilia series (even though that was from quite awhile ago [2005-6!])  Edibles + art?  Edible art? Plus handbag design?  Just too amazing for words.
From the copy on her website:
The rich, sugary cakes are subtle, almost passing for the real thing. They are almost camouflaged in the same way that the products in advertisements are overshadowed by the beautiful people surrounding them. It begs the question, what are we consuming?
Objects of Desire (2) · 28" × 28" C-print mounted on Di-bond.
Handbags constructed from pound cake, chocolate, sugar ingredients.
What breathtaking pieces.  (And perhaps they can serve as inspiration for a DIY cake for a fashion-loving friend at some point in the future…?)
And a piece from her Cargo series: a sugar sculpture on an outdoor wall in Montreal, that degenerates over time while exposed to the elements.
The handiwork on all her pieces is simply amazing.  You can see more of her thought-provoking and detailed work on her website here.
xo
Carly
Leave Comment