(My DIY version, left) I fell in love with this necklace (found on SixSixSick, right photo), originally by artist Anni Albers. They sell the DIY necklace kit on Urban Outfitters for $14.
(A little bit about Anni Albers and the necklace kit from the UrbanOutfitters website: "This German-born American textile artist was always creating, even during WWII when fine materials were in short supply. Back then, she'd use unlikely objects from hardware and stationery stores to constantly make new and exciting pieces. A pioneer of 20th century Modernism, Anni, along with her husband Josef, revamped and challenged the purpose and aesthetics of modern art. Based on an original 1941 piece that was featured in Anni's exhibition of "common object jewelry", this Washers and Ribbon kit lets you easily create an eye-catching piece. A simple, easy project, the kit includes all the components needed to create the necklace shown plus a photo of the finished product as a guide.")
Now I was all ready to plonk down my $14 for the kit at my local Urban Outfitters, but the store didn't have it, and the salespeople were so unbelievably rude when I asked about it (admittedly I was holding an upset-looking toddler and looked somewhat sweaty and disheveled myself) that I decided no way, no how was I buying it from Urban. So I just put together the parts – one trip to Home Depot, and one trip to Michael's later, I was set. Figuring out how the ribbon was woven through took a few false starts, but here is the DIY anyway, just in case anyone's interested:
You will need:
-2 M of 5/8″ double-sided ribbon (I chose satin-the UO version is grosgrain. Whatever you like, just make sure both sides are the same! I also grabbed a 3 M remnant spool out of Michaels' $1 bucket near the cash registers.)
-4 small (5/16″ dia) zinc cut washers (loose washers in the drawers below the washer/screw section)
-2 packs (of 6) 1/2″ dia SAE washers (they come in little orange plastic packs hanging on the wall at Home Depot, item#19861)
-7 x zinc cut washers1/2″ (again, loose from the drawer below)*
*I know it looks like we just bought a whole bunch of 1/2″ washers, but for some reason the loose 1/2″ dia washers actually ARE 1/2″, whereas the loose, in the drawer "cutwashers1/2″ are larger (like 7/8" if truth must be told). Not sure why. Anyway, those are what I used; choose whatever sizes you like!
Total cost of washers? $3.74.
How to: Thread one of the smallest washers onto your length of ribbon, about 8″ or so from one end. Follow lacing instructions below, adding washers on in this order:
(S= small washer, M=medium washer, L=large washer)
S-S-M-M-M-M-M-M-L-L-L-L-L-L-L-M-M-M-M-M-M-S-S

Make sure you underlap the washers as you add each new one; the new one goes underneath the previous one. And they're single-sided (a shiny side, and a matter side), so make sure you're keeping the same side out for each one as you add it on!
Leave 6-8″ on the end once you're done , and tie the end of the ribbon. You can also treat the ends with Fray-Stop, or fold them over twice and stitch a narrow hem to encase the edges (neither of which I've done in the photo cuz I'm just too lazy). I think I'll just leave the ends tied – am not sure I like the bow I made. Anyhow.
Project Cost: $4.74.
Time to Make: 40 min since I had to rethread it 3 times before I figured out the tying method. Should take you less!
The necklace (though heavy) sits beautifully on the body, almost like a flat snake. Very nice, Anni Albers!
I'm wearing it with my DIY cut-off Hanes shirt that I got from the Dollar Tree for…yup, you guessed it…ONE WHOLE DOLLAR. I was thrilled to find blank white and colored M and L sized Hanes tees at Dollar Tree. The bottom half of this shirt went to my DIY necklush, which I'll probably post a photo of to bore you all with later. I kept the top half, then realized it looks more than slightly like that little Loose Crop Tee that American Apparel is selling for $17 (which I've had my eye on for awhile)…so ka-ching! I feel $16 richer. Funny how DIY works that way!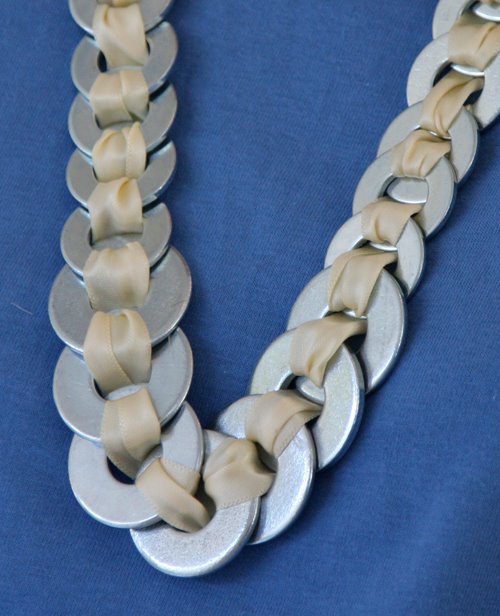 Happy DIY'ing!
xoxox
Carly
Save
Leave Comment