(Shoes photos, Matthew Peyton, Getty Images North America; runway photos, Marcio Madeira,
Style.com
)
It's been awhile since Mercedes-Benz Fashion Week in NYC has drawn to a close (Feb 13-20, 2009, to be exact) but with Fall already on the way we wanted to pass on the tips and trends we saw only a few months ago.
Drawing inspiration from the group of French dandies called Les Incroyables that formed in the 18th Century following the French Revolution, designer Laura Poretzky showcased a tightly edited, elegantly cohesive Collection. Just as the group of gentlemen focused on tailored, regal pieces evoking a more opulent time, the designer put efforts into shape and fit; creating a sumptuous collection of versatile separates. The palette was sophisticated and muted in vintage-like "tarnished" hues: washed tones of black and gunmetal gray, sterling blue, colonial blue, dove gray, regal purple, and dusty rose. With exquisite tailoring and a focus on the beauty of fabric and texture, this collection stood out as the designer seemed to truly be hitting her stride. And to add the crowning touch: beautiful, drool-worthy shoes (the Antoine, Rousseau, and Dauphin) in velveteen and suede, from the Abaeté for Payless Collection due to be out in stores in August of 2009.

Elegant coats with sewn-in vests, nipped-in jackets with tails, layered silken ascots, slim-cut twill pants, wide swing skirts, tiered layering and petals, and regal striped wool separates evoked a time period of genteel joie de vivre. Jackets were constructed with sewn-in vests in order to function as a double-layered piece in the working woman's wardrobe. Deep sterling blue silk dresses were shot through with silver lurex threads: the pieces literally looked as if the night sky was walking down the runways. Black and cream, gunmetal gray, and deep blues spoke of romance and longing – and all ensembles were accented by the most intricately beautiful accessories fashioned by jewelry designer Thea Grant: filigree gold brooches, multi-chain gold belts, and tiny pin accents that elevated the look to an entirely new regal level.

The hair and makeup was utterly gorgeous – and stayed true to the Victorian French masculine aesthetic. Beauty.com celebrity makeup artist Tina Turnbow (Tarte Cosmetics), said that the healthy "no makeup" look she did on the models is easy to recreate by first prepping the skin with Caudalie Beauty Elixir ($15), enhanced with grape, rose, and myrrh extracts to brighten the complexion. She then applied Tarte Smooth Operator foundation ($35), which gave a little more coverage than the average tinted moisturizer, to let the models' skin shine through. She used a little bit of Tarte Lash Hugger Eco-Friendly Natural Mascara ($18) on the eyelashes, and Liquid Sunshine Vitamin-Infused LipGloss on the lips to give a natural rosy gold tone ($21). Finally she applied a dusting of powder over the eyebrows to tone them down and make the look more masculine to emulate the Les Incroyables inspiration. All in all it created a healthy, refreshing look for Fall, pairing with the dark tones of the Collection nicely.

See a behind-the-scenes video footage of the look at http://video.beauty.com/p/107/revolutionary-beauty/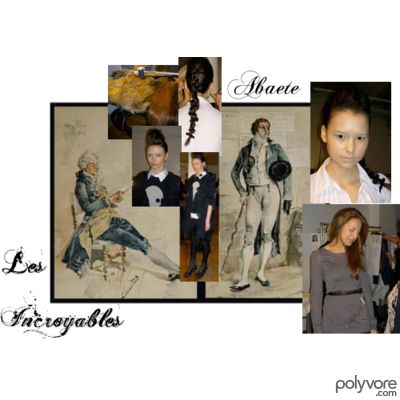 (Les incroyables watercolor by G. Galat, from
RubyLane.com
; all other photos, Carly J. Cais for FashionTribes.com)
Lead hair stylist Mario Ruiz created super-coiffed pompadours and "basically made [the models] look like 18th-century French rock stars." He first teased the top of the hair and shaped it into a faux-mohawk rockabilly-type look, and then pulled it back into a reverse French braid in the back, weaving a black ribbon throughout. RedKen WorkForce 9 Flexible Volumizing Spray ($14) was a must for achieving the necessary texture and holding the hair style; and one of its great features is that it won't flake and you can brush and restyle the hair as needed and it will still hold.
All in all, it was a sumptuous, opulent collection, with fantastic separates, jewelry, and insanely affordable shoes; exquisite styling choices, and a makeup look that was just as doable in the "real world"…it flowed together seamlessly, and felt like one of those rare Collections where every element hit the right note. Bravo!
-Carly J. Cais, as posted on FashionTribes.com

Leave Comment