Since coming back from Tokyo and getting up at 1 or 2 in the morning for the first 5 days or so, I've had some time to kill waiting for the grocery store to open so I can start my day.  I've dove into my video collection and pulled out everything video that I used to love growing up – mainly because I wanted to re-visit the fashion from that era.  It's amazing to see what looks silly to our eyes now – and what fashions are still around!  Here are some of my favorites:
Girls Just Want to Have Fun
http://www.youtube.com/watch?v=8h6pXPHaWM0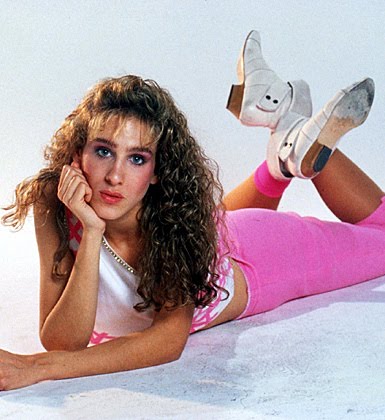 Photo source
The ultimate sleepover movie in the 80's!  I had no idea that it had been Sarah Jessica Parker and Helen Hunt in the two lead roles for the longest time, even after they both became known for the rest of their careers.  Remember Helen Hunt's beret with the grasshopper on it from the DTV tryouts?  Or her outfit where she changes on the school bus simply by flipping her Catholic School uniform inside-out and securing it with the help of velcro?  SJP's outfit where she competes at the dancing competition for DTV killed me – I even made a similar version way back then, scribbling on a cut-up white t-shirt with pink fabric paint and pairing it with some hot pink spandex leggings.
Can't Buy Me Love
Photo source
I can watch this movie over and over again – and even now, when I'm at least 10 years older than everyone in the movie, the cool kids still look "cool."  Remember Cindy Mancini's outfit that got splashed with red wine?  Suede fringe and rabbit-foot earrings!  I was always shocked at the boldness of it.
The Breakfast Club
Photo source
Who could mention iconic 80's teen movies without including The Breakfast Club?  Kids from all the different cliques in school are forced to spend a day with each other in detention – and emerge friends.  (At least for the day.)  Molly Ringwald was wearing that pink outfit that could pass for fashionable even today – and gives Ally Sheedy a makeover (I preferred her before all in black though!).  I think anyone who watches this movie will find all of the characters relatable, even if they themselves identified as a "jock" or a "nerd" during high school. (sorry I don't know why the above video isn't loading:-(
Clueless

Photo source
The ultimate 90's high school makeover tale.  Who didn't want to get up and put together her outfits like Cher?  Watching it brings you back to all the great mid-90's fashion: over-the-knee black socks, clunky-heeled shoes, bright colors, matching plaids.  Why is it that movies with "makeovers" appeal so much??  This has three: the high school math teacher, Tai (Brittany Murphy, R.I.P.), and Cher herself.  And it just makes you smile!
Beverly Hills, 90210
http://www.youtube.com/watch?v=NNmmAcrjtOQ

Photo source
Watching the whole TV series was like watching 10 years of fashion fly by.  I was always partial to what Donna Martin wore in the high school years – but all the flowered, breezy minidresses, combat boots, black velvet chokers, and bodycon dresses bring back memories.
Did you have any "fashion-inspirational" movies that you loved growing up?
xoxox
Carly
-all video clips sourced on Youtube.
~If you liked this post, please share it!~
Leave Comment