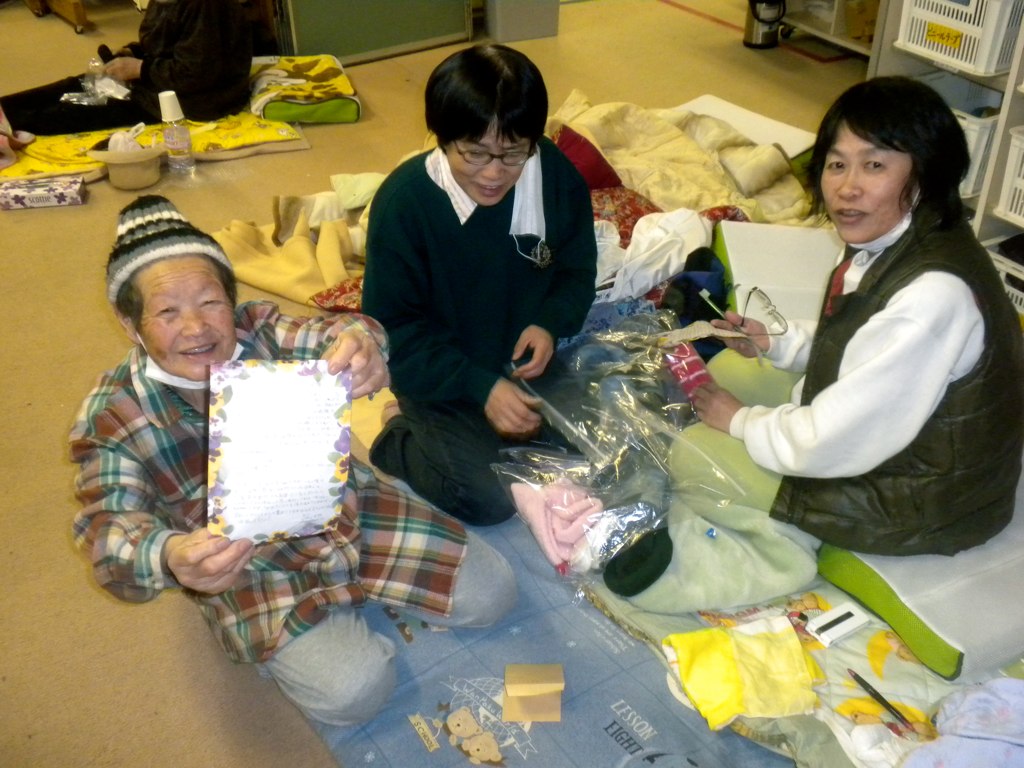 I spotted two pairs of socks I sent in this photo: the hot-pink stripe and the light pink socks!
As you all probably know, besides donating money for tsunami relief efforts in Japan, I also sent 38 pairs of socks for men, women, and children, along with some handwritten letters and toiletry items, to a newly-formed organization that aims to distribute these items to the displaced victims housed in temporary shelters in the northern parts of Japan.
This morning, Socks for Japan shared their first experience making a delivery to a couple shelters located in Ibaraki, who had cited an urgent need for socks and specially requested them.  The group also shared the photos they took of the destroyed towns and homes, damaged personal items, and the isolated survivors in the various shelters they visited.
From their account of the day:
Three ladies sat together on a blanket after receiving their socks, all three engrossed in reading the letters. They looked so happy and kept turning to each other to share what their letters said. They noticed us noticing them, and the eldest among them held her letter up and told us, "This is wonderful."
Hand-writing 14 copies of this long letter took an awful long time…
But for the look on this woman's face I would write 10,000 more.
It's so amazing to be involved with a charity that actually does what it sets out to do, wholly and caringly – and provides an actual account of their work so there can be no misunderstandings about it.  Perhaps I shall never learn the names of these people…but I am so glad to have brightened their day in even the smallest way.
The write-up is incredibly moving, and hopefully puts to rest any criticisms that socks are neither needed nor wanted.
Thank you to Socks for Japan, who have allowed me to help in such a tiny way!
xoxox
Carly
~If you liked this post, please share it!~
Tags:
charity
,
donate
,
Japan 2011 Earthquake
,
socks