Who could this be?  (Okay, my title kind of gave it away…)
If you guys are wondering why I haven't posted, I've been mired in Portland Fashion Week stuff and haven't caught up just yet.  I have a couple big posts coming up (but I have to sit down and do them) – so they'll be up soon!
In the meantime, here are some photos I snapped of Project Runway Season 7 Finalist Jonathan Joseph Peters.  For the first time ever in the history of Portland Fashion Week, there was actually a showroom organized so the designers could present their creations to the buyers and press.  (In Portland, there are no official designer showrooms at all!  At least that I know of.  It's such an independent community here that there just doesn't seem to be a need for it.)
So I stopped by the showroom – and whaddaya know?  It was Jonathan from Season 7 of Project Runway showing his pieces (that will be coming down the runway tonight in a HUGE Project Runway alum show with Goga by Gordana [of Season 6], Jay Nicolas Sario [Season 7 finalist], and Seth Aaron Henderson [Season 7 Winner]!!)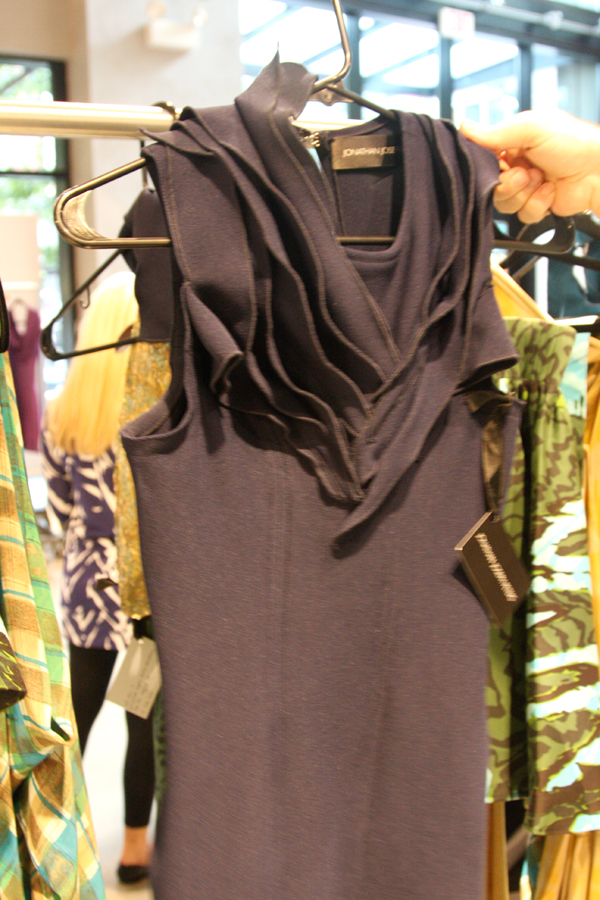 He is such a sweetie in person – so down-to-earth – and his collection is phenomenal! He said he is particularly drawn to mixing patterns, hand-dyeing, playing with textiles, and layering fabrics – like the spectacular detail at the neck on this top.
Breathtaking cut-work detail (done by HAND, not by lasers – then heat-sealed by HAND.  I just have to write HAND in capitals because it is so rare to see nowadays.)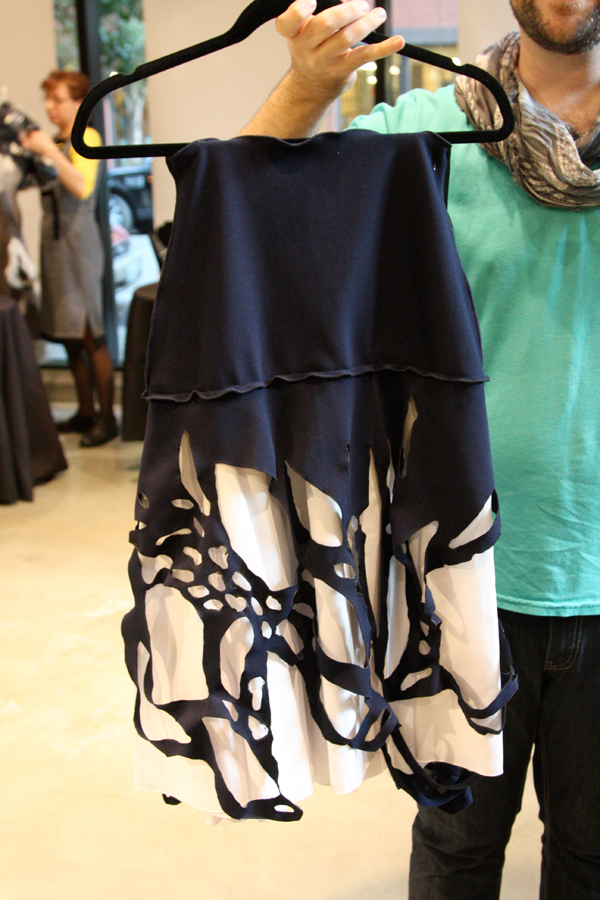 A skirt in the same vein.
The fabric is a little "melty" around the holes, which adds to its fabulous deconstruction.
 A gorgeous spangled top and the rest of his collection.  Check out the prints!
Being based on the East Coast, he said he was really excited to be able to bring his collection out here to the West Coast and see the reception.  Sewing since he was 10 and producing collections under his own name since 2002, he characterizes his aesthetic as "thoughtful separates with a sense of fun."
I can't wait to see it on the runway!
And in the meantime, check out his website below and show the guy some love!
xoxox
Carly
~If you liked this post, please share it!~
Tags:
Chic Brands
,
Indie Fashion
,
Portland Fashion Week
,
Project Runway