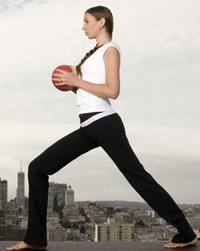 by Carly J. Cais, Fashion Designer
As a designer – my line is
RIVETED Clothing & Accessories
– I've developed an eye for style over the years…and right along with it, a nose for a bargain. Half the fun of fashion is looking fabulous without needing to declare bankruptcy. Each week, I showcase hot designer-style steals (each for $100 or, in most cases, for much, much less)…along with one splurge-worthy item.
Since beach season is almost upon us, now is a great time to drop some cash on cute workout threads that will motivate you to drop some poundage.
Looking cute will help your workout from becoming stale, and not only are these five fab finds functional, they're as easy on the wallet:
 CELLULITE-BUSTING BOTTOMSThese leg-bettering compression shorts will also give you a, well, leg up on regular spandex bicycle shorts! Wear them under your workout clothes, and while you're logging miles on the stairmaster, their patented mesh wave boosts blood circulation, helping slim and tone your lower half. They're also infused with antibacterial silver ions which not only aid in detoxifying the skin, but mean there's no stinky sweat residue. And at $45, they won't make a dent in your savings. Solidea Silver Wave Micro-Massaging Bottoms available at BlissWorld.com.

 PERFORMANCE FLEECE Not all fleeces were created equal. This Lands' End ThermaCheck 100 jacket is wind-resistant and fights static cling for as long as you have it. The variety of zip-pockets will help keep you organized while the princess seaming makes for a flattering, feminine fit. But wait, there's more! They'll not only send you free fleece swatches, but you can use the virtual model to "try" it on…all for $25 (not to mention the best customer service…ever). Available at LandsEnd.com.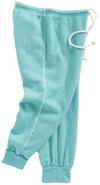 CUTE SWEATS
Not runway ready…but cropped, cozy, and on sale for $10 at OldNavy.com.


GLAMOROUS EARBUDS Bring a much-needed dose of Beyonce to that rugged, steel-covered and polyurethane-padded place – aka the The Gym. Yes, you could spend around $50, but why, when there's a perfectly good lookalike pair from JC Penney for $4.

 WIRED WEAR While bling improves the fabulous quotient of your iPod, holding onto your player in a death-grip as you navigate the mean streets on your morning job…not so fabulous. This cool, iPod-friendly tee has a special sleeve-pocket for your gadget, as well as a headphone loop in back to stay tangle-free. An invisible front zipper lets you cool down when your workout heats up, and the fabric wicks away sweat, keeping your music where it's supposed to be and you from missing a beat. Sugoi M-Wired T-Shirt $60 at Amazon.com
.


 SPLURGE OF THE WEEK: A McGUYVER WATCH It may look like a cute watch, but it counts your strength training sets, tracks your weights, stores your progress and calories burned over a series of workouts, provides aerobic fitness testing, has a built-in heart-rate monitor, recommends an optimum heartrate, and then times your relaxation session to help you chill post-workout. Oh, and it tells time, too. Polar F55 Heart Rate Monitor Workout Watch $220 from PolarDiscount.com.
If there are any high-priced pieces you'd like me to find similar, less costly versions of, please email me at carlyjcais AT riveted-clothing.com.
'Til next week, fellow bargain-hunters!
– Carly J. Cais
(top image via somalifestyle.com)

Tags:
Carly's Chic Steals & Fashion Deals of the Week
,
My FashionTribes Articles