It's June and Summer is coming! For many, hot weather is already here. I'm dipping into my archives today to share with you 10 no-sew DIY Summer projects for t-shirts and tank tops – so you can look cool, calm, and collected despite the rising temperatures.
10 Easy No-Sew DIY Summer Projects for T-Shirts and Tank Tops
Although the skull-back style is a little dated by now, you can accomplish the same things with just a pair of scissors and your imagination – butterfly and ladder shapes are always popular! Choose a t-shirt or tank top made of thin, stretchy fabric so the cut edges don't unravel.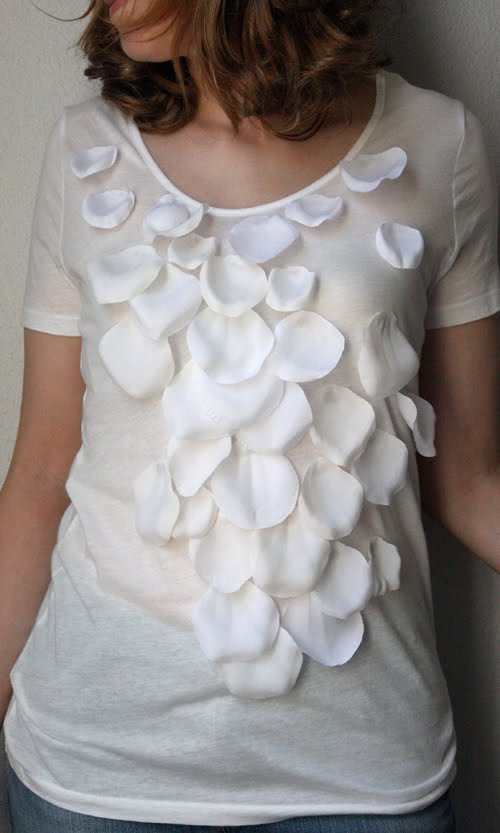 This is one of my most popular projects – it's so charming and ladylike! All you need is a fabric flower (or two) and fabric glue to recreate the look. So pretty peeking out from under a cardigan!
3. Avant-Garde Artistic Button Embellished T-Shirt
This is a time-consuming project that packs a ton of visual punch with buttons and fabric glue again. Try different images (a rainbow, a flower) to make out of buttons – and choose colorful ones from your button stash! Also a fun project to make with kids.
4. Happy Ice Cream Face Applique T-shirt
If you have some fabric scraps on hand that you love and want to showcase – this applique t-shirt project is for you! All it requires is iron-on fusible web and an iron to attach.
5. Patriotic Punky Iron-On Tank
For a punk look you can go old school, slash a tank and safety-pin it back together. I had a military-style iron-on that was begging to be used for this project!
6. Butterfly-Embellished Tanktop
A cute applique like a butterfly or other insect is made more adult by adding a studded trail behind it…you could do rhinestones instead and a unicorn applique for complete over-the-top girliness!
7. Scribble Tee
This was one of my first T-shirt makeover projects – super-easy and hides the flaws on an old dingy T-shirt pretty well!
9. Tribal-Print Festival T-Shirt
10. Sequin Trompe L'oeil Peter Pan Collar T-Shirt
Hope that gives you some ideas for your next Summer T-shirt or tank top makeover!
xo
Carly
Leave Comment