Photos: Celebrities, ASOS.com; Runway Photos: Marco Madeira for FirstView.com; Scarf photo: Devon Jarvis for Elle.com; Autumn Cashmere Leopard Cardigan. Style It Chic! Array by me.

Another Monday Tuesday, another edition of Style It Chic!  (Yes, this was supposed to post yesterday, but I just couldn't get it done fast enough.)  It's now the beginning of my one of my favorite months of the year!  In this post series I will be taking one item or trend and showing you how to emulate that look – for much, much less than what you might pay at retail.  I'd love to hear your feedback on what you think of this style of post!
Fashion inspired by our furry little friends is HUGE this Fall with faux fur and animal PRINTS populating retail shelves and Must-Have lists across the 'net.  And a little pop of leopard definitely brings your Summer ensembles into Autumn with an amazing ease.  Add a leopard-print scarf, booties, hat, or pair of gloves for a little…or go for a lot with a voluminous coat.  I've donned a cardigan in my favorite hue of gray (Snow Leopard – yay!) [cardigan from Ann Taylor, scored on Ebay since they no longer sell it] and styled it 3 different ways below:
1. Eclectic Layered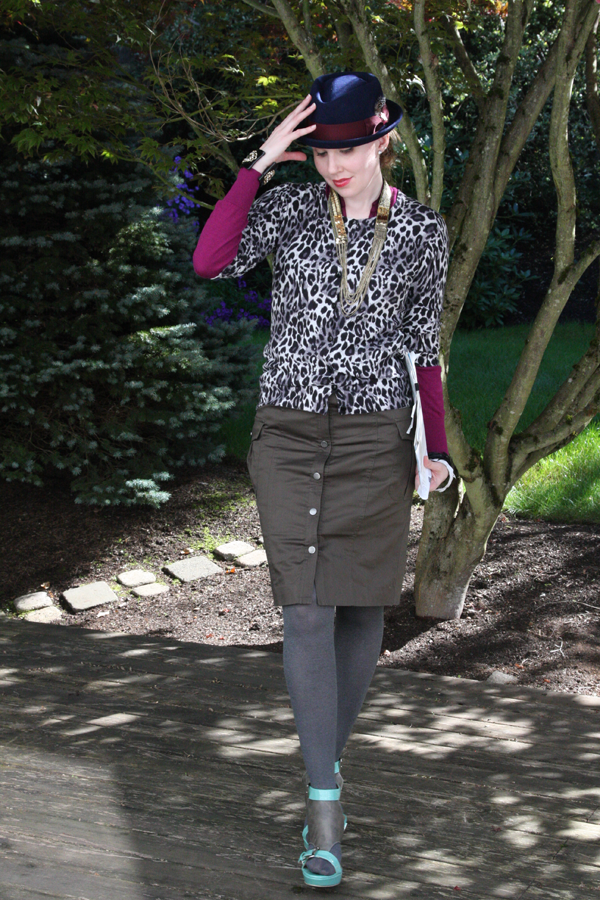 (Hat: Christie's Crown Series; Sequined Chain Necklace: Forever 21; Satin-Edged Cardigan: (worn underneath leopard cardigan) Old Navy; Mixed-Chain Cuff: Target (check the Clearance bin in-store!); 2 DIY feathered bangles; Hue reversible tights)
If your leopard layer is cropped or short-sleeved at all, go for the unusual by layering a cardigan or sweater underneath it.  Ward off the chill of bare arms by covering up with leg- or arm-warmers or elbow-length gloves for a retro-style look.  Pair pieces that are different colors and see what sticks – sometimes a mish-mash of hues works to your advantage!
2. Leopard-on-Leopard
(Leopard-print Bra: Warners, Twisted Chain and Rhinestone Necklace and Boyfriend Watch: Forever 21; Rough-Cut Quartz Heart Ring: gem & mineral tradeshow; Wire & Rhinestone Wrap Ring: Payless; Destroyed Jean Shorts: Hudson; Velvet Ribbon worn as belt; Hue footless tights; Steve Madden pointy flats; DIY Shoe Elastics)
Mixing and matching patterns is always a toughie – but what could be easier than going full-on double leopard?  The rules: wear no more than 3 pieces and only use at most 2 different colors and sizes of the leopard print.  Keep your other pieces in solid, coordinating colors to keep the eye focused on the print.  There's a fine line between looking like you got dressed in the dark and looking cute and intriguing. (And yes, I'm showing my bra – which I usually don't do – but in this case it's super-subtle since the similar prints fool the eye.  If you're not feeling as daring, then try a leopard camisole underneath instead!)
3. Downtown Cool
(Velvet Cord Necklace: bought at Michael's in the jewelry section, Silver Bangle Set: Forever 21; Grommet Watch: Hot Topic; Lace-Edged Camisole: Target; Skinny Black Jeans: Alloy; Alloy Sia Wedge Booties – BTW there's currently FREE Shipping for orders of $25+ with code AFS25A AND 15% off your order with code ALPW15B at Alloy.com!…if you can't use both codes together at checkout online try ordering over the phone instead, I've had success with a rep allowing both codes to be used before.)
Sleek and chic is the name of the game.  Use as a light layering piece – over another huge trend for Fall 2010: LACE! – and play with the fun of prints with a minimalist commitment.  I've added a pair of skinny jeans and some super-wedges for an on-trend re-interpretation of urban chic.
Are you breaking out your animal prints now that Fall's in full swing? How would you wear leopard?
xoxox
Carly
~If you liked this post, please share it!~
Leave Comment