Shopswell is an easy, fun way to curate shoppable lists of products or wish lists around a certain theme – that update dynamically no matter what.
Unlike Pinterest, which is frozen in time from when the original Pinner pinned the product (for years!), on Shopswell you have the ability to integrate a product's price so it updates on the image as the price changes. No broken links. No item not found errors. No clicking through and finding that the price is totally different from what you suspected. Lists of items that are actually shoppable – still. Christmas wish lists that are updated. Beautiful layouts that are embeddable in your blog, no plugins necessary. You can even watch videos and reviews in the interface to make an informed decision before buying anything. It's really the best of all shopping worlds – come together in one website.
Shopswell is so easy to collect products around a certain theme. Register on Shopswell and then click on your profile photo on the top right and choose "My Lists." From there it will bring up a list of all your Lists, along with a Create New option.

I chose to create a list based on Fall – and themed it around affordable fashion under $50 (because as we all know, that is totally my mantra over at Chic Steals).

Then it came time to add products to my list, which I did through just typing the name of the item into the search bar. When an item came up I liked, I chose to add it to my list – plus checked the "Track Price" checkbox so I would be notified if the price changed (so I could swoop in on a sale as it was happening!).

Then I chose the list I wanted it added to – and BOOM! It was added to my list, that simple.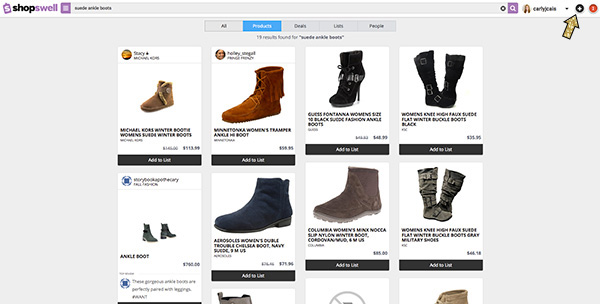 I could also hit the plus sign to the right of the search bar and enter the URL of a product I'd found on a site on the internet.
Shopswell pulled all the info about the product without me having to do anything else (no entering keywords, title etc. – thank goodness!)

Within just a few minutes I had a cool, curated shopping list, that will live forever here – and I don't have to do anything else for it! No commenting, no SEO'ing…no nothing. Awesomeness.
A review of the Shopswell website would be incomplete without mentioning that Shopswell's monthly giveaway. The Shop.Share.Win Program gives away $10,000 every month (yup, you read that right) in rewards to the members who share and interact with other community members on the site. You earn credits by inviting other members to the site, creating helpful content, creating lists, and upvoting other members' content. (Specific details on how to earn credits are here. The current leaderboard showing who's earning the most credits this month is here.)
So what are you waiting for? Get in on the action and start putting together wishlists that will link to your picks permanently – embeddable, beautiful curated content.
xo
Carly
I was selected for this opportunity as a member of Clever Girls and the content and opinions expressed here are all my own.
Leave Comment