Ever since I could remember, I've had a pack of Q-tips in my makeup drawer.  I've always thought of them as a bathroom essential, and I use them in a variety of ways.
They're the only thing, for instance, that will truly remove my black, black kohl eyeliner – and the only tool gentle enough not to irritate the rims of my eyelids when I apply eye makeup remover liquid.  Since they just came out, I now use the Precision Tips version (the kind that has the pointy tip) for ultimate precision.  (And not to remove my mascara at the same time if I want to change up my makeup look!)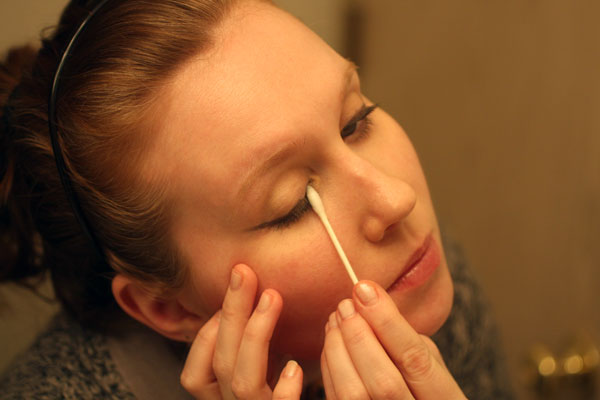 But I've also begun using them as a DIY tool lately – and have found them super-easy and fun to use…plus no messy cleanup required!
Here are some other uses I've discovered for the ubiquitous cotton swab:
The Perfect Paintbrush for Little Hands
My 6-year old son loves using these little swabs with dabs of paint to make pretty pictures of dots and swirls.  They're also great for decorating Easter eggs!
Precision Glitter Remover
Glitter's a tough thing to get rid of when making DIY projects – and I've found that the cottony ends of Q-tips swabs scrape away the excess effortlessly (as long as the glue is still somewhat wet!)  Plus, the precision side can do the scraping…and the round side the applying for maximum versatility.  Photo from my DIY Glitter Zebra Clutch tutorial.
The Best 10
nail color: butter London 3 Free Nail Lacquer in Wallis
.
For awhile I'd been using regular Q-tips to clean up my at-home manicures…but no more.  The precision tips are exactly what I need to get into the sides of my nail beds and clean up any over-paint.  Salon-perfect, every time!
You can also get more tips and tricks for using Q-tips, as well as coupons and promotions, on the Q-tips® cotton swabs Facebook page.  You can also follow @Qtips on Twitter to stay up-to-date and get even more…tips! 😉
What's your favorite usage for Q-tips?  (Besides cleaning out your ears;-)  Any cool DIY tips?
xoxox
Carly
FTC disclaimer: I was provided with Q-tips cotton swabs® and information about the product by RocketXL. All opinions are 100% my own.  For more information about my Disclosure Policy, click here.
~If you liked this post, please share it!~
Leave Comment