Aiko Miyako started her blog Hapy Friends Shoppe last year, sharing DIY tutorials for adorable plushies and sweet, lacy pieces that look so pretty paired with pastels and structured blazers. Today she is joining us to share her DIY for a Laced-up Sunday Tee here on Chic Steals. It's a great project to breathe life into an old T-shirt or tanktop and give it a bit of feminine flair. Take it away, Aiko!
---
Before and After of the T-Shirt
Why hello there everyone! My name is Aiko and I am going to share a simple DIY project perfect for Sundays! We will be making this sweet looking laced up T-Shirt. This is a simple project and is a great way to recycle old pieces and turn them into something new. Lace is a beautiful accessory to add to your plain T-shirts and dresses  as it gives a romantic, vintage feel which I absolutely adore. This method can be re-created on longer T-shirts depending on preference.
Difficulty level: Intermediate
Things you will need: Old T-Shirt (short or long)  /  Scrap lace  /  Scissors  /  Needle  /  Thread in the similar colors to your fabric  /  Pearl beads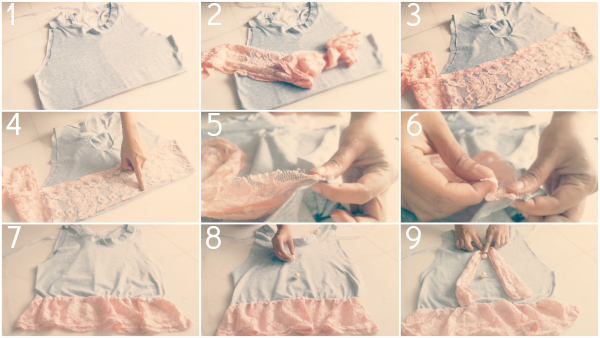 1.) Prepare any kind of T-shirt preferably a plain one. I used an old cropped tee I had lying around. Straighten the T-shirt out, leaving it flat on the floor.
2.) Prepare some scrap lace. In my case, I used scrap lace I had from a previous project. You will want to measure out the lace slightly more than the width of your T-shirt.
3.) Leave your shirt right side up and we are ready to start sewing.
4.) Line the lace parallel with the bottom of your T-shirt and sew 2cm (about 3/4″) above the bottom. Remember to hem the edges so that you have a neat line.  (sewing machine only)
5.) If you are hand-sewing the lace on, grab both ends as shown in picture 5. Sew right at the bottom, using blanket stitching. This is a simple and fast method of hand sewing two pieces together and it creates a sturdy finish.
6.) Now let's create some pretty pleats. Depending on how intricate you want your pleats to be, space them out and start folding the lace as shown in the picture. Sew onto the fold and you are done!  Make sure you snip off any excess and hem the edges of the lace.
7.) This is what you should have once you are done with the lace. I only sewed lace on the front side of the T-shirt to give it some edge and left the back bare.
8.) Let's pretty up this T-shirt. I used pearl beads to create fake buttons and sewed them on by hand using a back-stitch.
9.) Finally, I took some remaining scrap lace, folded it in half, and placed it at the top of the T-shirt. Sew it on using a back stitch and voila! You are done.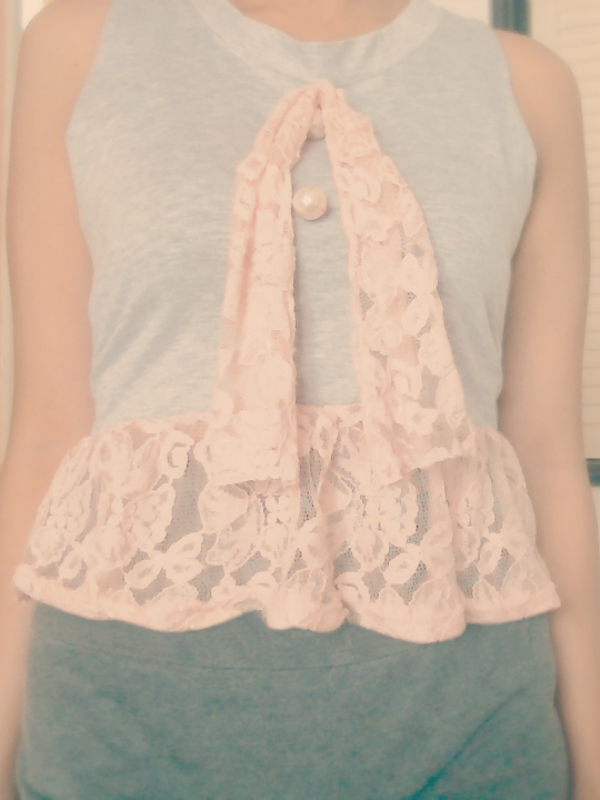 Pair this blouse with a pair of distressed jeans shorts for some edge, slap on a straw hat and be on your way to a perfect Sunday picnic by the lake!
Thank you so much gorgeous people for having me here! It has been a blast!
Xoxo
Aiko
Aiko Miyako has been blogging and sharing videos on Youtube for a little over a  year now under the name Hapy Friends Shoppe. Her blog is built around fashion and craft, starting off with sharing little plush projects on her blog and YouTube channel. Once that took off, she decided to add more content to her blog by posting outfits inspired by the things around her. She adores fashion and DIY projects because she is able to share the things that she loves in hopes to inspire others.
Leave Comment