So next week is the big turkey day – and if you're spending it at someone else's home sometimes you want to bring along something to thank your hosts. Since you'll be saving all that time not having to make the dinner itself, why not create a lovely gift that shows both your creativity and your appreciation for the holiday? Here are some ideas for some great DIY gifts to bring with you to the Thanksgiving dinner:
DIY DECORATED STORAGE BOXES
Everyone could always use more storage, and beautifully-decorated boxes show your thoughtfulness. Left to right, clockwise: Decorative Boxes, Fabric-Covered Boxes, Faux Malachite Boxes
DIY SUCCULENTS AND PLANTERS
Succulents are a low-maintenance plant that look adorable presented in groups. Left to right, clockwise: Tiny Pinch Pots for Kids, DIY Terrarium, Gold Succulents in Origami Geometric Planters
DIY MINI CANDLES
Candles are a welcome addition to any home, especially ones that smell delicious or look beautiful. Left to right, clockwise: DIY Mini Pumpkin Candles, Modern DIY Candle Votives, DIY Satsuma Candle
DIY TABLE LINENS
Handmade table linens are a unique representation of one's unique style – and you can use a variety of objects as stamps. Left to right, clockwise: Potato Stamped Napkins, Stamped Table Runner, Apple Stamped Napkins
DIY DRINK COASTERS
To add to a festive table, you could make some coasters – adding paint or decoupaged photographs for a personal touch. Left to right, clockwise: DIY Photo Coasters, Personalized Coasters, DIY Leather & Cork Coasters
DIY SERVING TRAYS
For a perfect presentation, a serving tray is just the ticket. Touches of gold or punched cork make these look especially chic. Left to right, clockwise: DIY Painted Tray, Punched Cork Serving Tray, DIY Metallic Gold Leaf Tray
DIY DRY BAKING MIXES
Any cook would love a starter mix for some favorite recipes, and these are all fabulous ideas to add to a well-stocked kitchen. Left to right, clockwise: DIY Whole Food Dry Mix Recipes, DIY Spice Mixes, DIY Hot Cocoa Mix and Homemade Marshmallows
DIY PAINTED UTENSILS
Painting plain wooden utensils and bowls is so hot right now – and it adds a pop of pretty color to the table and kitchen. Left to right, clockwise: Painted Neon Utensils, Neon Spoons, Dipped Bowls
DIY FLAVORED ALCOHOL
If your hosts enjoy a little drink from time to time, it might be superb to gift them with a delicious flavor of homemade spirits. Left to right, clockwise: DIY Rhubarb Liqueur, Infused Vodkas, DIY Coffee Liqueur
DIY WINE BAGS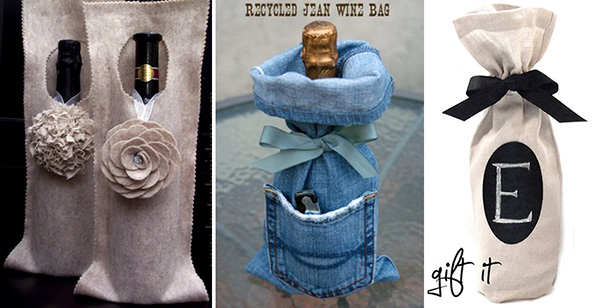 To present your thoughtful bottle of homemade alcohol (or high-end wine!) to your hosts, package it in your own homemade wine bag. Left to right: No Sew Felt Wine Bag Tutorial, Recycled Jean Wine Bag, C Wonder DIY Kit
Also! Use the many lovely labels from Lia Griffith for your packaging and tagging for all your gifts – and watch your hostesses' faces light up with joy upon receiving your gifts!
Do you have any go-to hostess gifts that you always give during the holidays? Please share in the comments below!
xo
Carly
Leave Comment