A couple years ago I was desperately wanting some galaxy-print fabric since clothing featuring photorealistic prints of stars was just about everywhere. But I couldn't find any fabric sellers that sold this particular print!! So I just Did It Myself, and designed a number of fun galaxy-print fabrics on Spoonflower.com, utilizing licensed Hubble Telescope images of star fields, quasars, Red Giants, planets, and galaxies. I worked on them in Photoshop to adjust the colorization and created seamless repeating patterns so they would be perfect for fabric (or even wallpaper!).
In order to offer them for sale in my shop, I had to order test swatches to check the color and printing. For one of the designs I ordered a fat quarter of Organic Cotton Sateen (upper right in the photo above), not quite sure what I wanted to make with it but certain that I wanted a good enough amount to make something neat. And I finally hit upon a little mini-skirt (though had I ordered 1 yd, I would have had enough for front AND back!).
As it was I had to use some black cotton sateen for the back, but it turned out pretty well regardless and I'm just as pleased with it as if it had been galaxy-print all the way around.
I used Butterick Pattern 6834, chopping the length at View E (since that's all the galaxy-print fabric I had). (I believe the pattern is no longer available.)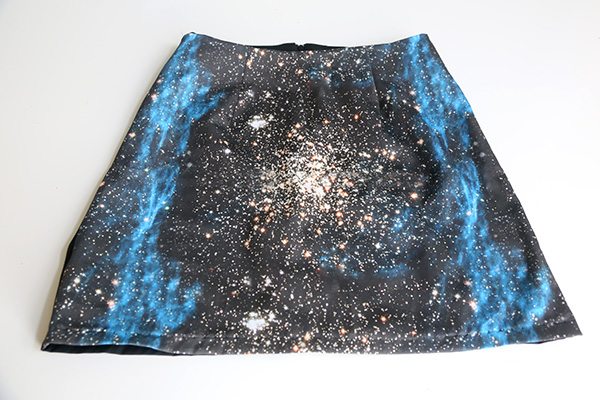 Here are some similar patterns you could use:
It sewed up quickly and was pressed and hemmed in no time, and now I have a fun mini-skirt for Summer!
If you're looking for this same galaxy fabric, it is here:
Or other galaxy print fabrics: (click through to access my shop on Spoonflower)


They look great as blouses, T-shirts, even leggings (on stretch cotton jersey!!)
Stay tuned for my outfit featuring this skirt, coming soon to the blog.
Happy DIY'ing!
xo
Carly
Save
Leave Comment