FTC Disclosure: I was gifted a SOUFEEL charm bracelet and charms to write a review about the product. I received no other compensation. The below opinions are my own. My full Disclosure Policy is here.
Recently the kind folks over at SOUFEEL contacted me about reviewing their sterling silver bracelets and charms. After I checked them out and saw that they had a similar style and feel to the ubiquitous PANDORA bracelets but at a lower price-point, I said sure!
Here are a couple facts about the brand:
SOUFEEL bracelets and charms are made from .925 sterling silver and top-quality materials, and can fit other brand-name bracelets like PANDORA and Chamilia (at a fraction of the cost!). They offer FREE SHIPPING worldwide with orders over $50 and a 365-day return and exchange guarantee. You can also receive a Free Bracelet with any order over $99.
The best thing about SOUFEEL that you can choose your own bangle, charms, stoppers, and decorations, to make a DIY piece of jewelry that completely reflects your style. (Or that of a loved one!)
I chose charms in a sleek silver, black, and crystal palette, intending them to be neutral and go with everything. My bangle is made from:
Sterling Silver Basic Charms Bangle   /  Black and White Magic Charm  /  Sparkly Brightly Stopper Charm (Out of Stock)  /  Pyramid of Egypt Charm  /  April Birthstone White Crystal Barrel Charm  /  A String of Round Dots Stopper Charm
When the bracelet and charms arrived I couldn't get over how beautifully they were packaged: they would truly make a great gift just as-is, no wrapping required. The charms are all high-quality and to me, indistinguishable from other brand-name sterling silver charm bracelets.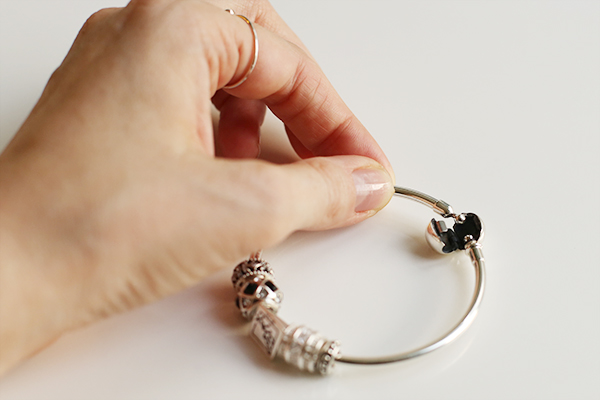 And the catch on the bracelet, though a little tricky to open the first couple times, closes so securely you won't lose anything (and the bracelet won't slide off skinny wrists like mine – something I struggle with all the time!)
SOUFEEL has also provided Chic Steals readers with an exclusive coupon code to use on any order:
Use coupon Cais5 to receive 5% off your order!
Thank you SOUFEEL for working with me – I'm delighted at
xo
Carly
Tags:
Jewelry
,
Review
,
Shopping
,
SOUFEEL