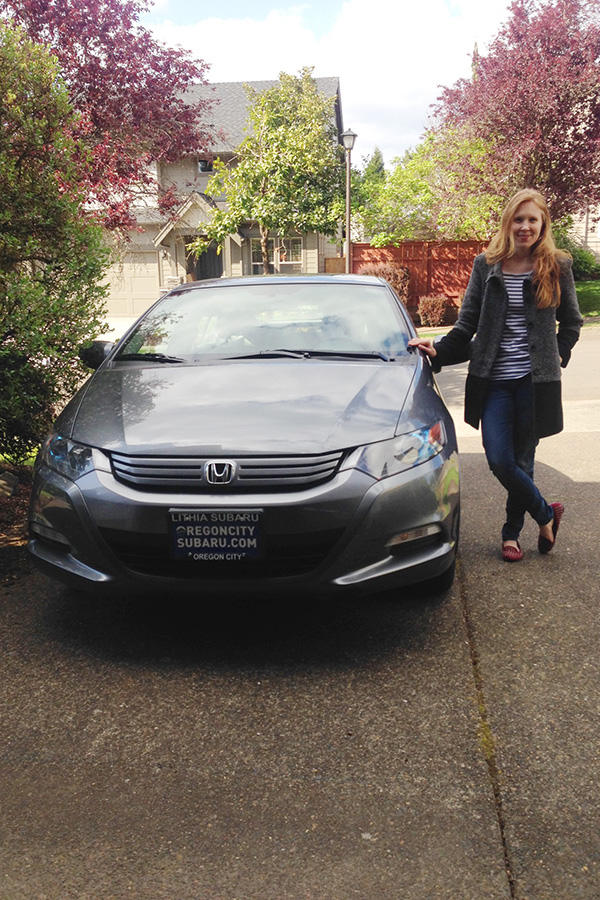 I'm just kidding.
Though hybrid cars are not considered a steal per se, I felt slightly eco-friendly when I bought this one. I researched them thoroughly, decided on a Honda, and met with some private sellers and a dealership to find the perfect car for me (and my budget). I negotiated, said no to a lot of unnecessary extras, and ended up driving away in a used 2011 Honda Insight, the first car that I myself bought with my own money and of my own decisions.
In the end, the disposal of the batteries with their heavy metals, and the environmental impact of mining for said heavy metals, may not make hybrid vehicles completely "eco-friendly" in a true sense. They are cars after all. But when I think of the monthly savings in gasoline (38-43 mpg vs. my current Mazda CX-9's 18-20 mpg) hybrids are very, very attractive to me (and my long commute into work and taking my son to school).
I bought it yesterday last night just as the dealership was about to close. It runs smooth and quiet and hums along and the engine turns off at inexplicable times. Plus, it's gray. And I love it because it's ALL MINE.
Huge changes are happening around here, which is why I've been unable to update my blog lately. I'm still here. I'll be back soon.
Once I sell my 2008 Mazda CX-9 8-seater, which is all clean and detailed and ready to be put on Cragislist.
Happy Earth Day, friends! To change…for the more eco-friendly.
xo
Carly
Tags:
Announcements
,
Earth Day