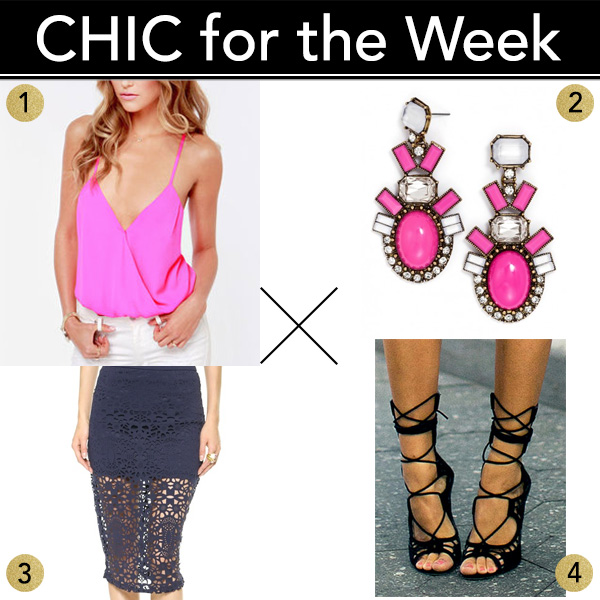 Welcome to another installment of
Chic for the Week
, where I share a couple shopping picks that have been on my mind lately.
Did everyone have a good weekend?
I wrapped a video shoot for Coveroo, this cool custom iPhone/iPad case company from San Francisco. After an 11-and-a-half hour shoot on Sunday, I was pretty much wiped out yesterday! We got some awesome shots, though, and the edit is coming together nicely. Couldn't have done it without my amazing team!
In other news, the grass in my yard is practically all dead (so is everyone else's nearby, so it doesn't make me feel so bad) due to this long-lasting hot and dry weather, I keep finding baby ladybugs inside my house, my backyard tomato plant is going crazy and just put out about 7,835,611 tomatoes, and I caught a glimpse of the Supermoon while heading back from the shoot Sunday but have so far missed the Perseid meteor shower. All of them, really. Maybe tonight's the night! (One can only hope…)
Here are a couple items on my wishlist for the week:
1.When it's over 100 degrees daily, a cute little bodysuit will keep you cool (while keeping everything tucked in and pristine. This Backless Neon Pink Bodysuit is just the ticket (and great for a hot date too!)
2.Ah, Baublebar. You are my shameful addiction. No matter how many times I go back to your site, every time I find something new that is a must-have. And these Monochrome Galactic Drops Earrings
? The price is so reasonable ($18!) and they have so many different color combos to go with that I really can't help myself. I guarantee you won't be able to resist either.
3.I lied. I actually bought this Re:Named Lasercut Skirt already. And it is just amazing – so uniquely chic and ladylike! And very cool in sticky-hot weather. Once the temps cool down I'll be adding on a bit of fabric to the lining as I feel it's just a little too short for year-round wear.
4. These Black Suede Peep Toe Tie Up Sandals show the perfect amount of sexy skin and yet still would look gorgeous paired with slim trousers or a shirt dress for a more demure look.
Hope everyone's having a great start to the week!
xo
Carly
Tags:
Chic For the Week
,
Shopping
,
Wishlist Items