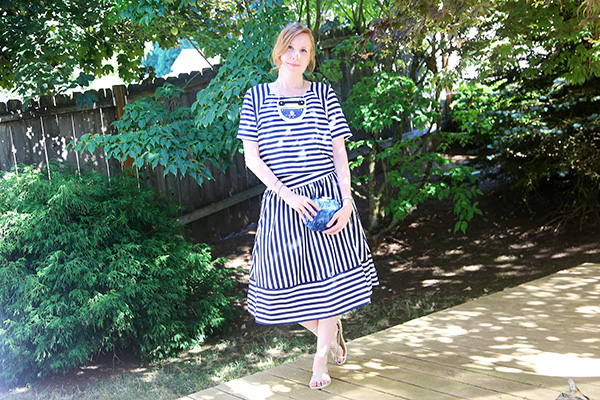 Multicolor Crystal Ear Cuff: from Japan, similar
here
.
Striped Short Sleeve Top
: JOA.
Striped Skirt
: JOA. Mixed Media Bib Necklace:
DIY
(
tutorial here
), similar for sale
here
.
Skinny Railroad Spike Bangle
: Giles & Brother. Hard-Sided Blue Clutch: ASOS, similar
here
. Silver Sequin Wrap Sandals: Old Navy (old, similar
here
and get free shipping with
JUSTBECAUSE
)
I just couldn't stop thinking about stripes for Summer after posting my first Chic for the Week installment 2 weeks ago, especially when rendered in that gorgeous ballroom-length full skirt. So of course I snapped up a low-cost steal to fuel my stripe-lust: this JOA skirt from Shopbop.
Which looks just delicious when paired with a similarly-striped JOA top, DIY necklace, simple bangle bracelets, and a cute clutch.
Which is nice and breezy for these hot Summer days, and yet still looks dressed-up for an evening get-together or barbecue or event. (Though I'd recommend a slip under the skirt since the tulle is a little scratchy.) It billows out amazingly when walking, and gives that much-needed princessy feel to an otherwise basic outfit.
I felt the whole outfit needed a little bit more boldness and geometry, so I paired my DIY Mixed Media Bib Necklace on top. It feels somewhat Presidential (though maybe I've just been watching too much Scandal and my judgment is cloudy.)
This week Lil Tot is in Science Summer Camp and learning about Jupiter (one moon is named Lo, apparently) and making sundials out of twigs (he calls it his "Stick-Clock"). The beginning of my week was full of meetings but now the rest of the week is uncharacteristically open. I signed up for a fruit and vegetable basket with Bountiful Baskets Co-Op and am looking forward to my first basket on Saturday (which may be full of 20 lbs. of zucchini and one gigantic Durian fruit for all I know since there wasn't a specific description of the basket contents I paid for). And this outfit will be my perfect farmer's market outfit to wear for the pickup, albeit with a large empty box and a couple of canvas bags in tow for all my zucchini and stinkfruit.
Hope everyone's having a great week so far! Ready to say goodbye to July yet?
P.S. Lil Tot (my 8-year-old little boy) took all these photos himself! [Under much duress.] Perhaps he is a future photog in the making…?
xo
Carly
Tags:
my outfits