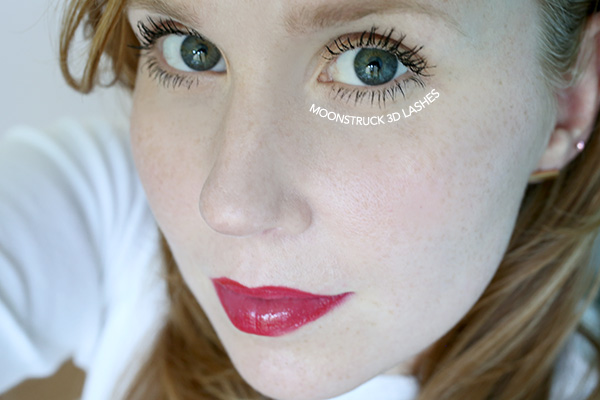 I received an inquiry from a company called YOUNIQUE earlier this month, who sent me a set of their Moonstruck 3D Fiber Lashes to try out. I have to admit: I was a bit skeptical at first, since I couldn't exactly see how fiber lashes that were sprinkled on top of one's already existing mascara could really make much difference. I mean, was this extra step in the beauty routine really necessary? But once I tried them out I became a believer – and you will too once you see these AMAZING before & after photos.
My eyes normally with just mascara. Not too bad…but lacking that extra oomph. Blonde roots are still visible and eye lacks definition.
The problem with false lashes is that they look so…well,
false
. They float on top of your real lashes, the strip is visible, and I always find them heavy and irritating to my eyelids. I prefer my DIY
eyelash extensions
, but those have their inherent problems too: they damage your natural eyelashes, are difficult to apply, and wearing them means you can't use mascara at all lest you dissolve the extensions adhesive. Plus since my eyelashes are blond, I have to get them tinted 
first
to make the extensions look even slightly natural.
Moodstruck 3D Fiber Lashes attempt to solve these issues by working with your favorite mascara and just providing a major volume boost – like falsies or extensions, but without the application hassle. Plus, the fibers wash off easily with water, so you can apply whenever you want the look but don't want the commitment.
Here's how to apply them:
1. Swipe on a coat of your favorite mascara, and let dry. I decided to use Benefit They're Real Mascara, just one coat, to see how much difference these Moonstruck lashes would make.
2. Apply an even coat of the Transplanting Gel onto your lashes (it works just like clear mascara).
3. Immediately before gel has had time to dry, apply the fibers to your lashes. It's like a furry little cat's tail!
4. Seal the fibers with another coat of Transplanting Gel.
And that's it!!
Very little hassle, and you have an amazing, visible difference to your lashes…yet they look as if they are your own. No messy falsies. No irritating or damaging extensions. Just lush, perfect eyelashes – as if they came out of one tube of mascara!
You can see the difference between the right (mascara only) and left eyes easily.
For a barely-can-see-them-whatsoever-blonde-lashed girl like me, these fiber lashes work WONDERS. They're my new favorites! I urge you to try them out if you haven't already, you'll be thrilled with the results. 🙂
The Fibers and Transplanting Gel come in their own pretty little case too.
You can get YOUNIQUE products from a registered YOUNIQUE seller, or from their website here:
xo
Carly
FTC Disclosure: I received a set of Moodstruck 3D Fiber Lashes for review purposes. The above opinions are my own. I have not been compensated for this post. To read my full Disclosure Policy, click here.
Tags:
Advice and How To
,
Beauty
,
Beauty Products
,
DIY Beauty
,
eyelash extensions
,
false eyelashes
,
makeup
,
mascara
,
Moodstruck 3D Fiber Lashes
,
My DIY Tutorials
,
reviews
,
YOUNIQUE