New Year's Eve is rapidly approaching – do you know what you will be wearing yet? There is a definite trend towards wearing something sparkly, large, and a total showstopper on one's head for that evening – and I just love the boldness of it! Here are some fabulous DIY's for making your own New Year's Eve head adornment to ring in 2014!
A DIY Glitter Star Crown is pretty and sparkly and perfect for a party.
As long as you have some wire, you can make these gorgeous hand-wrapped DIY Wire Crowns.
DIY Bra Strap Headband – perfect for re-using an old bra strap (or just use some flat elastic instead), a bridal applique, or a brooch you don't get a lot of wear out of.
Make a Mini Top Hat that is so adorable, decorated with feathers and ribbon, in a shade to match your New Year's outfit.
Create your own headband with "Happy New Years" or the like on it with some chipboard letters from the craft store and a glue gun. (source) To make like the one above, glue the letters onto black foam, cut around, and add some curled wrapping ribbon strands.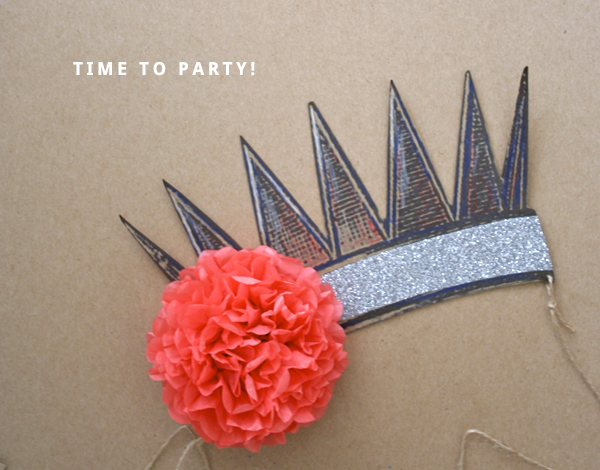 Make this Birthday Crown by printing out on cardstock and adding a tissue paper ruffle.
Speaking of tissue paper, why not make a DIY Tissue Paper Pom-Pom and glue to a headband?
Or try making a large pom-pom out of yarn and adding to a headband a la this DIY Sonia Rykiel Headband tutorial.
A felt pompon headband is always awesome. Make this 3 Minute Headband (just in a larger size;-)
You could also create a DIY Boho Leaf Garland head chain with some leaf-shaped charms, a drill, and some jump rings.
I love these princess-y DIY Lace Crowns, which will also work wonderfully for adults.
Clip-on Earrings look lovely clipped into a bun or chignon. (source)  Though vintage is fabulous if you have it (raid your Mom's jewelry drawer!), you can easily use store-bought ones.
Finally, raid the Dollar Store from some Bottle Brushes, cut shorter, spray-paint gold, and glue to a headband for instant New Year's fireworks!
How do you plan to ring in the New Year?
Happy DIY'ing!
xo
Carly
Tags:
headbands
,
holidays
,
New Year's Eve