As some of you may recall, in early Spring this year I attempted to DIY a puffball sweater I saw in Vivi Magazine.
This is what I was trying to dupe.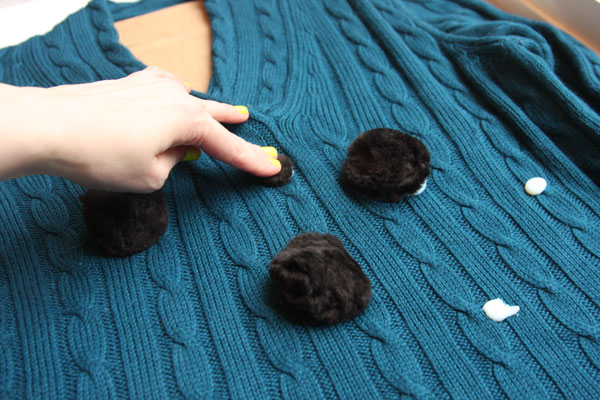 This is what I ended up with.
Why did it happen?
Well, I chose my materials badly.  I figured this was just a pompon sweater, so I used acrylic pompons out of a bag I bought at Jo-Ann's, in the doll-making and felt section.
BIG mistake.  If you look closely at my inspiration photo, the balls are actually felted wool balls, all a little rough-looking and slightly different in size.  I thought the sweater was super-cute with those pompons on it…but failed to realize that it was the material of the pompons that took it from a kid's craft project to something a grownup could wear.  (Okay, I know some people might debate me on that, but still!!)
AND I chose the wrong method for the job.  As I was gluing down the pompons, I was feeling that it wasn't looking as cool as in the picture.  The pompons weren't attached properly, and the glue was seeping and soaking in all over the place.  It was visible even around my pompons, leaving a ring of WHITE hardened glue.  I did the front of the sweater and one sleeve, then let it dry overnight to see if I felt any better about it in the morning.
I didn't.  I then ripped all the pompons off, out of the hardened glue, and tried to peel off the glue.  After pulling and peeling and ripping for over an hour, I had a blistered thumb and only managed to remove the outer layer of a couple glue blobs.  I was frantic.  I really liked the sweater; it was soft, the color was perfect, and it was an amazing bargain at my local Goodwill for only $4.99.  I didn't want to let it go!!  So I soaked the sweater in water and delicates to detergent to see if the glue would soften up.  More pilling and crumbling glue ensued, but I still couldn't get it off.  The next day I called the Customer Service line for the glue product and asked how to get it out of my sweater.  There was a pause.  "Well, it's permanent.  You can't really 'get it out.'"  I finally got a "well, you could try Goo Gone on it, some of our customers have said they've had some success with that."  So I sprayed Goo Gone on all the spots (which you can see in the above photo).  Oh my.  Petrochemicals all over my sweater.  It smelled like GASOLINE.  The fumes were heinous.  I had to lock it in the laundry closet to sit or else I would have gotten high from it.  I let the Goo Gone soak in overnight and found that it had hardly done anything.  I was back to pulling and peeling and ripping – though now everything was slimy and smelly from the Goo Gone and the glue spots were exceedingly difficult to grasp.  I managed to get one spot off completely after pulling at it for 45 minutes.  Some of the others I was able to remove 30-60% of the glue.  But at that point, after 4 hours of working on it, I threw in the towel (figuratively) and threw the sweater in (literally) to the wash.  I had to launder it twice to get the stench out.  And I was still left with a sweater with hardened spots of glue all over it.  Oh what a tragic story!!
So why do DIY FAILS happen?  Here are the 3 main reasons:
FAIL REASON #1:
You choose materials that look too cheap.
Materials that are cheap are a totally different story.  There are so many ways to get your hands on affordable raw materials – from shopping Goodwill for pristine-condition clothing to use as your starting point, using online coupons to shop M&J Trimming or Jo-Ann Fabrics, sourcing embellishments and trims from pieces you have in your closet already, swapping with a friend, or buying wholesale and in bulk.  The great thing about DIY'ing is that so many of the raw materials are so affordable, much more so than the finished product.  However, if you choose materials that look cheap, no matter what their actual price point, your entire project will be dragged down.  Tip: Don't ever choose materials that you've seen on kids' accessories (no plastic rhinestones, EVER!), or in Halloween costumes.  The only thing that can save latex, lame, spandex, and medium-weight poly/cotton jersey is the cutting and the silhouette…and unless you're fairly adept at those things, best to stay away (unless it actually is Halloween!)
FAIL REASON #2:
You chose the wrong [or too cheap] tool for the job.
There are so many different ways of getting from point A to point B in a DIY project, and sometimes our decisions on what method or tool to use are based solely on "what will be fastest?"  Sometimes you're guessing, saying "I think I can do this and get the same result as my inspiration."  Both methods are certainly legit and are ways of evaluating your project and how to do it.  It all depends on what you're going for – and if quick and easy are what you want then by all means choose the quickest way and the tools you have at your disposal.  But sometimes the best method isn't necessarily the fastest, and sometimes using a certain tool can absolutely NOT replicate using the right tool for the job.  Sometimes you do have to study up on how similar pieces are made, like checking out what's on the shelves at stores or on websites instructing industry professionals how to make that piece.  Sometimes you do have to be the expert in order to get your finished piece to look professional, polished, long-lasting, and rivaling anything you see on the market.  In my Spore Sweater FAIL I thought gluing the pompons on would be fastest; the glue was too messy, and was IMPOSSIBLE to remove fully from the sweater when I wanted a do-over.  Even though sewing the balls on took way longer, that's probably how the original sweater was made…and that technique makes my re-do look a heck of a lot more finished than by gluing.  Tip: Brush up on your techniques so you know what to do, and actively learn about the different tools you can use for the job.  (E6000 glue vs. 2-part Devcon epoxy, overlocker vs. regular sewing machine, awl vs. X-acto blade.)  Check out what other people use to do the job, and mimic their techniques.  And definitely get the best tools you can afford; this is not the place to skimp on quality!
FAIL REASON #3:
You actually, truly messed up.
Whether it be sewing a line crooked, cutting off part of a skirt unintentionally, or painting acrylic paint globby, sometimes it can be lack of a skillset or just a plain ol' mistake that creates disaster.  You can always improve your skills by mere practice, or by taking classes (locally or even online).  However, if you have enough ability to fix your mistake , fix it immediately, while still in the process.  And know how to fix it – always have a Plan B just in case!!  If fixing it is beyond your abilities, try camouflaging it or changing your design a bit to make it look intentional.  Remember, the greatest art comes from the worst mistakes.  And DIY'ing definitely is an art!  Tip: Take every opportunity to improve your skills in order to not mess up again.  Pick an expert's brain, take a class, practice creative problem-solving to transform a bummer project into a stunner project.
Needless to say, I re-evaluated my materials, hand-made better, more organic-looking pompons, and attached them to my sweater more professionally.

Plus the new felted wool balls cover up all the spots of glue I couldn't get off the sweater…camouflaging my mistake!

Hope that helps you guys proactively prevent DIY FAILs before they happen…and make every project you do something you're proud of!
xoxox
Carly
P.S. DIY tutorials for Hand-Felted Wool Balls and Cute Kitty Beret coming soon!
Photo sources: 1 (and for the record these hats were made by Stephen Jones for the Kinder Aggugini S/S 2011 show as runway statement pieces, and I do think they work pretty well in that very specific context; however they are indeed made of cheap materials and duct tape looks like duct tape no matter what you do.), 2, 3
Tags:
Advice and How To
,
DIY fail
,
sweaters
,
Thoughts & Wisdom