It was Springtime in Tokyo and the cherry blossoms were in bloom whilst I was there.
As many of you know, my family and I traveled to Tokyo, Japan in April of this year to take care of my mother who suffered a spinal stroke.  (Who lives in Tokyo for her job.)  Though I didn't have much time to take photos in the beginning of my trip, near the end my mother's condition had improved, so I was able to do some activities with my family and take some pictures.
You can see Part 1 of my travel photo diary here.  Here are the rest of the photos I took during my trip:
While I was caring for my mother and staying with her at her place, Hub and Lil Tot stayed with Hub's parents.  Lil Tot was sent to Japanese 1st Grade, and was the only one without a yellow hat on his first day.
After my mother could be alone for a little time, I was able to meet my husband and son for a couple hours.  We went to Niagara Curry in Yutenji, a train-themed curry restaurant.
Train station names were displayed on the wall.
All the patrons are given train conductor hats to wear.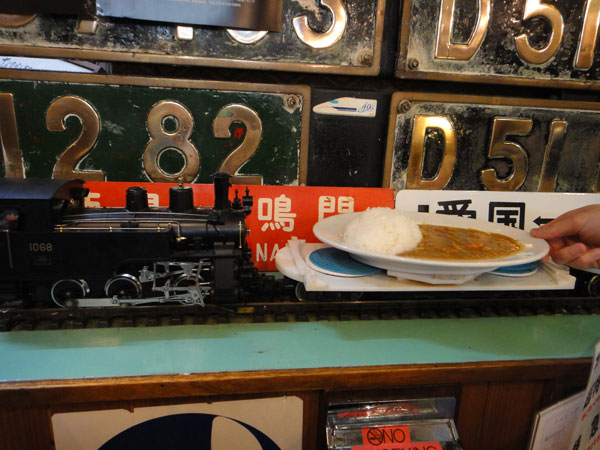 When your order arrives, a little toy train pushes the plate on a track towards your table.
Pretty standard curry, but you pay for the experience.
The seats are all repurposed train seats (this is the "Silver Seat," for elderly people, people with injuries, and pregnant women).
The proprietor was of course dressed like a train conductor, working hard to keep up the atmosphere.
I went to the craft supplies section of Tokyu Hands in Shinjuku and found amusement in the posted signs in the bathroom explaining how to use the bidet toilets.
The craft supplies section was having a mini-workshop on using the new Tamiya Decoration Series line of supplies to make a little clay cupcake.
I made mine with a faux bunny candy, pastel beads, and a printed tag.
Lil Tot was still going to school throughout this time.  He did finally get a yellow hat, and felt much better for it.
Some new Japanese candy I discovered.  I LOVE Kiniko-no-Yama (chocolate mushrooms), and was thrilled to find a new seasonal flavor: grape and sour yogurt.  Takenoko-no-Sato (chocolate bamboo shoots, their sister snack) I found in creamy tiramisu  and banana flavors.  Happiness!
My favorite CHELSEA hard candies had come out with biscuit sandwich cookies in the same flavors: yogurt and butterscotch.  Plus I was so happy to find a Capibara-san treat!  I just love Capibara-san.
I finally went to the Honey Toast restaurant in Shibuya that I've passed by so many times before.
This is what I ordered: Honey Toast Pudding with Hot Caramel Sauce.
It's an entire loaf of unsliced white bread, fluffy and hot on the inside, with honey soaked through, a scoop of ice cream on top and hot caramel drizzled over.
Yum!  You can see the honey that's soaked into the bread.
Add some whipped cream as you go.  Usually this is something shared between couples, but I'm a greedy foreigner, so I had one all to myself.;-)
Once the honeyed bread ran out, I couldn't finish.
Statues of Sazae-san and family along the main street of Sakura-Shinmachi, the setting of the Sazae-san comics (think: the Japanese version of "Peanuts").
My inlaws took us to a fancy sushi restaurant, with 7+ courses.  I lost count quickly as I was terribly full from the honey toast I had had not 2 hours earlier.
I had absolutely no idea what this was.  Some sort of prickly mountain cat-tail (or some wild stem plant), dipped into what looked like red oats but tasted like sour cherry-flavored raisins made of gluten.  Very unusual.
The courses kept coming out too.  I am holding white eel skin wrapped around a stick.
There was sazae too (which I absolutely abhor).  Turban shell, with the animal inside simmered in the shell.  Rubbery, viscous, grey…yuck.  Hub likes them though, so he got mine to chew on.
My cousin [who also lives in Japan] brought his family to visit with my Mom, and his kids played Twister with Lil Tot.  His oldest girl, who is 10 with very long legs, of course won.
Hub and I took Lil Tot to Kidzania Tokyo, a new amusement park.  Now when I write "amusement park" you would think kiddie rides…
But not so much.  It's actually more an "adventure play-acting land" which has businesses like in the real world: a police station, fire station, bank, department store, etc….
But all kiddie-sized.  And the kids "work" at each of the businesses (for about a 10-20-minute "work time").  They put on the uniforms and are taught the basics of the job, and then get paid in Kidz Bucks at the end of their job stint.  Lil Tot really liked it.  Above he is a policeman on the chase of a missing wallet, interviewing people who might have seen it last.  Once you get paid for all your jobs, you can open up a bank account at the bank and deposit your money, and then withdraw it at the ATM outside and go to the kiddie department store and shop for cheapie toys you can get for much less money outside Kidzania.  No adults allowed in the department store or bank, so the kids have to do this on their own with Mommy and Daddy watching nervously from a window outside.  Another testament to the Japanese work ethic and instilling responsibility in their children from a young age, I suppose.  I kept wondering if something like this would fly in the States.  What do you think?
Lil Tot also worked as a construction worker, and helped build a bridge.  He also was a fireman, and a race car pit crew member.  And then the day was over, since there was a huge wait time to have each 10-minute experience, and you have to reserve the hours you go there in advance [we were in the morning block, so the afternoon block people were coming in and we had to leave].  Somewhat like the Twilight zone.
While at my Mom's, I had a lot of down time in the evenings, so I made a cute little macaron coin purse out of felt.  I promptly lost it the day after I took this photo, though.
I found some dimensional nail stickers that are like the Sally Hansen Nail Effects, except with 3D textures on them too.  I thought them very innovative…until I saw some similar ones at my local Fred Meyer after getting back from Japan.
Ohh, this was heaven.  Haagen-Dazs single-serve ice cream…in Millefeuille flavor.  Creamy vanilla ice cream covered in flaked pie crust pieces and chopped almonds, with ribbons of caramel and more pie crust throughout.
So unbelievably delicious.  Why can't we get this stuff in the U.S.???
The newest must-have accessory: a phone plug.
Yes folks, I'm sure you've noticed the sound quality from your Smartphone's headphone jack goes down when dust and particles get in that hole.  Right?  So in Japan they've come out with plugs that you insert into the jack to keep it mess-free.  You can even find plugs with huge blingy rhinestones, large crowns, and hanging chains.  Or course, even a small little stud looks unwieldy on my Crackberry.  I think I also snagged it on something whilst in my bag and I pulled it out by mistake.
Another hand-sewing project: a little macaron-themed (gosh, I can't stop!) coin-purse using a metal kisslock-closure.
And I even had a macaron from a bakery whilst in Tokyo (this one with stiff-whipped caramel buttercream in-between).
At my in-laws, we ordered Domino's Pizza one night.  I looooooove Domino's in Japan.  My favorite Camembert Millefeuille pizza!  (4-layers of pizza dough separated by a variety of cheeses; ooey, gooey, drippy, yummy!)  In the US they have the Dominos Pizza Tracker online as they make your order (which I think is so cool, btw!); but in Japan they just email you photos of workers making pizza as your order progresses.  I was amazed…until I realized they were just stock photos b/c that definitely isn't the pizza I ordered that that lady is making.
Lil Tot likes Domino's happy potato tater tots.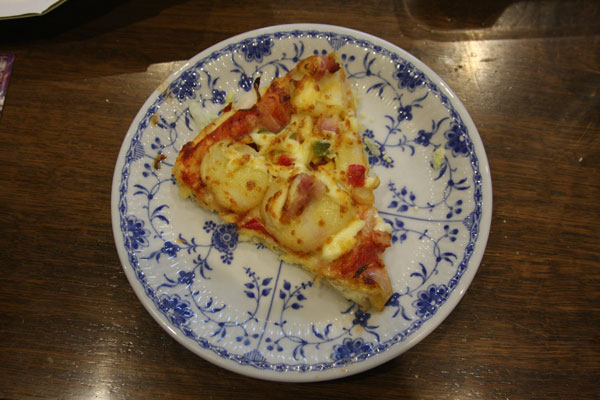 And I love my Camembert Millefeuille!  This slice has baked potato slices, thin bacon, and mayonnaise.  When you cook mayonnaise under direct heat, it gets sweet and mellow; it totally changes the flavor.
And then we had a strawberry shortcake for Children's Day!
xoxo
Carly
Tags:
Japan Travel
,
My Travel
,
Shopping
,
travel photo diary
,
Vacation Travel
,
Wishlist Items