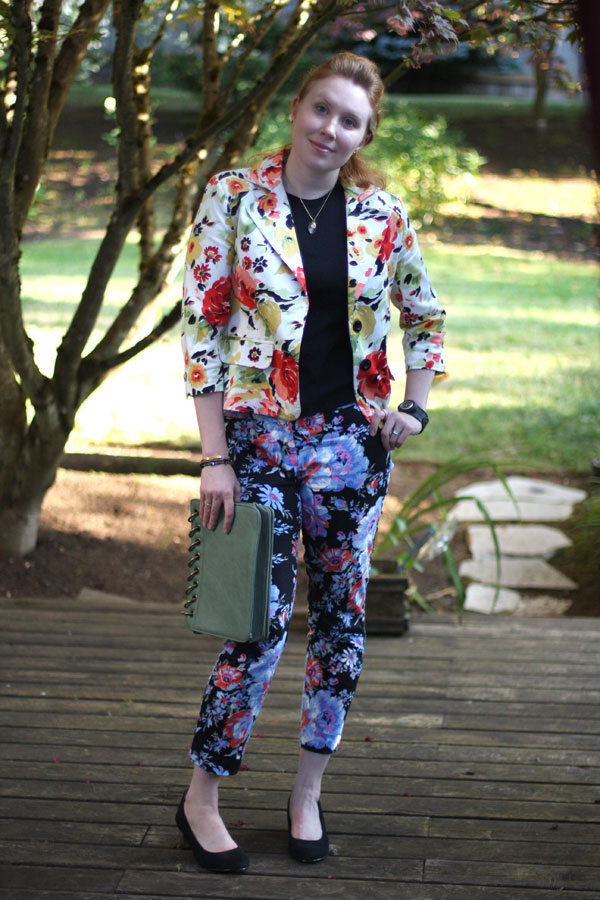 Floating UV resin pendant: handmade by me (DIY tutorial for a similar UV resin pendant coming soon, promise!)
Earrings: mismatched cat set (from Japan)
Flower-Print Blazer: NOTATIONS (Ebay purchase)
Black T-shirt: Old Navy
Bracelets: beaded DIY bracelets, vintage gold bangle
Faux Book-cover clutch: unsure (Japanese brand), same style here
Cropped Pants in Floral: ASOS Maternity

Velvet Round-Toe Shoes with Gold Heel: R&E (Japanese brand), similar here

I'm pretty sure I will look back on these photos, like those of a 70's matching corduroy suit, and think "A flowered suit?  Was I crazy??"
Mismatched floral patterns are in right now, and I, being someone mortally afraid of most prints, am pushing myself out of my comfort zone to try them out.  In head-to-toe floral.  Why not?
How to Match Mismatched Floral Patterns and Not Look Like an Escaped Asylum Patient
(ummm, I hope I don't.  …Do I?)
Pick two patterns that share a similar color – in mine, the orangey-red of the poppies in the blazer echo the orangey flower bits in the pants.  Match color of the flowers, not the background color of the garment, for best results.
Pick two patterns that are different – in scale, type of flower, or pattern placement.  I'm somewhat pushing the envelope on this since the flowers on both the jacket and the pants are similar in scale.  But they're two distinctly different flowers, and the placement of the two patterns is different on each garment.  Mismatched, but intentionally so.
Do your hair, makeup, wear jewelry, etc…make that extra effort elsewhere…so that you don't look like an escapee.  To pull off the mismatched look, it has to look as if it's an intentional part of your whole uber-chic ensemble, so nothing else can be overly casual.  Or it begins to head into Florida retiree-territory (no offense meant to Florida retirees either).
This is a really specific look that can be easily foiled by matching the wrong pattern or looking too messy.  It took me 3 weeks+ to find the perfect blazer to match with these pants…and it only works with this particular pair of floral pants in my closet; none of my other flowered skirts will look okay with the blazer.  So head-to-toe floral with anything else won't work, but I knew this and am able to use the blazer on its own thrown over non-flowered items.
The pants are actually ASOS Maternity (and no, I'm not expecting any bundles of joy anytime soon); I fell in love with the print but they only had the maternity version left in stock.  (They're now on sale for $46, FYI!)  I figured I would just alter them after they arrived, and then was shocked to find they actually fit okay without alternation.  Methinks it's time to do some crunches!!  Maybe 1,000 or so.  Yeah, that should do it.  ASOS also has a really great selection of non-maternity floral pants right now that look fashion-forward; check them out below:
Anyway.  The floral blazer is by NOTATIONS, a brand I never heard of, but they have a few great flowered blazers on Ebay here and here so when I saw one that matched the pants I snapped it up. (for $9.99, woohoo!)

I'm in love with this little faux book clutch I got in Japan when I was there in May.  With Olympia Le-Tan's embroidered book clutches being seen all over Hollywood, it was only a matter of time before the trend trickled down to the masses.  And I find this faux-leather one just as much of a conversation piece (and a good deal easier to match with things) than I think the hand-embroidered version might be!  Plus it's gilded to look like an old rare book (but isn't an actual version of a book cover that already exists), so no aspersions can be cast on my reading tastes.  (Walking around with a copy of Moby Dick may appear as if one is up on classic literature, and if it's the carrier's personal favorite than that's cool, but I personally find Melville excruciatingly tedious and I'd rather not walk around with an advertisement for his work.  It would have to be the cover of a book I was absolutely in love with in order for me to walk around with it.  Even DIY'ing this magazine cover into a clutch caused months of indecision trying to find the cover of a magazine I liked enough to have as a permanent piece in my handbag collection.)
I love my floating resin pendant!  I actually embedded some type and an image of a card into the resin too, as well as the gold daisy charm, if you can't tell.
J. Crew is currently selling a really similar pair of shoes (but in patent, with a lower heel).
Mismatched kitty earrings.  The set even had a little fishy too!
Hope everybody's having a great weekend!  Pssst…I'm at Disneyland right now!
xoxox
Carly
~Share the floral flowered mania!~
Tags:
trends