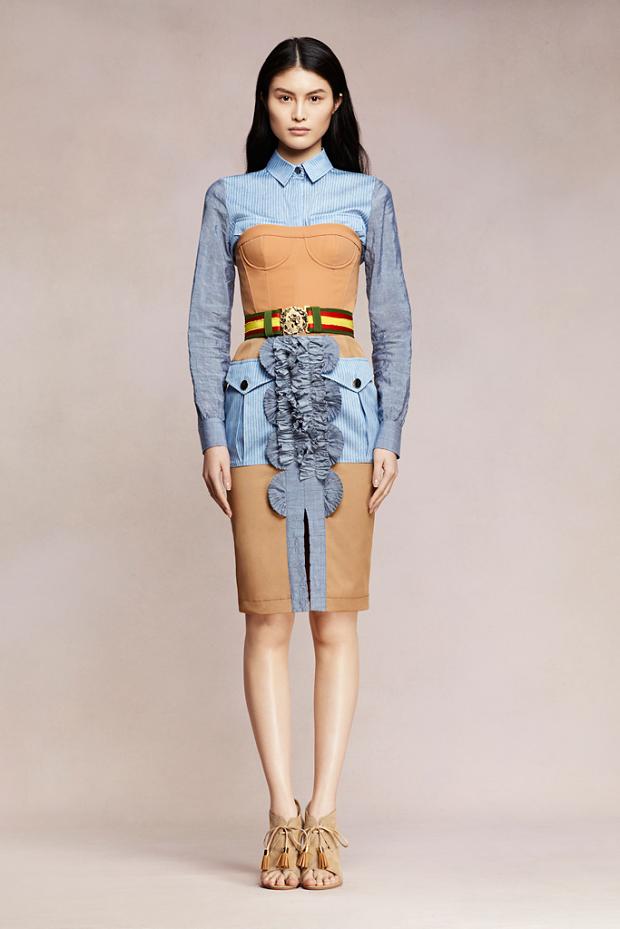 Combine the sleeves of one button-down with the body of a different button-down; wear a bustier top over it like a piece from the Altuzurra Resort 2013 Collection.
I keep a huge folder on my computer chock-full of DIY ideas as I come across them – and unfortunately there are just not enough hours in the day, days in the week, weeks in the month, or space in my closet to possibly make all of them.  So here's another photo dump of ideas for you guys to try out.  Maybe something in there will spark your next must-do project??
Add strategic cut-outs to the bust area of an LBD like this piece from Something Else at Wasteland.  (Also, Refinery29 Reserve is currently offering a great deal on Wasteland's uber-fashion-forward, affordably chic products…for $65 get a $130 voucher, and for $110 get a $220 voucher!)  Click here to access the deal.
Add a back cut-out to a tanktop, decorate with a bow.  For a sexy pair of undies, sew in a soft lace panel in the back.  (Source: unknown)
Quickly stitch on a satin ribbon to the back of your bra to let it peek out at the open back of more demure clothing, like this Frilly Ribbon Back Bra from PeachJohn.
Cool painting combinations for your Birkin-style tote [not a real Hermes].  Photo from ShopVivi.  (Check this out for a reminder on how to paint leather)
Ventilate your leggings with strategic cut-outs at the knees, backed with lace.  (Source unknown, but I think it might have been Romwe.com)
Add some interest to a white dress with a black lace overlay at the neck.  From Lifestyle Blog's Facebook Page.
Use fabric paint to paint pastel and metallic stripes over a plain skirt.  From Amazon.com.  (I don't recall the brand right now)
Secure box chain in tiers to itself using jumprings.  Weave bright grosgrain ribbons through the links.  From a completed sale on RueLaLa.
Fashion a quick bikini top out of a strip of soft jersey with a casing for a thick rope at the neckline area, like this First Mate Phoebe Bikini Top from Eberjey.  Currently another deal available on Refinery29 Reserve ($60 for a $100 voucher).

Poke your thin open hoop earrings into the center of some colorful climber's rope (you can remove the center piping in the cord).  Seal at the ends with an open flame.  From ASOS.com.
Add sequined fabric as an overlay in strategic places to a plain t-shirt, to make a trompe l'oeil collared top.  Top by Malene Birger on Net-a-Porter.
Change the buttons on your cardigan to jeweled versions, like Sonia Rykiel.  From Net-a-Porter.
Whoa, are these telephone cords, buttons, and other assorted junk on the front of a shirt?  LOVE!  Source unknown.
Use flat pearls and short cone spikes to decorate an otherwise prim headband, like this one from Topshop.
Ramp up the pretty quotient of your Docs by painting with a light-colored leather paint, and adding vintage-style water decals.  From Free People.
Make your own reverse Chanel tee by using a white paint marker on a black shirt.  (Like this, except reversed.)  Color in your translucent tights with a Sharpie like in this tutorial.  From Romwe.
Cut out the sides of a bustier, sew onto a thrifted and altered vintage flowered skirt.  The perfect remake!  Lucca Cutout Dress from Wasteland.  (Don't forget that Refinery29 deal!!;-)
xoxox
Carly
~If you liked this DIY inspiration, please share it with your friends!~
Tags: