Finally!  There's been some great DIY projects floating around, and though I've been super-busy and unable to dive into any of them, I hope those who have a little more time on their hands will try some of these out.
Look What Melissa Made posted this cute-and-easy Chain Collar DIY Necklace.  Love how it's a removable Peter Pan Collar – but wait, it's a necklace – but wait, it's a collar!  A great way to sweeten up any outfit.
Still got collars on the brain?  Try one of the 4 DIY Collar ideas that Refinery29 shared, including adding tips to a collar studding a collar, making a necklace out of leather, and cutting a collar off a shirt and securing with a button.
If you're in the mood for something fun, short, and poufy, try making a DIY Man Repeller Miu Miu Skirt, courtesy of Chictopian RunwayDIY.  Pleating is super-easy to do, and once you try it, I assure you the finished product will be an exact dupe of the original!
Beyond the Open Spaces has a great new take on the ubiquitous DIY Tassel Necklace; she's added rhinestone chain and a button to make the finished piece 70's fabulous.  Check out her tutorial for matching earrings as well!
The series on sewing basic hems on A Beautiful Mess is really helpful, and can help take your sewing skills to the next level!  Also check out her series on basic stitches and basic seams, and sewing leather, knits, and stretch fabric, which totally clarifies the process.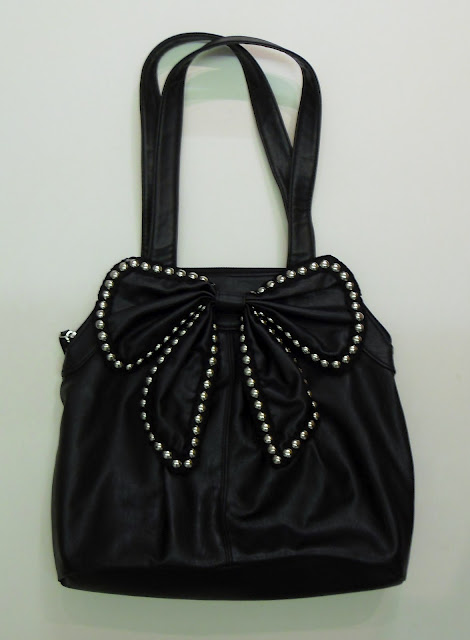 Add a studded ribbon edging to details on your bag with The Inner Sole of Cutie Booties.  This is a great way to add some interest and make something look a lot more expensive than it really is!!
Geneva from A Pair and a Spare shared her DIY Metal Neck Cuff how-to on the Harper's Bazaar Australia website.  It uses a piece of aluminum flashing from the hardware store and comes out looking runway-ready.
Since it's still technically Winter in many areas, you can give life to an old sweater by giving it a Fair Isle-style makeover…with safety pins!  Inspiration & Realisation has the tutorial for this Moschino-inspired beauty.
---
If your project was featured above, feel free to grab a button and share the DIY!
<a href="https://chiccreativelife.com/category/links-of-the-week"><img src="https://www.chiccreativelife.com/wp-content/uploads/2012/02/diylotwfeaturedbutton-1.png" /></a>
If you have a DIY how-to or tutorial that you'd like to see featured on Chic Steals, please email me at carlyjcais at chic-steals dot com – and I'll try to squeeze it in to one of my Links of the Week posts! (Tutorials/how-to's with steps and photos included please! So everyone can share in the DIY goodness:-)
xoxox
Carly
-all photos copyright their respective authors; photo array by me-
~If you liked this post, please share it!~
Tags:
DIY Roundup
,
Links of the Week