Hair: worn in a topknot with the help of my Odango cushion
Cleopatra Crescent Necklace: Forever 21
Ginger Chiffon Blouse: Forever 21
Multicolor crystal earring set: bought in Japan
Convertible faux-leather bookbag: Ober Tasche, bought in Japan
Watch: Citizen Eco-drive
Rings: wedding rings; Beyond Rings Gunmetal Claw Ring, bought at HauteLook
Super Stretch Colored Skinnies: Divine Right of Denim for Forever 21
Zipper suede heels: Sam Edelman (bought at Nordstrom Rack)
Do you all have an outfit that not only makes you feel like a million bucks – that you can put on any time and instantly feel awesome no matter what – and that garners you compliments everywhere you go?  Apparently, this is one of those MAGIC OUTFITS for me.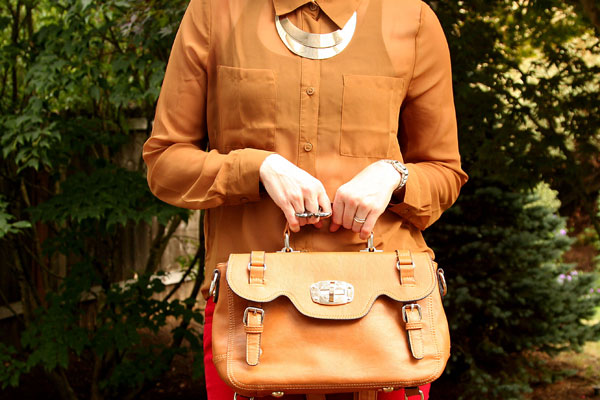 I know the majority of my outfit circumstantially happens to be from Forever 21.  I have always had a disliking for red jeans (after having to attend a private school my last couple years of high school that had a strict dress code not allowing blue jeans – but allowing jeans of any other color.  All my jeans were blue, so my mother took me shopping for other jeans/pants, and the only jeans I could find at the J.C. Penney's were an ugly mustardy color and an orangey-red color, both high-waisted, both too short in the leg for me, both hideously unflattering to my shape.  But there was nothing to be done except get them since I refused to wear skirts [I was a bit of a tomboy].  I wore the red jeans and got horribly teased at school for them, and vowed never to wear red on my bottom half again.  The mustard jeans didn't fare much better, and ever since I've had pretty much a non-relationship with both colors.) 
So something like this is insanely out-of-the-box for me, but I'm getting more adventurous with Fashion.  I've been carefully dipping a toe into the burnt colors of Fall 2011: Mustard, Burgundy, Orange, Rust, Paprika.  It sometimes feels like I'm fighting with my natural instinct (to choose something black or grey to wear), but I soldier on.;-)
I was invited to the opening of the Beaverton (a town SW of Portland) Nordstrom Rack, which was organized as a 2-hour reception and Tweetup.  I had never been to a Tweetup before, but was so excited to meet other bloggers in the area and see the new store (since the other Nordstrom Rack, further away from me, is located in downtown Portland and not-so-convenient).  It was a super-fun night that involved mini h'ordeuvres (that word was excruciatingly difficult to type!), drinks, a $50 gift card and complimentary tote bag, and watching our tweets displayed on screens throughout the store.  (You guys may have noticed I was particularly active on Twitter on Tuesday…usually I don't Tweet that much because *ahem* I'm super-lazy and haven't gotten to being really comfortable using it yet.)
I wanted to look put-together, and take my new Sam Edelman's out for a spin (which you may remember me Tweeting about since I found them for $25 at the Nordstrom Rack downtown!)…so I wore this.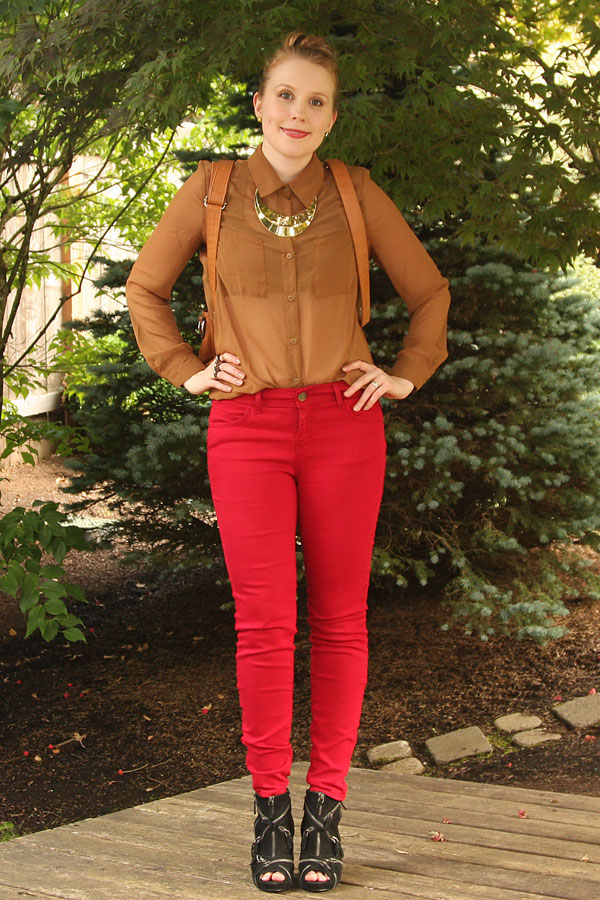 The store was fully stocked with Fall merch.
The lineup of bloggers waiting to check in.
Complimentary tote bags with a surprise inside…
A $50 gift card!
We were greeted with drinks at the door.

Nordstrom Rack PR and employees.  And Sarah (right) from The Confessions of a Product Junkie!  Her blog is amazing; please check it out!!
Sparkly sweaters!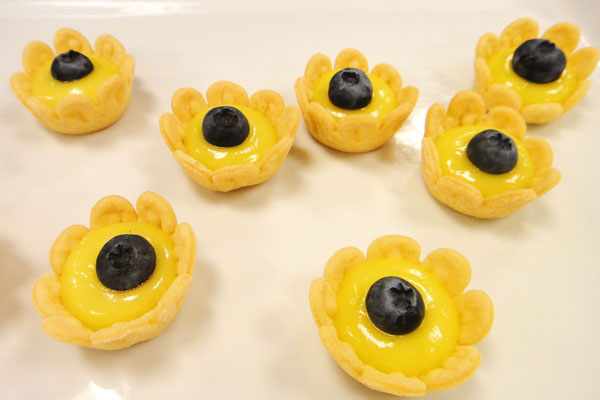 Mini lemon tarts!
Mini chocolate cheesecakes with silver flakes!
Isn't this sales assistant adorable?  Even more adorable is the BCBG striped blazer with embellished collar she's holding…$29.90 marked down from $398.  Um, that's 90% OFF!!!!
Guests debating on what to buy.
The Tweet-screen!  Hollah!  (I don't even know how to use that word properly;-)
Bloggers found it amusing to watch their Tweets.
I found a hat!  It matched!  I didn't buy it, though.
DIY Idea: cut up or randomly punch out pieces of a plastic scrapbooking embellishment page…and use instead of sequins!
DIY Idea: Hand-stitch an edging of silver curb chain to accent a black jacket.
DIY Idea: Cut open a sweatshirt down the front; line with soft plush terry on the lapels for a touchable texture.
I don't even know what to say about this Literature Noir jacket.  A crazy concept!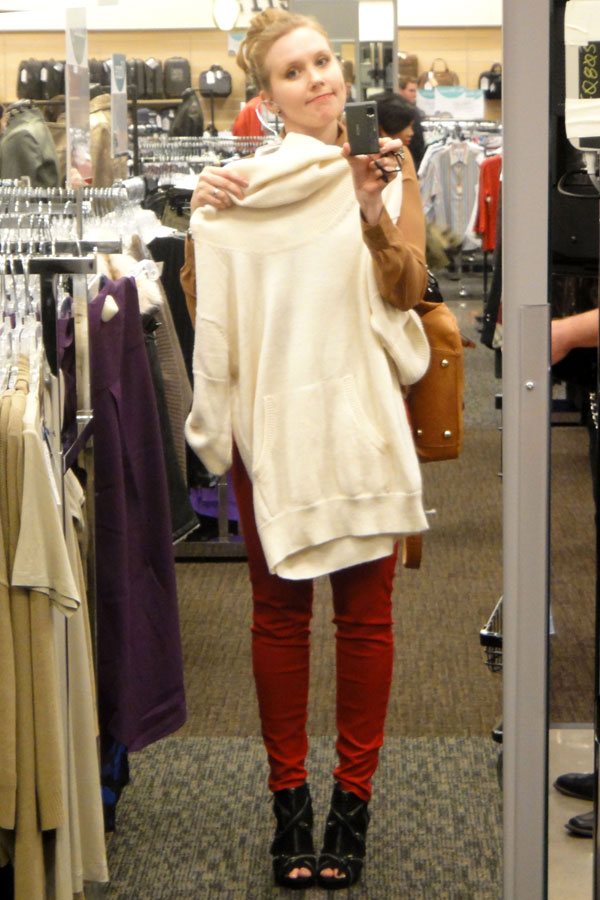 Deliberations…  This BCBG sweater was marked down to $19…originally $220. !!  It was a little itchy, though – so I put it back.
I finally ended up with this unbelievably soft Trouve cardigan!  In my favorite color, of course.  ($39, marked down from $98)
And that outfit I was wearing?  It became my MAGIC OUTFIT.  I have never received so many compliments in such a short period of time as I did last night!  I was utterly floored.  Literally every 10 minutes someone stopped me or told me that I looked great, my necklace was pretty, they loved my jeans, I had a great sense of style, they wanted to know where my shoes were from…I was floating on cloud nine.  I've always had those Magic, Foolproof Outfits in my closet that I could pull out and wear and know everything would be perfect once I put them on.  And it's so fabulous to have found another one!:-D
Thanks to Katie and the whole Nordstrom Rack team for having me at the event – it was a blast!
(And apologies if the outfit photos outside are a little blurry…they were all taken by my 5-year-old Lil Tot!)
What's your Magic Outfit?
xoxox
Carly
~If you liked this post, please share it!~
Tags:
Events
,
my outfits
,
Nordstrom Rack
,
Shopping