Top row, from left: Rachel Roy, Ccharel, Jil Sander, Prada, Issa, Christian Dior.  Bottom Row, from left: Moschino, Mary Katrantzou, Stella McCartney.All photos from Style.com; array by me.
As the Spring/Summer 2011 runways have demonstrated, big, bold splashes of color and bright, clashing prints are going to be BIG trends for this coming season.
Jil Sander!  Dior! Moschino! Prada!
And street-style incorporating these bold colors is just so inspiring…
For the first time in my life, I'm swayed by these 80's pops of bright…infusing an otherwise dreary winter (and my overwhelmingly gray wardrobe) with a little dose of happiness.
So I've been pulling out all the bright-and-bold fabric from my stash that I can find – which is almost nothing, needless to say…
From left to right: Photorealistic Lemon-Print Cotton (bought in Japan, 1998); Banana Leaf-Print Cotton (bought on St. John's Island, Caribbean, 1989); Universe/Galaxy-Printed Organic Cotton Sateen and
Silk Crepe de Chine (designed by me, just printed the samples earlier this month); Bottom: Cotton Twill Sofia Fabric (bought at Ikea)
The lemon fabric I made into a blouse back in 2000 or so; but I had to alter the collar a bit and so it's been on my to-do pile for awhile.  The other fabrics I haven't used at all…yet.
The expression on my face and the caption makes me cringe; but unfortunately I couldn't find another photo of the finished blouse.  Circa 2007.
Strawberry-print dress and bag I designed and made back in 2000.  They've been sitting on my Fix-it Pile for awhile…since I realized the dress is way too Flamenco for my tastes and the bag is just silly.  But they're bright!  And fruit-printed!  Photo circa 2001.
I rarely wear bright-colored clothing (accessories, no problem…but clothing I still struggle with).  I think I have a deep-seated negative association with wearing bright colors; something that was harped on as the antithesis of stylish and fashionable as I was growing up.  I feel the strongest physical revulsion at bright jade green, bright turquoise, and bright purple.  Especially the turquoise.
Yes, the idea of wearing these colors actually scares me.  Custom Pantone palette made at ColorExplorer.com
Which is ironic because turquoise used to be my favorite color when I was a kid, probably from when I was 5 or so until I was around 12 or 13.
My brother and I in our front yard, circa 1986.  I was 8 – can you guess what my favorite color was??  Actually, you can probably guess what my brother's favorite color was as well.;-)
This irrational negativity towards bright colors is a huge mental block I've had for years.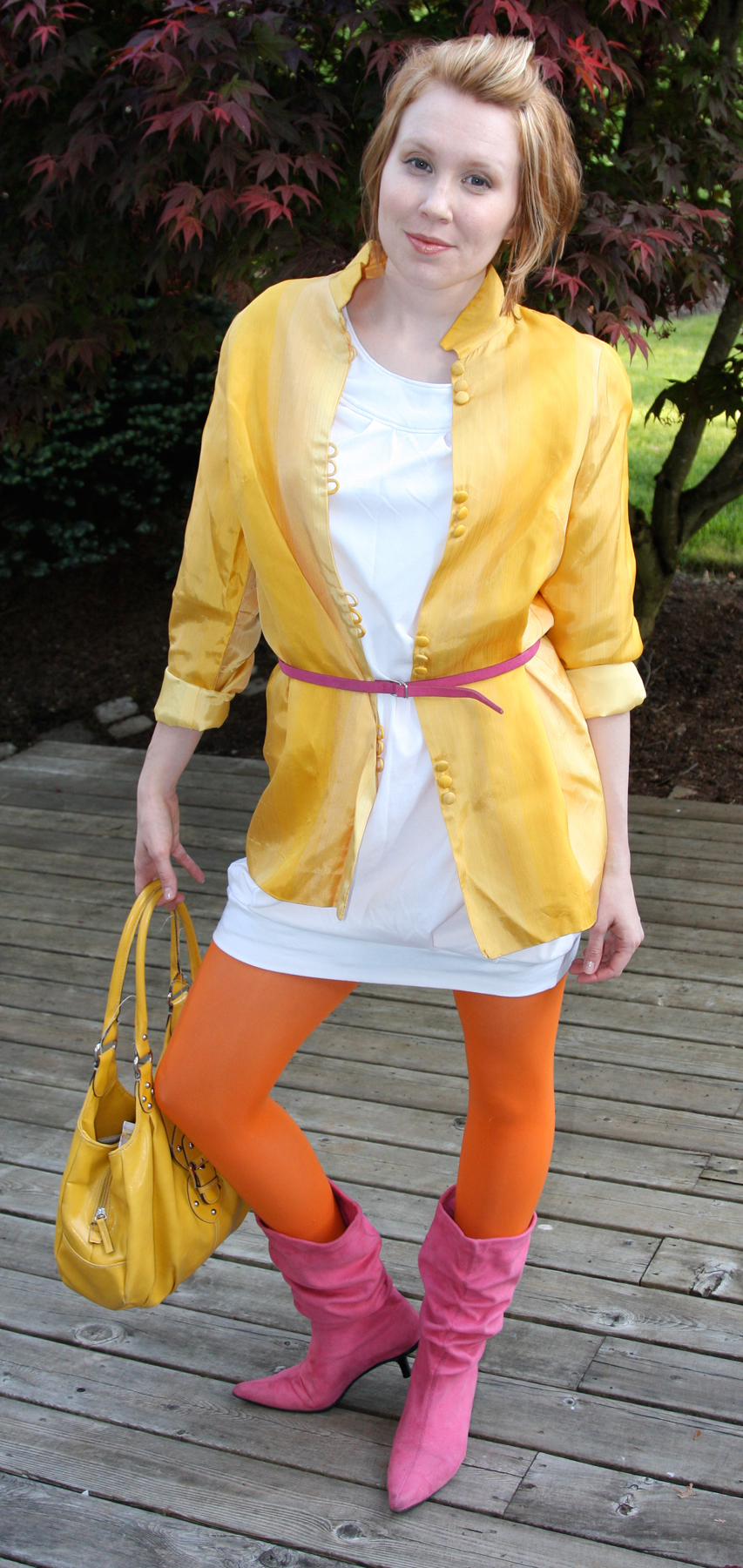 An outfit built around this much color is highly unusual for me.
Anyway, projects up next: a green-striped bias draped skirt, a pair of coral pleated trousers, a hot-pink linen swing skirt, a red galaxy-print silk shell, and a blue galaxy puff-skirt.  I'm not quite sure what to do with the banana leaf-print fabric from above just yet as I only have a little of it…maybe a bandeau bikini top?
How do you feel about this upcoming trend of brights?  Do you incorporate bright colors in your outfits – and if you don't, why?
xoxox
Carly
<this post was somehow lost in the migration to WordPress, and I re-uploaded it.  All comments on it made prior to February 8 have disappeared – sorry!>
~If you liked this post, please share it!~
Tags:
bright colors
,
colorblocking
,
Spring 2011
,
Spring Fashion
,
trends