Convertible Blouson top: handmade by me.  Rhinestone Friendship Bracelets: handmade by me.  3-strand Hairband: Target.  Rhinestone Studs: Claire's.  Diamond Wedding Ring: Vintage.  Dark Rinse Skinny Jeans: Paris Blues.  Pointy Suedette Slouch Boots: Payless.
So it's Day 6 of my 30 Days of Outfits Challenge: November 6.
Today I have to take Lil Tot to a birthday party in Vancouver, WA (about an hour away from where we live).  It's a party at a place filled with bouncies and activities, and I think that I'm going to have to go in/on some of them to help Lil Tot along.  Thus, I have to wear something that allows for a lot of movement, and have to keep the jewelry minimal.  Plus I have to drive an hour to get there. So, this necessitates a kinda boring outfit.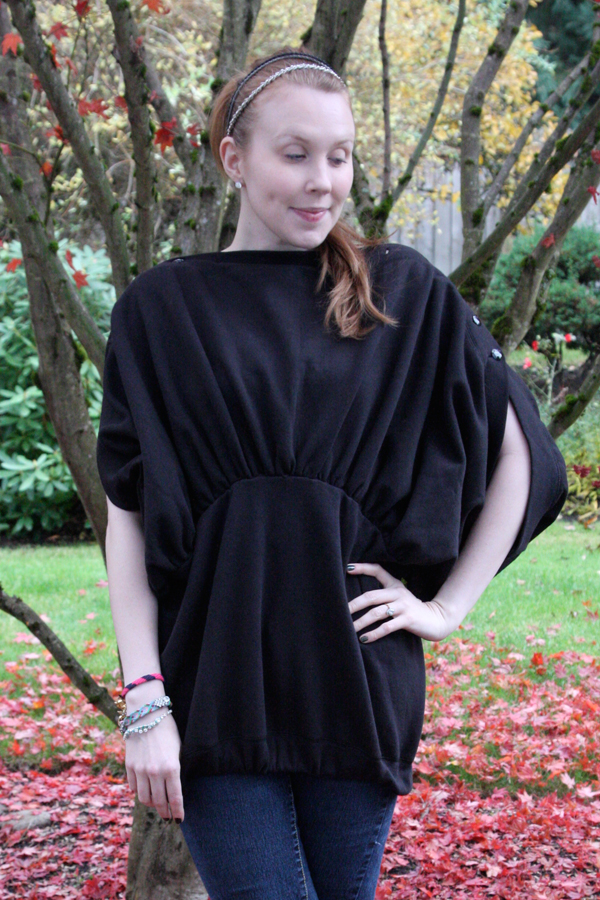 I made the top out of 3 sweatshirts following the instructions in the book "Kakkoii Couture Remake."  I adapted the tutorial to Western sizing and changed a bit of the methodology.  Here is my version.  I love the blouson effect to the top – and that it can we worn as a top or a skirt, and upside-down!  (Click the link above to check out how many different ways it can be worn.)
The friendship bracelets I actually made…more than 20 years ago when they were in style!! (I honestly can't believe it's been that long since I was in elementary school.  Can it be…?)  I happened to hold onto my friendship bracelets…and guess what!!?!  They're back in style.  Well, thanks to the brand Frieda & Nellie, who has burst on the scene with a line of friendship bracelets embellished and intertwined with with rhinestones and vintage bracelets.
Just lovely, and such a wonderful update on an old trend! 
I made mine this morning with some of my old bracelets from back in the day, with some bits or rhinestone chain and closures I had sitting around in my jewelry-making drawer.  If you don't happen to have your own friendship bracelets laying around just begging to be re-used, you can find every. pattern. EVER! for making friendship bracelets here.  (LOVE this site and can't wait to make some more bracelets following their instructions!!)
My new favorite 3-strand headband from Target.  Love that it has chain in it!  I also added Navana Wig-brand clip-in hair extensions for my long ponytail.
In other news, I have a fabulous treat coming up for you guys soon – in the form of a BRAND-NEW tutorial from someone I really respect – can't wait to share!
 I think I'm going to have to do some leaf-raking soon!!
xoxox
Carly
~If you liked this post, please share it!~
Tags:
30 Days of Outfits Challenge
,
Indie Fashion
,
my outfits