On Tuesday I had the privilege of attending an event hosted by Marshall's in Burbank, CA.  I learned a ton about off-price retailing, received a gift, and did some shopping (of course!!;-) and would love to share everything with all of you.
Inside Marshall's.  Do you see the Cube [the Junior's section] in the background?
I actually had visited a Marshall's only once prior to the event Tuesday – my local store is a T. J. Maxx (and I usually hit them up every couple weeks or so to see what's new).  I found a ton of affordable merchandise at Marshall's, however, in pristine condition from such labels as Ella Moss, Maggy London, Calvin Klein, Siegerson Morrison, J. Brand, 7 for All Mankind, and B. B. Dakota.  And that's just a tiny fraction of what they had!
First of all, if you haven't heard of Marshall's, they are a chain of stores devoted to off-price buying with over 820 locations across the U.S. and Puerto Rico.  Perhaps you've seen some of their recent commercials on TV – like the one where two buyers for a store don't communicate with each other, end up purchasing twice the amount of boots the store ordered, and the extras are bought by Marshall's at a discount.  Another commercial features a lost cell phone being the reason that a retailer can't get in touch with her supplier to decrease her order of sweaters – and thus has to get rid of the extra quickly (view on the Marshall's website above).  This is something that happens every day in the world of buying and selling fashion, and this has given rise to the sector of off-price retailing.
So what is Off-Price Retailing?
Off-price retailers sell their product for less than department and specialty stores – often with the exact same product, exact same brands, styles, and colorways during the current season.
Often the exact same merchandise will be available at the exact same time in both the department stores and the off-price retailers.  The only difference is, the off-price retailer sells it for far less than the department store.
Buyers for retail stores tend to buy seasonally, shopping often 2-3 months ahead of when the clothing will arrive in the store.  (i.e., for Summer, Autumn, Resort, Spring etc.)  They spend only a few weeks during the entire year on such buying trips, often only dealing with certain vendors, and their selection of items can be limited depending on what their clientele buy.
In contrast, the buyers for TJX (the owners of Marshall's and T.J. Maxx) are on the road 40 weeks out of the year, dealing with more than 12,000 vendors, often buying with a short lead time of only a couple weeks before the items arrive on the selling floor.  They know that their customers comprise a  range of people – from teens to business professionals to parents to those who covet high-end designer brands – and so buy a huge range of merchandise, in different colors, styles, and brands, to meet that need.
Over 10,000 new pieces of merchandise come into a Marshall's every single week!
Off-Price Retailing is not the same as discount stores.
Discount stores search for the cheapest items to buy, mostly private label merchandise (i.e., made specifically for a store and not sold outside of those stores).  They may carry some designer labels, but the overall value of the items sold is less.  (Think Wal-Mart.)
Off-price retailers search for items that are valuable to begin with and can be discounted further, dealing with both private label and nationally-recognized designer brands, and selling them for 20-60% off what you'd normally pay for the same item at a department store (like Sak's).
Calvin Klein skirt originally retailing for $59.00 (a conservative estimate) – marked down to $15.00 at Marshall's!
So what is available at off-price retailers?
Everything!  Though the selection can vary widely from store to store, Marshall's for instance has a mega-shoe section, a huge Junior's section, home goods, kitchenware, gourmet food (!), Contemporary Designer ware, men's clothing, kid's clothing, toys, books, Women's clothing, lingerie, Misses', belts, handbags, and accessories, and sports a wider range of clothing sizes than, say, T. J. Maxx.
The gourmet food section. Lots of coffee too.
Do I spy AHAVA, Escada, Redken, Baylis & Harding, and Rusk?  I think I do!
Once items are no longer "current" they are discounted further and marked clearly with a "Past Season" sticker.
Stylist Alison Deyette [The View, the Today Show] talks about upcoming Fall trends: military, day-to-night, menswear, and layers. 
And can we just talk about the fitting rooms for a moment?  The best-equipped fitting rooms I've ever been in, bar none.  Double strips of bright lighting on either side of the mirror – a vertical RACK for garments and not just a measly little hook – a stool – and 3 double hooks on adjoining walls with "tomorrow", "possibly", and "definitely" labels.  Ingenious!
Shopping at an off-price retailer is all about the HUNT.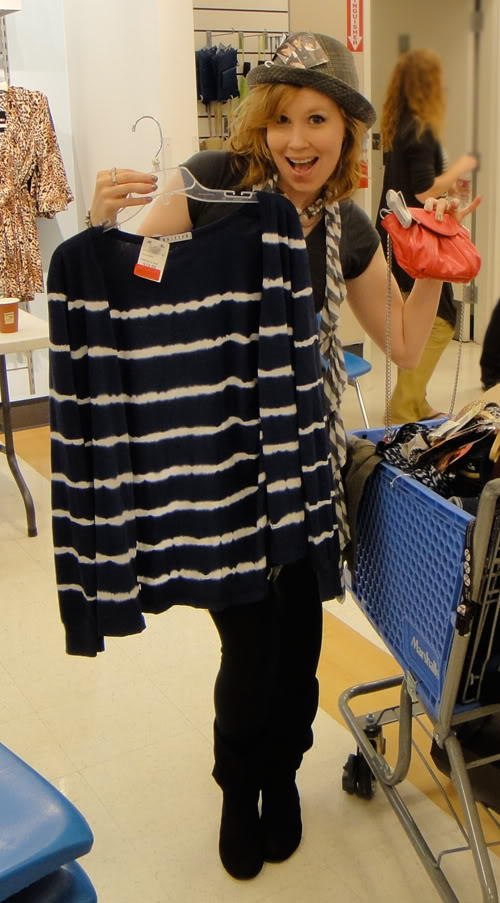 I found some really awesome items!
If you are an avid bargain shopper (guilty!;-) you'll find that visiting an off-price retailer an exercise in restraint.  Unlike, say, a thrift store, you won't find a Christmas sweater from 1984 or a polyester wedding dress from 5 years ago.  Items aren't torn, dirty, missing buttons, are otherwise rejects from other stores.  Instead there are so many items that are so affordable and on-trend that I have an incredibly difficult time limitin
g myself.  And, depending on where and when you go, you can find amazing designer pieces for a mere fraction of what they originally cost.  J. Brand jeans for $10?  A Theory dress for $30? Gucci belt for $24.99?  YES!
As all of you know, I do not advocate buying designer brands at retail.  It's a waste of money!  You're not only paying for the cost of designing and manufacturing the piece (plus profit for the label), you're also paying for the immense costs of advertising the brand, as well as inflated "brand cache" and huge markups at the retail store.  (Designer handbags can be marked up over 600% or more!)  Basically, it costs what you, the consumer, are willing to pay!!
So why do it?  If you love brand names, or even love getting quality merchandise for less without having to sift through old, out-of-style, damaged, or dirty pieces – why wouldn't you try stopping by an off-price retailer and seeing what deals you score?
I think my cart's about to topple over!
I walked away with a fabulous haul of merchandise…and a challenge with a contest involved…which I'll be sharing with all of you in an upcoming post!
Thank you so much to the team at Marshall's and the PR company for having me at the event – I had a ton of fun!
To learn more, visit the Marshall's website
Follow Marshall's on Twitter
xoxox
Carly
FTC Disclosure: My travel costs to attend this event and a $100 gift card were covered by Marshall's.  See my disclosure policy here.
~If you liked this post, please share it!~
Tags:
Events
,
Off-Price Retailing
,
Shopping