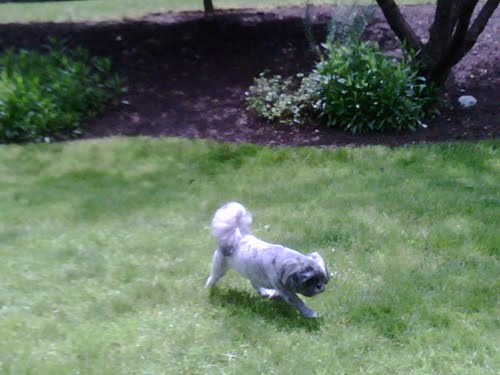 Pudding out and about.
I'm going to be busy the next couple days getting over the jetlag from Japan, unpacking, and DIY'ing my heart out for a cool project I'll share with you all very soon.
The hydrangea finally is beginning to bloom!
These shots were actually taken in late June, before I went to Japan, but I thought them nice and summery – just at the beginning of what can truly be called "summer" here.  Of course, by now there's a lot more happening in the garden right now, but I thought to share these photos first.
Foxglove.  
I was going to get rid of the foxgloves in my garden when I read that touching them with bare hands can cause a rash at the very least (since foxgloves are extremely poisonous due to chemicals from them once being extracted to create Digitalin – a group of medicine used to treat heart disease!!  Even a nibble on the topmost leaves can cause death, apparently.)  But they're so pretty I left them in the backmost corners of the garden, hoping Lil Tot and Pudding don't come in contact with them very much.  The other one that is flowering right now has light pink varying to white flowers.
The nasturtium bloomed too! And a nice shot of Pudding's butt.
In early June all the wild strawberries we have finally produced fruit – tiny, compact little bites.  Very sweet!
Hope you guys are having a great summer!
xoxo
Carly
Tags:
flowers
,
personal updates