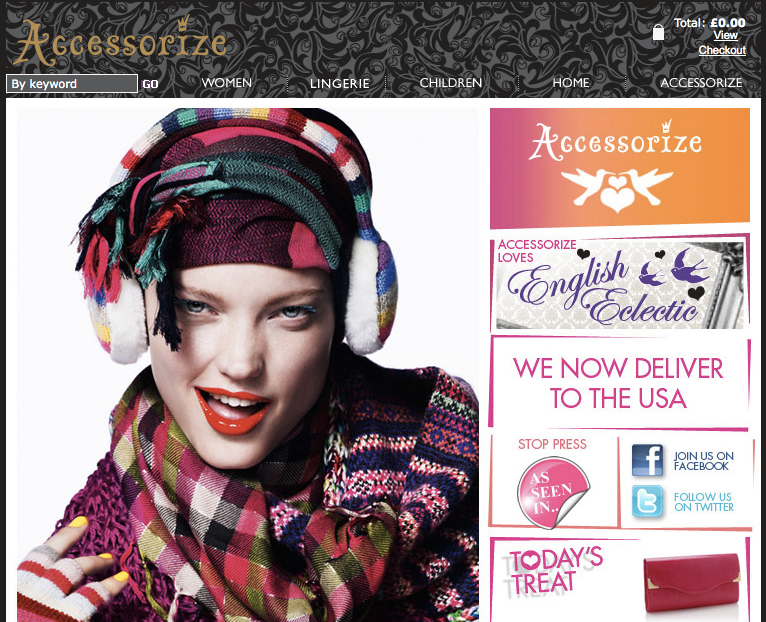 Now it's common knowledge that I love Forever21, H&M, Target, Topshop, and ASOS.com. I love being able to navigate to a website and click around for hours, looking at an extensive selection of affordable clothing, jewelry, and accessories that are on-trend and versatile. And the more affordable it is, the more I espouse the brand as one of my personal faves!
When it comes to online budget shopping, I thought I was pretty well-versed in what's out there; that I knew many of the trendy destinations already on the web. But I was floored to hear about Accessorize and Monsoon.co.uk – and I can't believe they have slipped under my radar up until now!
Accessorize may be familiar to those of you on the other side of the pond or in Asia already, but here's a little intro for those who haven't heard of it. I, for one, was completely unaware that it even existed up until now – shows what I know, right?? And I love the story behind the brand and its evolution up until today.
From their website: The parent company Monsoon was founded in 1973 by Peter Simon following a period of selling shaggy woollen coats on the Portobello Road and hand block printed clothes from Rajasthan to anyone who would buy them. The original focus was always clothes with an ethnic origin from faraway places, including unusual dresses from Afghanistan and countries en route.
In May 1973, the first Monsoon shop opened in Beauchamp Place, Knightsbridge, London. In 1984, Accessorize evolved as an exciting and a strongly differentiated High Street concept for fashion accessories in an adjoining shop to the Monsoon, Covent Garden Piazza branch.
This was later followed by the launch of the Monsoon Home brand shop, Monsoon Baby, Accessorize Angels, Monsoon Boy, and Monsoon Men, now spanning the globe with more than 600 stores worldwide (and 400 in the U.K. alone!) (See a list of all Accessorize stores throughout the UK and the world here.) To draw a comparison to a brand many of us may already be familiar with- they're kind of like Icing by Claire's…except bigger and um, better.
With its own in-house design team, Accessorize holds a unique position on the high street with its inspirational, globally sourced, well-priced and good quality collection of fashion accessories. Displayed in an original and impactful colour-bay design, the constantly changing range includes every kind of accessory imaginable; bags, purses, jewellery, belts, hats, scarves, flip flops, gloves, hair accessories and cosmetics.

The jewelry, bags, shoes, beachwear, swimsuits, hats, hairbands, sunglasses, wallets, and scarves from Accessorize are super-fun and flirty – they have a tongue-in-cheek whimsy about them. I love that they're not dark and super-serious, like so much is lately in fashion. They play to the lighthearted side of every girl – and with everything retailing less than $70 – the line is supremely affordable and glam at the same time.
Now the shopping cart function for the website is in British pounds, but even if you're not from the U.K., what's a different currency to deter a savvy shopper from getting a great deal? (1 pound = $1.59 U.S. at the current exchange rate – see XE.com for currency conversions.) They do ship overseas (10 pounds to the U.S.) – 3.95 pounds domestically in the UK, and 7.95 pounds to other European countries. If you live in a different country from the above, add yourself to their mailing list to get notified when shipping will be available (coming soon to Hong Kong, Australia, Japan, Russia, and Canada, among others).
Definitely check out their website to get a better feel for the brand – because the items above barely represent one-one hundredth of what they have to offer! (And check out their parent site Monsoon for home furnishings and accessories, women's and children's clothing, and lingerie as well!)
-Carly J. Cais
(Disclaimer: Accessorize.com sent me some items to review and invited me to check out their website. I would have loved them regardless of receiving the pieces since their jewelry and bags are indeed what I would term a "Chic Steal." I will also be posting some items from them for a giveaway soon! Stay tuned!)
Tags:
trends